Nation and World
Assange Calls For The U.S. To "End Its Witch-hunt"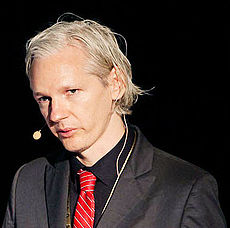 A defiant Julian Assange called on the United States to end its "witch-hunt" against Wikileaks and other whistle-blowing organizations inside Ecuador's Embassy in London, Sunday.
This was Assange's first public speech since he took refuge inside Ecuador's Embassy in order to avoid extradition to Sweden on sex crime allegations.
In the speech Assange who "cast himself as one of the world's most-persecuted whistle-blowers," called for President Obama to "do the right thing" and "renounce its witch hunt," CBS News reported.
Assange asked Obama to "dissolve its FBI investigation" "vow [the United States] will not seek to prosecute staff or supporters" and "pledge not to pursue journalists for shining a light on the secret crimes of the powerful," the Telegraph reported in its coverage of the 10-minute speech.
In the speech Assange, also called for the release of Bradley Manning, who is awaiting trial in the US accused of leaking classified documents to the Wikileaks site, BBC News reported.

He did not mention the rape allegations, Reuters reported.

The New York Times surmised Assange's impact to date:
"Assange, an eccentric hacker who has been both hailed as a champion of free speech and demonized as danger to public safety, burst onto the scene in 2010 when WikiLeaks posted secret documents on the Iraqi war as well as classified Pentagon documents on the Afghan conflict. It also made available individual cables — the daily traffic between the State Department and more than 270 American diplomatic outposts around the world."
Read more of Neon Tommy's coverage of Julian Assange here.
Reach Executive Producer Jackie Mansky here.