Nation and World
Wikileaks Begins Releasing Millions Of Emails Between Syria, The West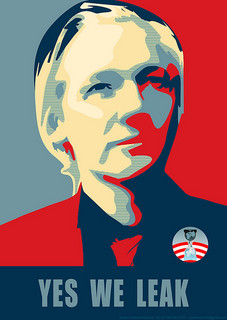 Wikileaks started releasing what it said was just the beginning of millions of emails from Syrian politicians, government ministers and companies which have the potential to embarass not just Damascus but Western organizations as well,
Reuters
reported.
The 2.4 million emails, dubbed "The Syria Files," are from 2006 to March of this year and are written in multiple languages. Wikileaks declined to explain how it obtained the emails but said the huge cache is not meant to incite conflict but rather to facilitate understanding, according to the New York Times.
"It helps us not merely to criticise one group or another, but to understand their interests, actions and thoughts," Wikileaks said. "It is only through understanding this conflict that we can hope to resolve it."
The trove of correspondence has the potential to "reveal how the West and Western companies say one thing and do another."
The first batch of emails released Wednesday night showed Italian defense giant Finmeccanica has provided communications equipment to the Syrian regime through its subsidiary, Selex, since the conflict began.
"In the database there are emails demonstrating that Selex sold a technology called Tetra to the Syrian government," a spokeswoman for Wikileaks said. "This technology allows police forces to communicate in a secure and reliable manner. The database demonstrates that selling assistance and training by Selex continued through to this year."
Casualty estimates since the unrest began range from 15,000 to 16,500. The Syrian government, however, has blamed "terrorist gangs" for several thousand troop and police deaths.
The release comes shortly before a meeting the "Friends of Syria" meeting in Paris on Friday. Member countries advocate a harsher stance against the Syrian leadership. But not all countries with Syrian interests will attend, however. From AFP:
Russia has indicated it will stay away from the Paris meeting on Friday after accusing the West of seeking to distort a deal struck last weekend for a political transition in the violence-hit nation.
Moscow's move to shun the gathering comes after UN-Arab League peace envoy Kofi Annan stressed that a ceasefire was imperative.
Wikileaks' own leadership is embroiled in scandal as Julian Assange is confined to the Ecuadorian embassy in London while he fights extradition to Sweden to face sexual assault charges. Assange has said he fears that if extradited, he will be sent on to the United States to face charges over a 2010 release of documents concerning the wars in Iraq and Afghanistan, according to NBC.
[View the story "\"The Syria Files\" scandal unfolds on social media:" on Storify]
Follow Neon Tommy's coverage of the Syrian conflict and Wikileaks.
Reach Executive Producer Dawn Megli here; follow her on Twitter here.