International
Vote To Impeach Romania's President Fails Due To Low Turnout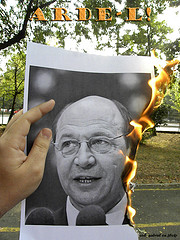 Low voter turnout invalidated the vote to impeach Romanian President Traian Basescu, the
Guardian
reported.
Exit polls showed 85 percent of the ballots cast supported impeaching Basescu. But just under 46 percent of the electorate voted in the election, falling short of the 50 percent threshold set by the European Union in order to legitimize the results of the vote.
Premier Victor Ponta led the impeachment efforts. His government, the third to rule the Balkan nation this year, achieved power in May amid a wave of anti-austerity sentiment.
"Romanians rejected a coup d'etat," Basescu said in response to exit poll results. "The flame of democracy is still burning."
Romania's currency, the leu, is the world's second worst-performing currency against the euro over the past month, performing better than only the Sudanese pound, Businessweek reported. The economy fell into recession during the first quarter of this year and the nation's borrowing costs are on the rise.
Results of the referendum vote need to be endorsed by the Constitutional Court before Besescu can resume his office.
Read the whole story at Businessweek and the Guardian.
Follow Neon Tommy's coverage of the European debt crisis.
Reach Executive Producer Dawn Megli here.