Sports
USC Sprinter Josh Mance Will Make Olympic, Team USA Debut In London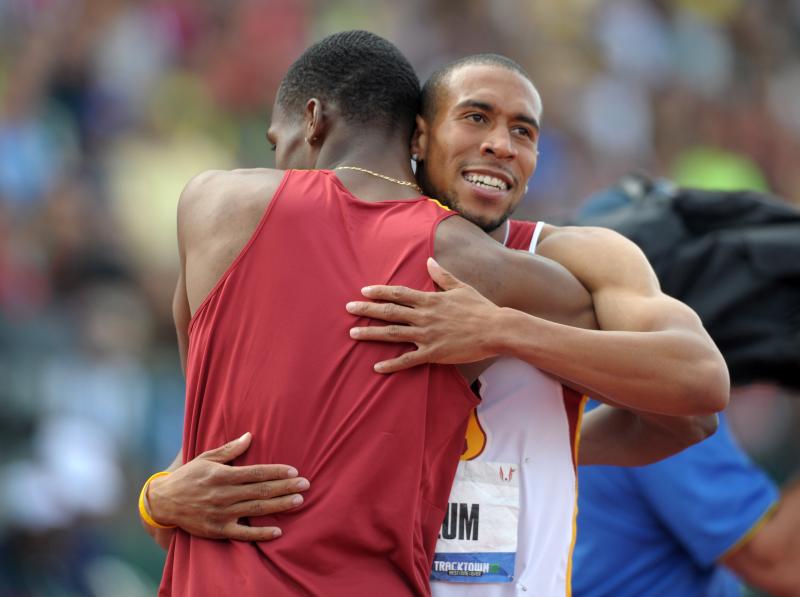 It's one of those things that young track stars dream about: competing on the largest scale possible, running for your own glory and that of your country. The place where heroes are born and legends are made. Many athletes share this dream, but for most, it remains just that.
For Josh Mance, a USC sprinter, that dream is just days away from becoming a reality.
Mance competed in the 2012 Olympic Trials and punched his ticket to London when he qualified in the 4x400-meter relay. In this event, the top six-times get to go, guaranteed. Fortunately for Mance, he placed in the top-four and knew what lay ahead of him.
"It was really exciting," Mance says of realizing he qualified for London 2012. "I knew going into it that they usually take the top-five or six, with the last two spots varying based on who runs the hurdles. But the top-four is always set, and by getting that number four spot. I feel like I accomplished something I set out to get."
Mance also competed in the finals of the 400m with fellow Trojan sprinter Bryshon Nellum. Running with one of his own would be fun, but still, they were there to do work.
"We left L.A. thinking we needed to get top-six, but when we got there, I felt like we needed to go for top-three," Mance said. In the trials, they both did make top-three in their respective heats and would now have to run against each other in the final race to determine who would make the team.
When the gun went off, they shot off towards their destiny. But only one Trojan would cross the line with a time that qualified for London. Mance and Nellum's times were just hundredths of a second apart, but it made all the difference in the world for Nellum.
"When we ran the finals, and I saw Bryshon edged me out, I was so happy for him. If it was anyone else, I would've been sick to my stomach, but of all the athletes there, he deserved it the most," Mance said.
From what Nellum had to go through to get to this point, the fact that he deserved it cannot be argued. He went from being shot in the hamstring during his second year at USC to being a certified Olympian three years later. The emotions he felt for his friend and teammate, Mance said, are indescribable.
"I don't even know where he [Nellum] was at emotionally. If it's on a scale of five or ten, he was seven or 11. That was his first time breaking into 44s [seconds]. Both of us were so excited, but you can't put into words how it felt."
Mance and Nellum will join the more than 30 other Trojans who are headed to the 2012 Olympics. But before then, Mance has some matters at home to take care of. His lease at his apartment at USC ends while he is in London, so he has to move all of his stuff out before then. He also had to drop his summer school classes—and in accordance with NCAA rules—he no longer is eligible for his monetary stipend since he's not taking classes.
"Every day I wake up, eat, do interviews, run back and forth to the Valley, go train," Mance said, "but I'm trying to maintain stability. It's been stressful, but I'm doing it."
Besides, it will all pay off when he sets foot in Olympic Village for the first time in his young career. "It's pretty surreal to be there with people I admire," Mance said, looking forward to London. "It's no longer, 'I'm way below these guys.' Now it's, 'I'm only 20 and I'm at their level.' That's the best part about it. It's very humbling, the fact that I get to run with the pros."
What is also humbling to Mance is that he gets to be a part of USC's fabled Olympic history.
"It's great, it's crazy—a lot has happened since I graduated high school in 2010, and now look where I'm at in 2012! Two years later, I am representing my country and my school on a huge stage. I'm really happy to have this opportunity."
In London, he and Nellum will be roommates, and they will meet up with another Trojan sprinter, Aaron Brown, who is running under the Canadian flag. Mance is also excited to see some of the other Olympic sports up close and personal, especially the swimming rivalry between Michael Phelps and Ryan Lochte. On the track and field front, he is excited to see the always-intense battle between USA and Jamaica in the sprints, especially the 100m and 200m. Jamaica's Usain Bolt will be back, as will America's Tyson Gay and Justin Gatlin, who is making his return to the Olympics after a ban due to doping violations.
And of course, he is excited for his friend Nellum run in the 400m, as well as the possibility of his own success.
"I was talking to a lady with KTLA yesterday, and she was telling me that if it were her, she would be freaking out. But I am ready for it. The bigger the scale, the bigger the motivation. You can either get nervous and scared, or nervous and motivated. And I am ready to go."
The 2012 London Olympics are set to begin July 27, with full coverage provided by NBC. Tune in to watch Mance, Nellum and the 36 other Trojans go for gold.
Read more of Neon Tommy's 2012 Olympic coverage here.
Reach Trenise by email, or follow her on Twitter.