MLB
The Pittsburgh Pirates Are In First Place: 19 Reasons They Won't Blow It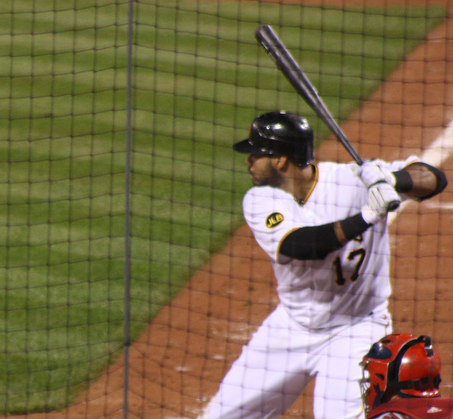 This year is different. It may be hard to believe, but this is not the same Pittsburgh Pirates team that swindled so many people into thinking they were contenders last summer.
That 2011 squad went from first place to a historically abysmal 16-40 finish. There a plenty of aspects that make this team distinct from the ones that have experienced 19 straight losing seasons. In fact, I have a reason for each losing season since Pittsburgh's last appearance in the postseason:
1. Pedro Alvarez is finally smashing
At this time last year, Alvarez was mired in Triple-A after the first two months of his Major League season included massive helpings of strikeouts and frustration.
The early part of 2012 included both once again, but now it appears the 25-year-old blossoming slugger is putting together the pieces of his No. 2 overall pick potential. Alvarez has smacked 16 home runs (including a few that exited the ballpark entirely) to lead all National League third baseman, and boasts an above-average .785 OPS. That sure beats starting Brandon Wood at the hot corner.
2. James McDonald is making hitters look foolish
When you go to a swap meet with Dodgers GM Ned Colletti, you occasionally trade 19 innings of an average reliever for five seasons of a 27-year-old potential Cy Young candidate. Sounds like a great deal. Well, at least for the side that got James McDonald instead of Octavio Dotel.
McDonald will exit the break 3rd in the NL in earned run average (2.37) and baserunners per inning (0.97), all after a mediocre 2011 season with the Bucs in which he struggled with his control. Now "J-Mac" has his pitches on a string, as he is 10th in the league in strikeout percentage (23.5%) while forcing hitters to wave their bats past his dynamite 93 mph fastball and swing-and-miss combo of slider and curveball.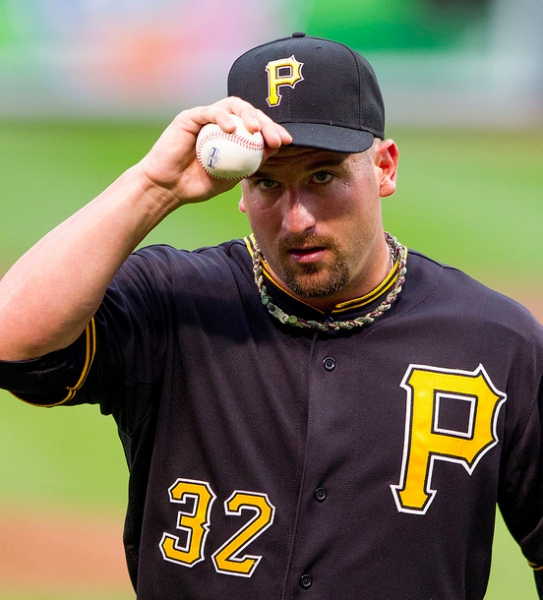 3. The bullpen is turning leads into wins
The Bucs may have the deepest 'pen in baseball, even if it is a staff put together with "duck tape and chicken wire" as manager Clint Hurdle likes to say. The Pirates' pen has posted a Major-League-best 2.63 ERA, and they have done it on a small-market budget.
The good numbers will be due for some regression in the second half, given their 3.85 FIP. But with All-Star Joel Hanrahan, strikeout machine Jason Grilli, and emerging shutdown guy Brad Lincoln (NL-best 0.33 ERA as a reliever), the late innings will remain locked up tight. It is no coincidence that having these guys in first command, the Pirates are 41-0 when leading after seven innings.
4. Another Wild Card means another opportunity
Every team has a better chance to experience playoff baseball in 2012 with the addition of a Wild Card spot in each league. In fact, the Pirates enter the break two games ahead of the Dodgers, who own the second Wild Card.
Whether or not you consider the Wild Card Coin Flip Game part of the playoffs, the Bucs have 30-percent odds of taking one of those NL Wild Cards. The expansion of that playoff route is paramount to the Pirates' chances to reach the "real" eight-team postseason.
5. The all-knowing run differential
At no point last season did the Pirates have a run differential (runs scored minus runs allowed) better than +15. Because they were scoring about as many runs as they gave up through July, they were basically an average team with better-than-average results.
This time around, the Pirates enter the 2012 All-Star break having scored 32 more runs than they have allowed. That is fifth-best differential in the NL, and better suits their 48-37 record.
6. They have not gotten demolished in many games
A huge part of that good-looking run differential is that the Pirates are not getting blown out lately. In their last 22 games, the Bucs have only lost one game by more than one run.
And over that span, the Pirates are 16-6 with their average victory by a margin of 4.6 runs. Guess what, that is what good teams do: Their wins are usually sound victories, and their losses are close affairs.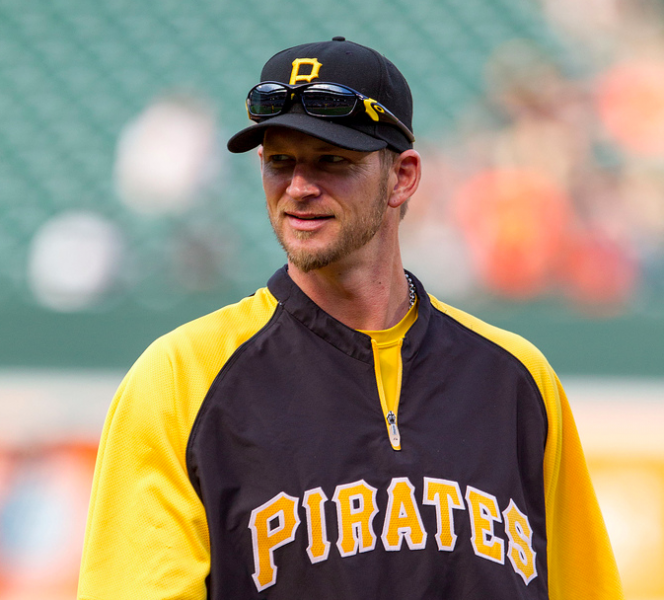 7. New leaders
Two gentlemen in particular add a different feel to this year's edition of the Pirates: 35-year-old pitcher A.J. Burnett (who has won 9 of his last 10 starts) and 36-year-old catcher Rod Barajas (a now-league-average offensive catcher).
The offseason additions of these elder statesmen have provided a strong sense of leadership for the young Bucs. Barajas has directed the pitching staff well, particularly making sure young guys like McDonald don't get hung up on bad pitches.
"He still does it at times; you'll see him throw a bad curveball and get angry," Barajas said. "I just give him him a look and say 'Hey, you're fine. Let's get that next pitch,' and he's able to put it behind him."
As for Burnett? McDonald gives him a heavenly compliment.
"@dillonerd: @JamesZ53 how much has Burnett helped you?"more then you will ever no... Guardian Angel
— James McDonald (@JamesZ53) July 12, 2012
8. The defense is one of the league's best
One major factor that seems to go unmentioned in the Pirates' surge is the stellar fielding. The Bucs defense leads the NL in defensive efficiency, converting 72.2 percent of balls in play into outs. For advanced metric fans, the Bucs also rank 4th in the NL in Ultimate Zone Rating.
Experienced fielders like SS Clint Barmes and 1B Casey McGehee have locked down a solid infield, while young outfielders like Alex Presley and defensive replacement Gorkys Hernandez have turned the PNC Park lawn into a place where flyballs fear to drop for hits.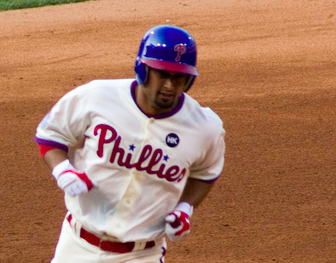 9. Neal can deal
General manager Neal Huntington is out looking for impact reinforcements, with possibilities including hitters Carlos Quentin, Shane Victorino, Justin Upton and Chase Headley. He has the chance to go beyond mid-level acquisitions like Derrek Lee and Ryan Ludwick last year.
"We're in a buying mode," manager Clint Hurdle told reporters earlier this week. "We need to be optimistic, but also realistic about who we are and what we need to do to take another step."
Huntington could even make calls about pitchers such as Cole Hamels, if starters like Kevin Correia and Erik Bedard continue to flounder.
10. Minor leaguers are ready
Even if Huntington doesn't pull off a blockbuster, he has talented players in the system that can contribute to a pennant race. Outfielder Starling Marte's bat is said to be Major League-ready, and he could be in the Pirates dugout by the end of the month.
And if the Pirates need replacements for ailing or struggling pitchers, there are plenty of worthy arms available. The Indianapolis Indians have been one of the International League's best pitching staffs, with Rudy Owens, Bryan Morris, Jeff Locke and Justin Wilson all seemingly prepared for the Majors.
11. The Central division is not as terrifying
There is no denying the Cincinnati Reds are tough, but the defending-division-champion Milwaukee Brewers have fallen so far that they are putting ace Zack Greinke out on the market, and the St. Louis Cardinals are now without two major pieces of their World Champion team, Albert Pujols and Chris Carpenter.
Is it still a tough division to win? Hell yes, and the Cards are not to be dismissed whatsoever. But it is a very winnable division for the Pirates, probably more so than ever.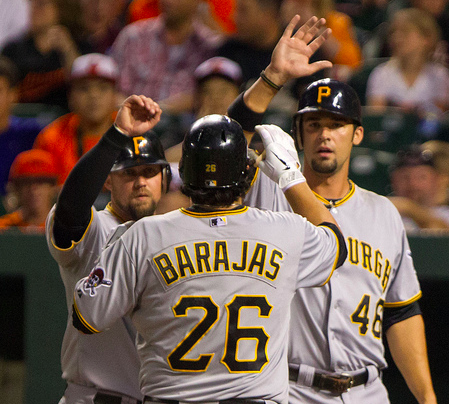 12. They are beating the bad teams
What do good teams do, besides not get blown out? They beat the teams they should, and that is what the Pirates are doing. Their 25-9 record vs. sub-.500 teams is the best in the Majors. And that is important because...
13. Their schedule sets up beautifully
… after the All-Star Break, the Pirates play 19 straight games against teams below .500, including 10 against the bottom-feeding Chicago Cubs and Houston Astros.
Beyond that, 26 of the Bucs' next 29 games are against losing teams. The other three? A weekend series from Aug. 3 through Aug. 5 in Cincinnati that could have huge implications on the division race. The Pirates have the 3rd-easiest schedule remaining in the NL (after playing the 3rd-toughest up to this point), with only the Giants and Reds boasting a softer slate.
14. No more trips to Atlanta
If you were there when Sid slid in the 1992 NLCS, or when Julio Lugo slid in the 19th inning as Jerry Meals looked on, you know Atlanta is a cursed place for the Pittsburgh Baseball Club.
Luckily for the Bucs, they already played their series in Georgia, splitting four games in April. They can still expel the Braves demon, though. The final series of the Pirates season is against Atlanta at PNC Park, with the possibility of a ballpark packed with Pittsburgh fans celebrating their first playoff spot in 20 years. Again, a possibility.
15. They went through the failure last year
Yeah, the Pirates know they were here in 2011: among the contenders around mid-July. And then they free-fell faster than Wile E. Coyote. So what feels different about this year's clubhouse?
"We have more experience. We're built better. We have more depth across the board," manager Clint Hurdle said. "The lessons learned from last year are as valuable as anything that we have moving forward."
His players agree.
"Case in point was from last year. I think you learn from that," Jason Grilli said. "The feeling is good, it's really good. There's no denying that."
16. Hail Zoltan
It's stupid. It's silly. It's working. On May 8, Rod Barajas (who was hitting under .140 at the time) hit an improbable walkoff home run. As he crossed home plate, Barajas and his teammate displayed a hand signal that was... strange.
As it turned out, the players had watched the Ashton Kutcher movie "Dude, Where's My Car?" and adapted the Zoltan "Z" signal from the film. It has spread like wildfire, from fans to t-shirts. It has been shared between the players and fans. The hitters flash it every time they get an extra-base hit or RBI, and the folks in the crowd follow. Maybe it does have some sort of powers. Just remember, it's left hand on top.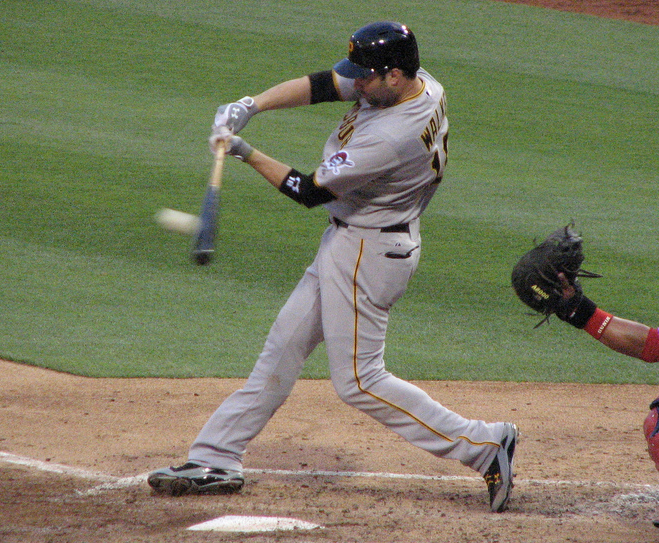 17. The offense has undergone a renaissance
Back in April and May, the Bucs' offense was so terrible that it sent columnists looking back over a century for historical comparisons. But since June 1, the Pirates lead the National League in home runs and runs scored.
Maybe if you say it out loud, it won't sound so crazy. "They lead the National League in runs scored." Or maybe it still sounds crazy. Doesn't matter, it's true. And it is not just because they are facing easier opponents. The Pirates lineup, stacked with up-and-comers like Neil Walker and Pedro Alvarez, plus veteran breakthroughs Garrett Jones and Casey McGehee, has ramped up the run production in the dog days of summer.
And when you have multiple guys that can put it over the fence at any time, huge deficits can be slashed quite easily and small Bucco leads can quickly turn into big ones.
18. The fans are buying in
Pittsburghers have sold out PNC Park eight times so far this season. The crowds in the park are growing, and even the TV ratings are rising fast. The players can feel the contact high of adrenaline from their supporters.
"I think the crowd even today, more so than ever is really into it," Grilli said when the Bucs took first place on July 4. "They're jacked up about it. That is huge, to have that backing behind us."
Another reliever noticed that the attire is different.
"Now the fans are coming out in Pirates gear," Joel Hanrahan told CBS Sports. "Last year, they were showing up, but they were wearing Steelers and Penguins gear."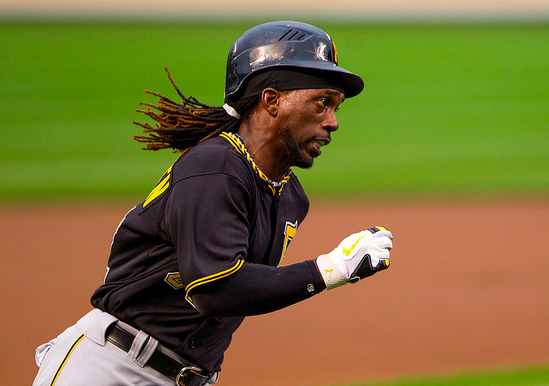 19. Andrew McCutchen is an MVP favorite
We saved the most important for last, a man who could be becoming the best baseball player in the world.
McCutchen is having the best offensive season for a Pittsburgh Pirate since Barry Bonds was wearing black and gold and drinking Crystal Pepsi. The NL's batting average leader has been responsible for an MLB-high 22 percent of the Pirates' offense. And he didn't even hit a home run until May 8!
Yes, the Bucs getting production from Walker, Alvarez and Jones. But "Cutch" fuels the offense. No, he won't keep up his good luck of 40 percent of balls in play dropping for hits, but he will still post phenomenal stats even as that equalizes. He is signed with the Pirates through 2018, and that has allowed him to focus solely on his swing and the results speak for themselves.
With McCutchen launching high-powered liners from the No. 3 spot every day, even a World Series appearance doesn't seem impossible in the city that baseball has forgotten for so long.
--------------------------------------------
Reach James by email or follow him on Twitter, @JamesSantelli.