National
Penn State Covered Up Sex Abuse For 14 Years, Internal Report Finds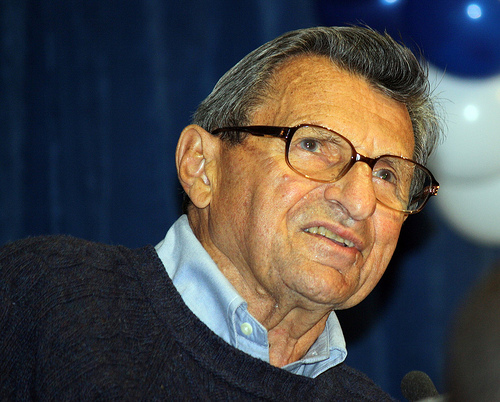 Penn State officials including late football coach Joe Paterno and former President Graham Spanier covered up child sex abuse allegations against Jerry Sandusky more than 10 years ago to avoid negative publicity, allowing Sandusky to sexually abuse other children, a former FBI director said in an internal report Thursday.
Louis Freeh's firm was hired by university trustees to look into the scandal. The Associated Press reported that after an eight-month inquiry, the firm produced a 267-page report that stated Paterno, Spanier, athletic director Tim Curley and vice president Gary Schultz "failed to protect against a child sexual predator harming children for over a decade."
CNN quoted a portion of the report that stated: "These individuals, unchecked by the board of trustees that did not perform its oversight duties, empowered Sandusky to attract potential victims to the campus and football events by allowing him to have continued, unrestricted and unsupervised access to the University's facilities and affiliation with the university's prominent football program."
The report stated that before May 1998, several staff members and football coaches regularly observed Sandusky showering with young boys and none of them notified their superiors.
Freeh said officials had opportunities to take action in 1998 and 2001, the AP reported. At a news conference, he said their disregard for child victims was "callous and shocking."
Paterno "was an integral part of this active decision to conceal," Freeh said.
Sandusky, the former defensive coach who retired in 1999, is awaiting sentencing after being convicted on June 22 of 45 counts of child molestation. The charges involved 10 boys over 15 years.
In May 1998, a woman complained to police after her son came home with wet hair after showering with Sandusky. Schultz was informed of the investigation and notified Spanier and Curley.
The report, according to CNN, included Schultz's confidential notes from May 4, 1998, about Sandusky's behavior: "Behavior -- at best inappropriate @ worst sexual improprieties, "Is this opening of pandora's box?," and "Other children?"
The report stated, "A decision by Spanier, Schultz, Paterno and Curley to allow Sandusky to retire in 1999, not as a suspected child predator, but as a valued member of the Penn State football legacy, with future 'visibility' at Penn State and ways 'to continue to work with young people through Penn State,' essentially granting him license to bring boys to campus facilities for 'grooming' as targets for his assaults. Sandusky retained unlimited access to University facilities until November 2011."
According to the AP, the access, the report stated, "provided Sandusky with the very currency that enabled him to attract his victims."
In a statement, reported the AP, Paterno's family said he made mistakes but "never interfered with any investigation" and was fooled by Sandusky.
"The idea that any sane, responsible adult would knowingly cover up for a child predator is impossible to accept," the statement said. "The far more realistic conclusion is that many people didn't fully understand what was happening and underestimated or misinterpreted events. If Joe Paterno had understood what Sandusky was, a fear of bad publicity would not have factored into his actions."
Curley and Schultz face charges of perjury and failure to report suspected abuse.
Reuters reported that Freeh and his firm conducted more than 430 interviews in its investigation and went through 3.5 million emails and documents.
Read more of Neon Tommy's coverage on Jerry Sandusky here.
Reach Executive Producer Agnus Dei Farrant here.