Sports
Pac-12 Media Day, South Division: Trojans Picked To Win Conference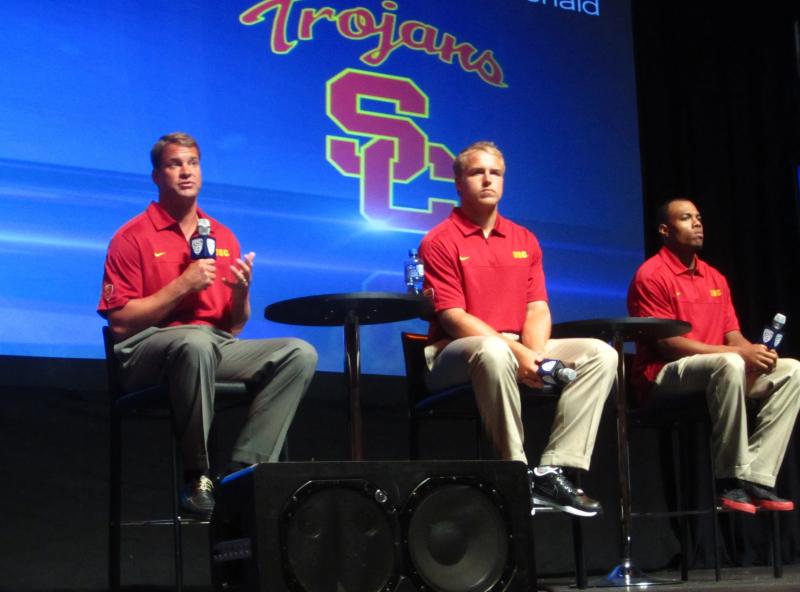 UNIVERSAL CITY – It's safe to say there's been plenty of upheaval in the Pac-12 South since last season. USC's postseason ban has been lifted, while three of the conference's four new coaches will ply their trade in the division. Here is a rundown of what to take away from Tuesday's media day at Universal Studios, along with how the teams were predicted to finish in the media poll.
USC Trojans
The moment quarterback Matt Barkley channeled LeBron James by going on ESPN to announce he was keeping his talents at Southern California was when USC became the favorite to run away with the Pac-12 crown.
The Trojans secured 117 of 123 first-place votes in a conference media poll that picked them to win the Pac-12 South. The same voters also selected head coach Lane Kiffin's squad to win the conference championship.
"We have had a lot of fun playing football, but we hadn't maximized our potential here at USC," Barkley said. "I think that phrase 'unfinished business' has to do with finishing at a top level and finishing at what we're capable of as a team."
Barkley's decision to return for his senior season after weighing NFL options was probably not a difficult one, considering the wealth of talent the Trojans return from last season on both sides of the ball.
The Men of Troy bring back nine starters on offense and will feature a pair of 1,000-yard receivers in 2011 AP All-American Robert Woods and All-Conference sophomore Marqise Lee. Woods, who Kiffin said "was at 75 percent the whole season" in 2011 because of a right ankle injury, has yet to make a full recovery.
"Hopefully he'll be at 100 percent in fall camp," Kiffin said.
Kiffin's offense lost All-Conference left tackle Matt Kalil to the NFL Draft, but the rest of 2011's starting O-Line remains intact. The Trojans' ground attack will be highlighted by 1,000-yard rusher Curtis McNeal, but if there's any position that has a question mark, it would be at tailback. USC's thin depth at the position means that freshman wide receiver Nelson Agholor could be plugged into that role.
"Our plan up to today has been to put Nelson at running back because of the issues there," Kiffin said.
On defense, the team boasts eight returning starters, with the secondary anchored by a pair of Jim Thorpe Award preseason watch list members in senior safety T.J. McDonald and junior cornerback Nickell Robey. USC's defense allowed two consecutive 40-point games early last season to the middling Arizona schools, but made strides down the stretch by holding three of its last four opponents under 20, including a 50-0 demolition of rival UCLA in the season finale.
"For us, it's just making sure that we stay the course and know exactly what we're doing," McDonald said. "As long as we do that, we will be fine. We have a great offense to go against every practice so that can only make us better."
The marquee win of 2011 came against then-No. 4 Oregon in Eugene when USC shattered the Ducks' BCS title hopes, 38-35. The two teams meet again in a Nov. 3 showdown at the LA Coliseum that could provide a preview of this year's Pac-12 Championship game. The media picked Oregon to win the Pac-12 North.
However, the Trojans will be tested early and often in conference play before that tilt. They will go on the road to face Stanford (Sept. 15), Utah (Oct. 4) and Washington (Oct. 13) during a four-game stretch.
Utah Utes
Head coach Kyle Whittingham's team appeared to have little trouble easing its way into the Pac-12 last season, after years of carrying the banner for the Mountain West Conference.
The Utes were one win away from a trip to the inaugural Pac-12 title game before a letdown against fellow conference newbie Colorado erased those hopes. Whittingham said the speed and athleticism in the Pac-12 did not come as much of a surprise to him.
"Seems like every week, we are facing a great running back, receiving core, quarterback, and I would say without a doubt, it was as we expected it to be," Whittingham said.
Utah had its stellar defense to thank for the 8-5 finish in 2011. The Utes had the league's best scoring defense after allowing a little more than 20 points per contest, good enough for 19th best in the nation.
"We have a couple of linebackers, who love to hit," said defensive lineman Star Lotulelei. "I think as a defense, our safeties do a good job of helping on the run corners as well. Physically, we match up with anybody in the country and I think we'll prove it this year."
But the team had issues putting points on the board, ranking 74th out of 120 FBS teams in scoring offense last season.
"If we want to win the Pac-12 South, it has to be more than just great defense. We've got to be more productive on offense than we were last year," Whittingham said.
The run-heavy squad will be paced by running back John White, who last season rushed for 1,519 yards and 15 touchdowns on a league-leading 316 carries.
Norm Chow left after one season as the Utes' offensive coordinator to take the head coaching position at Hawaii. In to replace him is 25-year-old Brian Johnson, who quarterbacked Utah to a Sugar Bowl victory over Alabama in its undefeated 2008 campaign.
"The way he handled himself as a quarterback, I see the same qualities and demeanor in him as a coordinator," Whittingham said.
UCLA Bruins
First-year head coach Jim Mora emphasized building a program with pride when he addressed the media on Tuesday.
That pride was never more tested than after last season's 50-0 bloodbath at the hands of USC that cost Rick Neuheisel his coaching job. But the Trojans' postseason ban allowed UCLA to represent the South in 2011's conference title game anyway, despite finishing the regular season with a 6-6 mark.
But there probably won't be any back-peddling into the championship game this year.
"Hopefully, every game we get better and do things that make UCLA fans proud," Mora said.
Improvement for Mora's team might have to start with its scoring defense, which ranked 92nd in the nation last season, although the 88th-ranked scoring offense was not much better.
And with the quarterback situation still undecided — seniors Kevin Prince and Richard Brehaut divided up the snaps last season — running back Jonathan Franklin might have to shoulder the offensive load for the Bruins.
"As a leader, you have to make everybody around you better and you have to be accountable," said Franklin, who rushed for a team-leading 947 yards last season. "We have to push each other and I feel like (if) every day we come out and work hard, we will accomplish the things we want to."
To sum it up, it might be too early to tag a definitive label on this team.
"We don't want to peg ourselves as a west coast offense or a wish bone offense or spread offense or anything else," Mora said. "Our objective is to create opportunities for our players to display their individual talents."
Arizona Wildcats
The Rich Rodriguez era in Tucson is expected to bring changes in how the Wildcats run their offense and prepare for games. One of the major areas the former Michigan coach addressed was the conditioning of his players.
"There is a new attitude surrounding the football program," linebacker Jake Fischer said. "Everyone is giving their all and I believe it's going to show itself."
Arizona will try to replace the 4,000-plus air yards of departed quarterback Nick Foles with Rodriguez's spread offense, which the new coach defended against detractors who think it hurts players' chances of a successful NFL career.
"I think college quarterbacks, particularly guys coming out of the spread are more prepared in a lot of ways than so-called pro quarterbacks," Rodriguez said. "In a spread offense, they learn to get rid of the ball quickly. They can see the whole field and they learn offense."
Arizona State Sun Devils
The 2012 edition of Sun Devils football will provide a rebuilding task for first-year head coach Todd Graham.
Arizona State lost eight starters on offense and six on defense from a year ago. The departure of Brock Osweiler to the NFL also leaves the quarterback situation up in the air as three slingers who've combined for seven total passing attempts at the D1 level will compete for the starting nod.
"There is still competition left and it's not that we haven't got three guys that haven't separated themselves. We have three quality guys and it's great to inherit that situation." Graham said.
The new man in charge also wants to instill more discipline into a team that lost five straight games to finish the 2011 season and led the NCAA with 1,037 penalty yards on 104 penalties.
"We have been one of the worst teams in the nation in terms of getting penalties, and that's unacceptable," linebacker Brandon Magee said. "Coach stressed how unacceptable that is and he won't tolerate penalties."
Colorado Buffaloes
The Buffaloes had a rough initiation into the Pac-12 In their first season, and they might continue to take their lumps in 2012 unless the youth movement has an immediate payoff.
Head coach Jon Embree will have to replace the contributions of six starters on offense and five on defense who have moved on.
"We lose 28 players in that senior class. A number were major contributors in our program," Embree said. "I feel good with what we have coming in and helping us continue to move forward."
Paul Richardson figured to be Colorado's top receiving target until tearing his ACL in the spring, but Embree expressed optimism over his chances of playing this season.
"He's been progressing rapidly. We don't know when he'll be available this year," Embree said. "But it's something that I don't think is out of the question."

Pac-12 South Division Preseason Media Poll (First-place votes in parentheses)
1. USC (117)
2. Utah (1)
3. UCLA (2)
4. Arizona
5. Arizona State (3)
6. Colorado
Pac-12 Title Game Champion
USC (102 votes)
Oregon (18)
Arizona State (3)