Nation and World
Over-The-Counter HIV Test To Hit Stores Soon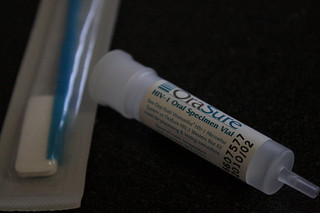 The OraQuick test detects the presence of HIV antibodies from a saliva sample swab. Users can obtain a result in just 20 - 40 minutes.
According to government estimates, Fox News reports, about 1.2 million people in the US are unaware they are carrying the HIV virus. Dr. Karen Midthun, director of the FDA's Center for Biologics Evaluation and Research said:
"The availability of a home-use HIV test kit provides another option for individuals to get tested so that they can seek medical care, if appropriate."
The test is scheduled to start selling in October through online and physical retailers such as Walgreens, CVS and Walmart. The price will be around $60. Included in the price is access to a toll-free call center where counseling and medical referrals will be provided to test users.
Reach Executive Producer Francesca Martens here; follow her here.