Sports
Olympics 2012, Day 5: Important Day For USA Swimming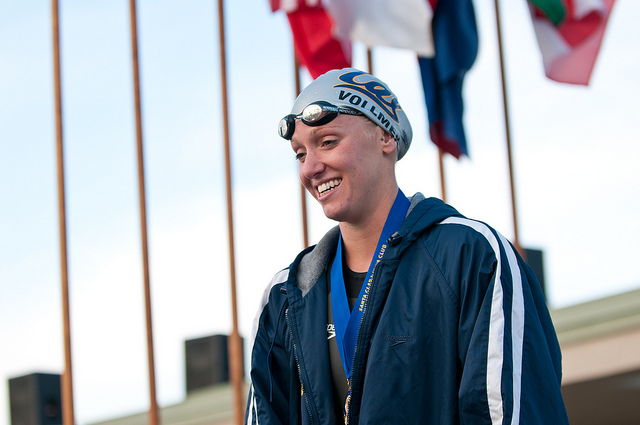 Day 5 of the Olympics is winding down with another set of great stories. Here are some of the biggest from today.
Story of the Day: Dana Vollmer sets World Record
Dana Vollmer, who failed to even make the American team in Beijing, came back from her disappointing performance in 2008 with a dominant swim in the 100m butterfly. Her time of 55.98 seconds crushed previous record holder Sarah Sjostrom's 56.06 from 2009.
The win was huge for Vollmer, who overcame numerous injuries since Beijing to re-emerge as one of the world's best swimmers. She is also scheduled to compete in the 200m freestyle, where she will likely be favored after her huge win.
USA Men's 4x100 Freestyle Stunned by France
The American men's 4x100 team, headed by stars Michael Phelps and Ryan Lochte, suffered an unexpected and sudden defeat in their championship race. Despite building a sizeable lead over the first three legs of the race, anchor leg Ryan Lochte was caught in the final meters by Frenchman Yannick Agnel.
It was an ironic twist of fate, given that the exact same scenario played out in this race in Beijing; America came from behind to take the gold in a classic finish. Said Lochte to the Associated Press, "…I think I overswam the first 50 and it hurt me for the last 50. But we were able to get a medal, so I guess that's good."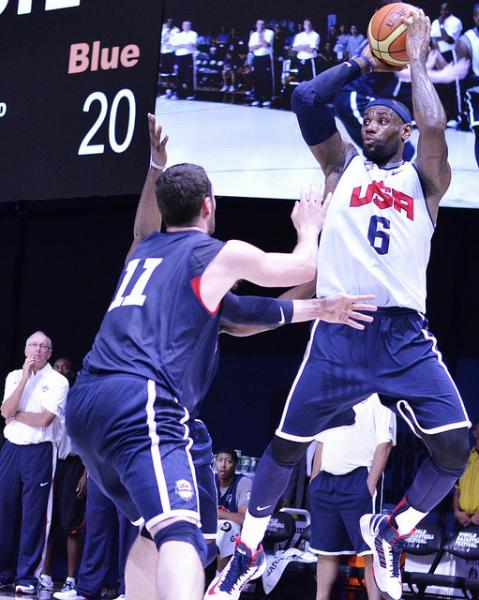 USA Men's Hoops Takes Opener
Led by Kevin Durant and Lebron James, the American men's basketball team blew out France 98-71 in the team's first game of the Olympics. The game wasn't as lopsided as the score indicates, however.
Sloppy play, including a number of turnovers and unnecessary fouls, prevented America from seizing complete control of the game. Team USA led 52-36 at halftime but the lead could've been much bigger if not for silly mistakes.
The Americans opened the second half with a few big plays, including an alley-oop dunk from James and a three-pointer from Durant, and the rout was then on.
In addition to the American stars, this game also featured well known French NBA players Tony Parker of the San Antonio Spurs and Nic Batum of the Portland Trailblazers. Despite their NBA experience, they were unable to lead their team to victory.
Trojans in the Olympics
Clement Lefert- The USC Trojans continued their 100-year gold medal streak today as recent graduate Clement Lefert was a part of the French 400m freestyle swim team that defeated Americans Michael Phelps and Ryan Lochte. He swam for USC as recently as 2011.
Vladimir Morozov- The current USC junior medaled in the same race as Lefert as a part of Russia's bronze medal team.
Jen Kessy and April Ross- Kessy and Ross took their first volleyball match against Argentina 2-0. The former Trojans never trailed in their opening match.
Medal Results From Day 5
Archery
Women's Team Competition | Gold: South Korea, Silver: China, Bronze: Japan
Cycling
Women's Road Race | Gold: Marianne Vos (Netherlands), Silver: Elizabeth Armitstead (Great Britain), Bronze: Olga Zabelinskaya (Russia)
Diving
Women's 3-meter Springboard Synchro | Gold: Wu Minxia/He Zi (China), Silver: Kelci Bryant/Abby Johnston (United States), Bronze: Jennifer Abel/Emilie Heymans (Canada)
Fencing
Men's Individual Sabre | Gold: Aron Szilagyi (Hungary), Silver: Diego Occhiuzzi (Italy), Bronze: Nikolai Kovalev (Russia)
Judo
Men's 66-kilogram | Gold: Lasha Shavdatuashvili (Georgia), Silver: Miklos Ungvari (Hungary), Bronze: Cho Jun-Ho (South Korea) and Masashi Ebinuma (Japan)
Women's 52-kilogram | Gold: An Kum Ae (North Korea), Silver: Yanet Bermoy (Cuba), Bronze: Rosalba Forciniti (Italy) and Priscilla Gneto (France)
Shooting
Women's 10-meter Air Pistol | Gold: Guo Wenjun (China), Silver: Celine Goberville (France), Bronze: Olena Kostevych (Ukraine)
Women's Skeet | Gold: Kim Rhode (United States), Silver: Wei Ning (China), Bronze: Danka Bartekova (Slovakia)
Swimming
Men's 100-meter Breaststroke | Gold: Cameron Van Der Burgh (South Africa), Silver: Christian Sprenger (Australia), Bronze: Brendan Hansen (United States)
Men's 4x100-meter Freestyle | Gold: France, Silver: United States, Bronze: Russia
Women's 400-meter Freestyle | Gold: Camille Muffat (France), Silver: Allison Schmitt (United States), Bronze: Rebecca Adlington (Great Britain)
Women's 100-meter Butterfly | Gold: Dana Vollmer (United States), Silver: Lu Ying (China), Bronze: Alicia Coutts (Australia)
Weightlifting
Men's 56-kilogram | Gold: Om Yun Chol (North Korea), Silver: Wu Jingbiao (China), Bronze: Valentin Hristov (Azerbaijan)
Women's 53-kilogram | Gold: Zulfiya Chinshanlo (Kazakhstan), Silver: Hsu Shu-Ching (Chinese Taipei), Bronze: Cristina Iovu (Moldova)
For more of Neon Tommy's Olympic coverage, click here.
Follow Daniel on Twitter.