Sports
Olympics Preview: Trojan Water Polo Goalies To Make Debut
As the world counts down the final days to the 2012 London Olympics, Neon Tommy is here to get you acquainted with the 39 Trojans that will be going for the gold this year. In this preview, we take a look at Joel Dennerley and Flora Bolonyai, two stellar goalkeepers who hope to use the experience they have gained at USC to dominate in the cage this summer.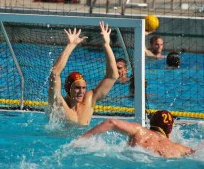 Joel Dennerley (Australia)
: Without question, Joel Dennerley stands as the greatest goalkeeper in the history of USC water polo and one of the greatest in the college game. For the past four years, his immense skill in front of the cage has been integral to the Trojans' run towards becoming the first men's water polo team to win four consecutive NCAA titles. He is only one of three athletes to win an NCAA water polo title during all four years of his eligibility, the other two being his teammates Matt Burton and Peter Kurzeka. In addition, he blew past the school record for most career saves, racking up a final tally of 855 saves.
But when he was first recruited by USC head coach Jovan Vavic, Dennerley wasn't planning on staying at USC for as long as he did. When he first arrived at Troy, he was already a member of the Australian junior team and considered to be one of the top keepers in the country. He was only supposed to be with the Trojans for a year, but after winning the national championship and building a strong relationship with his coaches, Dennerley chose to stay.
In addition to his success at USC, Dennerley has won the Australian National Water Polo League Championship with the Wests Magpies in 2008 and received the best goalkeeper award at the 2011 Volvo Cup in Hungary. Vavic cites Dennerley's perfect blend of physical and mental prowess in the pool as the core of his success.
"Joel is about six feet, four inches tall, but his arm length is about seven feet, so he's able to cover a great amount of the cage easily," he said. "He's very intelligent, as well. He studies his opponent and prepares very well by figuring out the shooters and knowing what the opponent will bring offensively."
Dennerley graduated from USC this past May with a B.A. in Kinesiology, and will be making his Olympic debut this week.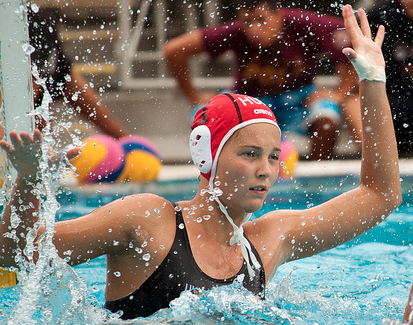 Flora Bolonyai (Hungary)
: While Joel Dennerley has been on the road to the Olympics for many years now, Flora Bolonyai's addition to the Hungarian team was a bit of a surprise. She was first considered following a strong silver medal performance at the Junior World Championships last year, and she was contacted for the first time by the Olympic committee in October. With a chance at a trip to London suddenly placed before her, Bolonyai's sophomore season at USC this past spring became the primary source of her training for the international team. She was able to succeed on the collegiate and international stage, helping Hungary qualify for the Olympics and leading the Women of Troy to a second-place finish at the NCAA championships.
Vavic praised Bolonyai for her rapid development as a goalkeeper and for her great work ethic alongside assistant coach Marko Pintaric: "She is extremely motivated, hard working and intelligent. It doesn't take her a long time to learn new skills."
With nine of his players participating in this year's Olympics, Vavic is eagerly anticipating the tournament.
"I am their biggest fan. Watching them makes my job more satisfying and fun, because in water polo the top of our profession is playing in the Olympics," he said. "It is very satisfying to watch these players reach their goals, and I am excited to see them achieve."
The Australian water polo team plays its first game this Sunday against Italy, and the Hungarian water polo team's first game will be on Monday against the United States. In Bolonyai's first match as an Olympian, she will be attempting to block shots from USC alums Lauren Wenger and Kami Craig.
Read more of Neon Tommy's coverage on the 2012 Olympics here.
Reach Staff Reporter Jeremy Fuster here.