Los Angeles
Occupy L.A. Chalk Walk Ends In 17 Arrests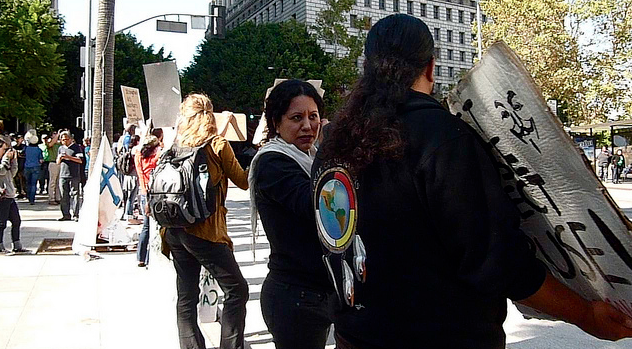 The downtown L.A. Art Walk became a violent confrontation on Thursday night between protesters and police, resulting in 17 arrests, NBC LA reported.
The Occupy L.A. protest or "ChalkWalk"— to promote freedom of speech through chalking— began around 8:40 p.m. on Thursday with about 100 officers in riot gear arriving three hours later.
According to NBC, aerial video confirmed "demonstrators throwing objects at officers. At least one person threw a traffic cone at an unmarked police car":
Charges include one count of misdemeanor vandalism for a juvenile, eight misdemeanor counts of vandalism for adults, two counts of failure to disperse, two counts of assault with a deadly weapon on a police officer, two counts of resisting arrest, one count of receiving stolen property and one count of assault on a police officer, said Sgt. Rudy Lopez.
Police clarified that two pedestrians originally reported as being injured were actually arrested on suspicion of failure to disburse.
Three officers suffered minor injuries, Lopez said. Another officer suffered a mild concussion when she was hit in the helmet with a bottle, Lopez said.
Occupy L.A. also
posted
pictures of injured protesters to their Facebook page.
Find more
Neon Tommy
coverage of Occupy L.A.
here
.
Reach Executive Producer Paige Brettingen here.