Sports
Olympics 2012, Day 1: Women's Soccer Kicks Off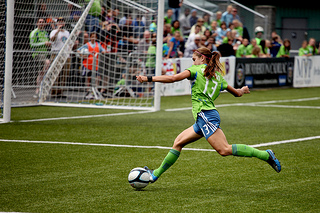 The 2012 Summer Olympics kicked off Wednesday with women's soccer action, two days before the Opening Ceremony is scheduled to take place.
Group G
United States 4 (1-0), France 2 (0-1)
After a lackluster start by the Americans, surrendering two goals early in the game, the team rallied by the end of the first half to overcome the highly-touted French for a 4-2 victory.
In the 18th minute of the game, Abby Wambach put in a header to score the first U.S. goal. Alex Morgan knocked in a second in the 31st minute to end the half tied, two goals apiece.
American Carli Lloyd gave the U.S. its first lead of the game with a goal in the 56th minute, matched by Morgan in the 66th to secure the win.
The U.S. team uncharacteristically allowed France's Gaetane Thiney and Marie-Laure Delie to break through its concrete defense and sneak goals past Hope Solo, all within the opening 14 minutes.
The U.S. women's team enters the Olympics favored to win gold, but still have more to prove coming into the Games. Last year, the team suffered a heartbreaking defeat in the World Cup finals, losing to Japan on penalty kicks. They return to London with a new starting lineup, notably injecting 23-year-old Morgan to the starting 11. Along with Wambach, the two make up an A-team whose partnership remains the best in the world.
North Korea 2 (1-0), Colombia 0 (0-1)
The second match in Group G got off to a rocky start when the game was delayed over an hour, thanks to a broadcasting error that flashed a South Korean flag next to images of North Korean players. After walking off in protest, the North Korean team came back to defeat Columbia, 2-0.
Up Next for Group E: The United States faces Columbia Saturday, while France will play North Korea.
Group E
Great Britain 1 (1-0), New Zealand 0 (0-1)
Great Britain and New Zealand kicked off Group E play. Stephanie Houghton snuck in a goal into the bottom left corner (minute 64) to defeat New Zealand, 1-0. This marks Great Britain's first ever Olympics victory in women's soccer. The team had previously never participated in the Olympics.
Brazil 5 (1-0), Cameroon 0 (0-1)
Cameroon and Brazil rounded out Group E play. The Brazilians, who join the Americans as easy favorites in the Games, dominated Cameroon for a 5-0 victory. Five-time reigning FIFA player of the year Marta contributed two goals, while Francielle, Renata Costa and Cristiane added in one each.
Up Next for Group E: Brazil takes on New Zealand Saturday, while Great Britain matches up against Cameroon.
Group F
Japan 2 (1-0), Canada 1 (0-1)
World Cup champions Japan faced off against Canada in Group F for a 2-1 win.
Japan's Nahomi Kawasumi knocked in a goal in the 33rd minute, followed by a header from Aya Miyami at the end of the first half to put the team up 2-0. Canada's Melissa Tancredi came into the second half strong, scoring in the 55th minute.
Japan enters the Olympic Games with the majority of its World Cup-winning team, including FIFA player of the year and veteran midfielder Homare Sawa.
Sweden 4 (1-0), South Africa 1 (0-1)
Sweden faced off against South Africa, dominating their way to a 4-1 victory. The Swedes came out of the gate strong with three goals in the game's first 20 minutes. Sweden's Lotta Schelin struck down two goals, with captain Nilla Fischer and Lisa Dahlkvist adding one each. South Africa's Portia Modise swept past Sweden's Hedvig Lindahl to score one for her team.
Up Next for Group F: On Saturday, Japan will play Sweden, while Canada will face South Africa.
The London Games don't officially open until Friday, but men's and women's soccer kicks off two days early to fit in a full tournament schedule. Men's soccer begins Thursday.
Read more of Neon Tommy's 2012 Olympic coverage here.
Reach Staff Reporter Amanda Martinez here.