Music
Ben Harper Strips It Down At The Hollywood Bowl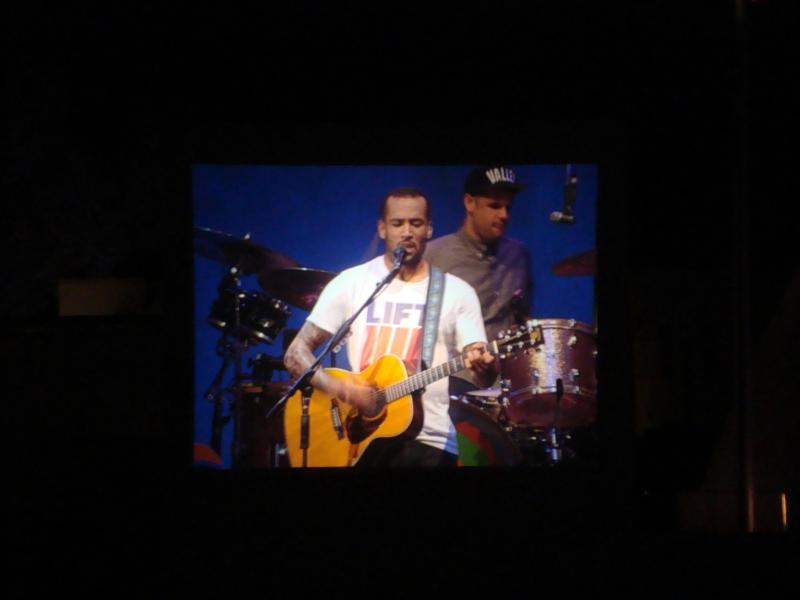 If Ben Harper were to be defined in a single word, it would be simplicity.
Last night, Harper was able to make the Hollywood Bowl and its almost 18,000 seats seem like his own intimate private garden concert for some friendly neighbors.
Switching instruments from one song to the other, the California native proved to his loyal L.A. fan base the extensive music techniques he gathered up along the years.
Vieux Farka Toure and Fitz & The Tantrums opened the show and provided a perfect warm up session to a cheering audience prior to Harper's 90-minute performance.
Starting out with "Don't Gotta Work It Out," Fitz--lead singer of the band--and his powerful vocalist Noelle Scaggs woke up the entire amphitheater in the middle of a mellow dining and wining moment.
Once the band got everybody dancing on their feet, Fitz & The Tantrums grooved up on a jazzy-funk cover of Eurythmics' "Sweet Dreams" and ended their performance with their most popular song, "Money Grabber." Standing ovation!
Allowing just enough time to the crowd to prepare for the entrance of the headliner, Harper entered and sat alone on oriental carpets wearing a white tee and a pair of jeans.
He opened the festivities with an acoustic track called "Mutt," playing with a weissenborn on his lap and a peaceful look on his face. Harper's solo began a journey of musicalities with grace and made his audience travel through time going back to some of his most-known classics.
Leaving one of his signature guitars for the acoustic session of "Another Lonely Day," Harper seduced Hollywood while singing out the smoothly sensual "Morning Yearning" and "Diamonds On the Inside," finding time to share some words with his mom: "Hey Mom! I'm playing at the Hollywood Bowl."
Harper also opened his stage to quite a few guests such as Natalie Maines (of the Dixie Chicks) covering "Mother" by Pink Floyd, a performance deserving a warm bravo. Rickie Lee Jones joined Harper on stage as well with an acclaimed version of "Masterpiece."
Harper's choice of a tracklist highlighted his capacity to jump from one genre to another without sounding out of tune with his own repertoire. Each song gradually moved to a faster-pace rhythm including folk, blues, and rock music.
One may recognize Harper for his talent as an acoustic singer and musician, but when percussionist Leon Mobley stepped on stage for "Ground On Down" and "Better Way," the Hollywood Bowl turned into a rock 'n' flame show.
The crowd clapped and cheered for Mobley's outstanding performance. Harper performed his guitar slides with one hand only, hanging the instrument from his left palm as he turned to the drummer, who was hitting the drums with maracas instead of sticks.
After the entire theater sang along with Harper on "Better Way," he said his goodbyes and left the stage.
The audience was expecting an encore song; Harper and his band played three more tracks to an ecstatic audience. A graceful violinist accompanied him on the moving "Amen Omen" followed by the return of Mobley on "Burn One Down," earning an extremely enthusiastic standing ovation.
As a smelly cloud was traveling through the theater during the encore set, Harper warned the crowd, "Don't get kicked out, because I can smell you from here."
The last song showed Harper's greatest skills of a performer: "Where Could I Go." Before he gave his final goodbye, Harper won everybody's heart by asking for absolute silence in the theatre and singing without any mic and any musical accompaniment.
The girls screamed their lungs out and the guys clapped as hard as they could ending the spectacle with a truly great memory in music history.