Sports
The Lakers Acquire Two-Time MVP Point Guard Steve Nash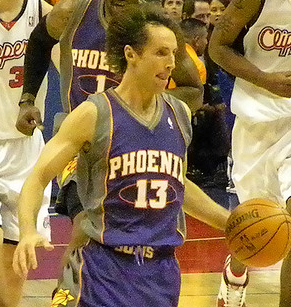 The Los Angeles Lakers launched fireworks of their own this Independence Day as the team agreed to a sign-and-trade that will bring eight-time All-Star Steve Nash to the City of Angels.
The deal won't become official until July 11, but the deal is as good as done. In the trade, Los Angeles acquired the 38-year-old point guard in exchange for four draft picks, including two first-round picks (2013, 2015) and two second-round picks (2013, 2014).
Nash has seen his scoring numbers decline each of the past three seasons, but the two-time MVP remains one of the league's elite passers. In each of the guard's eight seasons with the Suns, he boasted an assist rate of better than 9.7 assists per game (in five of those eight years, he dished out 11 or more assists per game).
The storied franchise has been on the prowl for a top-caliber point guard for some time now. In December of last year, the Lakers completed a three-way trade to acquire Chris Paul…or so they thought.
Commissioner Stern, who vetoed the deal citing "basketball reasons," possessed the authority to do so simply because the Hornets were owned by the NBA at that time. Six days later, the Lakers watched as their budding crosstown rivals snatched him up.
More recently, another talented young point guard was taken off the market on Tuesday when 28-year-old Deron Williams elected to remain with the Nets, as the team begins its Brooklyn era.
The acquisition of Nash is an obvious attempt by the Lakers to craft a team that is ready to win NOW. Rather than build through the draft, the Lakers appear to understand that their window of opportunity is closing.
Let's be clear: The window is not closing immediately. Kobe Bryant is still an elite player and one of the best in the game, while Nash has at least two quality years left in him (Nash will reportedly sign a three-year, $27 million contract). But at the same time, Bryant and Nash won't be around forever (especially Nash). That's why the Lakers made the move when they did.
Bryant will be 34 when the season begins, but when his injuries and ample playoff experience are taken into account, Bryant looks more like a 37 or 38-year-old. While he's certainly not playing like one, Bryant very likely has no more than five or six years left in his career. Although the Black Mamba will undoubtedly continue to be the guy taking the final shot, Nash's presence will preserve No. 24's knees, as Bryant won't have to dominate the ball quite as often.
But even more importantly, Nash is "slippery quick." Nash's ability to shrewdly maneuver around defenders will likely reduce the number of double-teams Bryant will have to face. He's Kobe, so of course teams will still double him from time to time, but when a team's starting lineup boasts the likes of Nash, Bryant, Pau Gasol and Andrew Bynum, how can an opponent double and not get burned?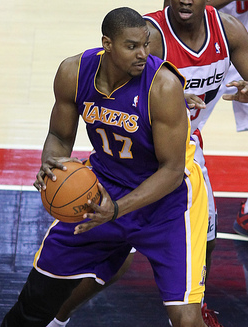 Few guys in the history of the game have been blessed with the incredible court vision that Mr. Nash has. While the jury is still out on Bynum's maturity off the court, the young center demonstrated significant offensive improvement last season. Even so, Bynum often had to work awfully hard to create scoring chances in the post. We now know Bynum is capable of doing that, if needed, but Nash's arrival makes it easier on the young seven-footer and should result in a number of easy dunks. Expect to see more than 20 points per game from Bynum if he remains a Laker (and he probably will).
This acquisition also adds a new element to the burgeoning rivalry between the Lakers and Clippers. Both teams now boast elite point guards in Steve Nash and Chris Paul. While the former is nearing the end of his career and the latter is in his prime, both guards can be described as intelligent players with amazing court vision, ample quickness and that all-important ability to make their teammates better.
Although the Lakers have been the far more successful franchise, the LA teams appear to be fairly even at the moment. Last season, the Lakers took two of three regular season games, but finished just one game ahead of the Clippers. Considering offseason moves made as of July 6, the Lakers, Clippers, Thunder and Spurs appear to be the top four Western teams for the upcoming season.
Ramon Sessions, the point guard who was acquired midway through last season, will now most likely sign elsewhere. In June, Sessions declined to pick up his player option with the Lakers, while instead seeking a long-term deal. Sessions is a reliable point guard, but the Lakers cannot afford to give him a long-term contract.
But back to Nash. Nash can't wear No. 13 like he's used to, because some guy named Wilt Chamberlain has that number retired by the purple and gold. Somehow, I doubt the 16-year veteran will mind. There are bigger priorities in play. Nash ultimately agreed to come to Southern California for two primary reasons: he believed playing for the Lakers would afford a prime opportunity to earn his first championship ring and Nash wanted to remain relatively close to his son and daughters who live in Phoenix.
Like many great players, Nash was presented with an interesting dilemma as his career was winding down. Should he have returned home to Canada to play for the upstart, but far-away-from-a-championship Raptors? Should he have signed with the Knicks and made more money than he'll be making now? It was an easy decision for Nash. He chose the opportunity to win, and how can one fault him for that?
---