National
George Zimmerman In TV Interview: 'I'm Sorry'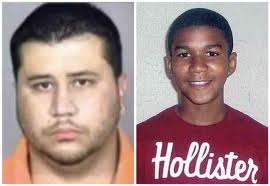 Neighborhood watch volunteer George Zimmerman gave his first lengthy TV interview Wednesday on Fox News, and said he wanted to apologize to Trayvon Martin's parents for fatally shooting their son but insisted he did not pursue the teenager, the
Associated Press
reported.
Zimmerman was accompanied by his attorney, Mark O'Mara, and interviewed by Sean Hannity.
"It was all God's plan, and for me to second guess it or judge it," Zimmerman said, his voice trailing off, The New York Times reported.
Zimmerman denied accusations that he was suspicious of Martin because he was black, the newspaper reported.
"I am not a racist, and I am not a murderer," he said.
When Hannity asked what he would tell Martin's parents, Zimmerman said "I'm sorry" and he would be open to talking to them about what happened the night of the shooting, according to the AP.
"I can't imagine what it must feel like. And I pray for them daily," Zimmerman said.
Zimmerman is charged with second-degree murder in the Feb. 26 death of the unarmed 17-year-old. He pleaded not guilty and has claimed self-defense under Florida's "stand your ground law."
He said the teenager knocked him down, punched him, slammed his head into the pavement repeatedly and tried to suffocate him, The New York Times reported.
From The Times:
Looking calm and speaking in a measured tone, Mr. Zimmerman, 28, described the final moments before he pulled out his gun and shot Mr. Martin. Mr. Zimmerman said he felt he had no choice but to pull the trigger because Mr. Martin had spotted his gun while Mr. Zimmerman tried to shimmy away on his back from Mr. Martin.

"At that point, um, I realized that it wasn't my gun, it wasn't his gun, it was the gun," Mr. Zimmerman said. "He said, 'You are going to die tonight' " — using an expletive — "and took one hand off my mouth, and I felt it going down my chest toward my belt and my holster and I didn't have any more time."

"It just happened so quickly," he added.
Zimmerman said he thought the bullet missed Martin and then realized he was wounded. At the police station an hour later, he realized Martin was dead.
"I do wish there was something, anything I could have done that wouldn't have put me in a position where I had to take his life," Zimmerman said. "And I do want to tell everyone - my wife, my family, my parents, my grandmother, the Martins, the city of Sanford and America - that I am sorry this happened. I hate to think that because of this incident, because of my actions, it has polarized and divided America. And I am truly sorry."
O'Mara cut Zimmerman off from speaking, USA Today reported, when Hannity asked about allegations that he and his wife lied about their finances to get a lower bail. O'Mara said Zimmerman should not speak about it because his wife faces charges related to the allegations, and Zimmerman could also face charges.
Zimmerman is out on $1 million bail.
After the interview aired, the teenager's father, Tracy Martin, told the AP, "We must worship a different God because there is no way that my God would have wanted George Zimmerman to kill my teenage son."
Read more of Neon Tommy's coverage on the Trayvon Martin case here.
Reach Executive Producer Agnus Dei Farrant here.