National
Fourth Syrian Official Dead, Assad Refuses To Step Down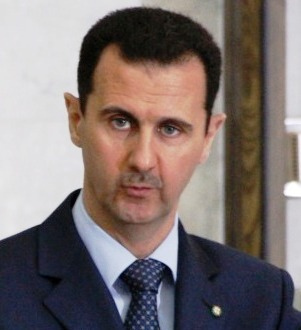 Syria's intelligence chief Hisham Bekhtyar died, on Friday, from wounds suffered during a bombing on Wednesday that killed three other senior security officials in Assad's inner circle, but despite the announcement, Syria's Information Ministry maintains that President Bashar Assad will not step down.
The response came after Alexandre Orlov, Russia's ambassador to France, told French RFI radio on Friday that "there was a final communique that foresees a transition towards a more democratic system" and this "was accepted by Assad [and] he accepted to leave, but in an orderly way."
Syria's ministry responded on state television that Assad leaving power "in an orderly way" was "completely devoid of the truth," according to The Jerusalem Post, and Reuters said Russia's Paris embassy say the statement was taken out of context.
Assad has not spoken since Wednesday's attack by rebel forces during a high level security meeting in Damascus, which killed a defense minister, a senior general and his brother-in-law who served as his deputy. However, he did appear on television Thursday to appoint a new defense minister.
The death of Bekhtyar comes as another blow to the Assad regime. As the head of the National Security intelligence agency, Bekhtyar was part of a "close-knit six-man 'crisis unit', in charge of suppressing the 16-month uprising threatening four decades of Assad's Alawite family rule."
The Times of Israel reports:
…six days of sustained fighting in neighborhoods across the heart of the capital and the fall of several border posts into rebel hands have pointed to the unraveling of Assad's grip on power amid an uprising that began in March 2011…

The fighting came as Muslims around much of the world began marking Islam's annual Ramadan fast, abstaining from food or drink from sunrise to sunset. In a sign of the increasing sectarian split in Syria, the mainly Sunni opposition said it was starting the fast on Friday, along with Saudi Arabia and most Sunni-led Arab nations. The regime, meanwhile, said it would begin Saturday, as is its ally, Shiite-led Iran.
Activists told The Times of Israel that more than 300 people were killed in a single day as Syrian troops and tanks drove rebels from a Damascus neighborhood where some of this week's heaviest fighting took place.
Syrian opposition fighters have managed to take control of a number of key border crossings with Iraq and Turkey said Al Jazeera.
Al Jazeera reports:
Rebels were in control of the Abu Kamal border crossing near Iraqi town of al-Qaim, on the Damascus-Baghdad highway and one of the most important trade routes in the Middle East, Hakim al-Zamili, head of the security and defense committee in Iraqi parliament, told a local television station on Thursday.

Qassim al-Dulaimi, Iraqi Army Brigadier General said the rebels forced the border guards from their posts but did not cross into Iraq. Al-Qaim is located about 320km [just under 200 miles] to the west of Baghdad.
Local Iraqi officials also pointed out that two other major border crossings remain in the hands of the Syrian regime.
Jane Arraf, reporter for Al Jazeera, said rebels have also taken control of two posts at Bab al-Hawa and Jarablus along the border with Turkey after gun battles on Thursday.
As refugees flee the fighting in Syria, the U.N. Security Council has unanimously approved a 30-day extension to a monitoring mission on Friday. It would allow 300 unarmed military observers to start a transition to a mission shutdown.
According to Voice of America, they have been "deployed as part of U.N. envoy Kofi Annan's peace plan to end the 16-month conflict that has killed thousands, but the force has been viewed as largely ineffective."
U.S. ambassador to the United Nations, Susan Rice, said, "…we hope very much that the withdrawal will be conducted with the principal priority placed on the security of the U.N. personnel. Today's vote to extend UNSMIS for a final period was not the resolution that the United States had hoped to adopt in the first instance. Our strong preference was to adopt the resolution that was regrettably vetoed yesterday in order to give the men and women of UNSMIS a final last, best opportunity to succeed in the performance of their mission."
The increased fighting between the opposition and the Syrian regime has translated into thousands of Syrian refugees pouring into neighboring countries like Lebanon, Jordan, Turkey and Iraq.
The BBC reports that the U.N. refugee agency (UNHCR) said up to 30,000 people have fled into Lebanon over the past two days, adding to to the already 26,900 registered Syrian refugees.
A spokesman for UNHCR told AFP news that about 2,500 people arrived in Jordan over the past four days, adding to the 35,000 registered Syrian refugees already there. The Jordanian government is building several refugee camps, and it is believed that about 140,000 Syrians have made their way to Jordan since the uprising began in March 2011.
The numbers only increase as thousands more flee to Iraq, many of them Iraqi nationals. Iraqi officials said roughly 1,000 left in eight flights from Damascus and more are crossing the border by land.
Melissa Fleming, a spokesman for the U.N. refugee agency, said an unknown gunmen shot an Iraqi refugee family of seven in their Damascus apartment on Friday. The family, including children, were killed at close range. She told The Washington Post that many Iraqis who were living in the Damascus suburb of Seida Zeinab have left because of the increased violence and "targeted threats" against them.
Captain Saad al-Khafaji of the state-owned Iraqi Airways said, "We will continue the flights until there are no Iraqis left [in Syria]." He said bus transportation across the Syrian border to Iraq has stopped "because of the dangers."
For more of Neon Tommy's coverage on Syria, click here.
Follow Executive Producer Subrina Hudson here; follow here on Twitter here.