International
Egyptian President Recalls Dissolved Parliament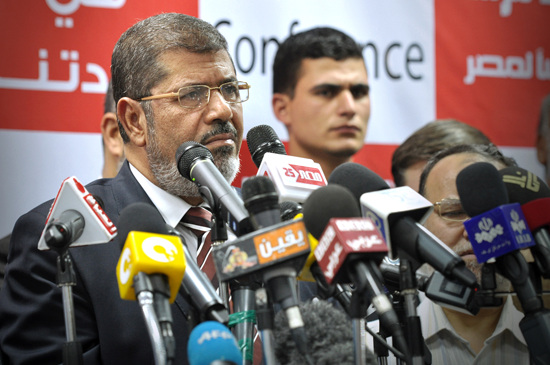 Egypt's new Islamist president, Mohammed Morsi, called on the dissolved parliament to reconvene, the
Associated Press
reported. The president also called for new parliamentary elections to be held within 60 days of the adoption of a new constitution for the country, expected late this year.
Morsi ordered the immediate return of the legislation on Sunday, The Washington Post reported, a majority of whom are members of Morsi's Freedom and Justice Party and other Islamist groups.
The decision is in defiance of a military decree that dissolved the legislature last month, the AP reported. The country's highest court ruled that a third of the legislature's members were illegally elected in 2011.
The AP reported that the Supreme Constitutional Court, the tribunal that dissolved the legislature, will meet Monday to discuss the decree.
From the AP:
The basis of the ruling is that political parties breached the principle of equality by fielding candidates to run for the third of the chamber's seats set aside for independents.

The text of Morsi's decree made no mention of the Supreme Constitutional Court's ruling, saying it was revoking the military's own decree to disband the legislature. The military decree came when the generals were in power, acting as a collective presidency.
The nation's top generals, also known as the Supreme Council of the Armed Forces, reportedly held an emergency meeting after Morsi's decree was announced.
Read the full Associated Press story here.
Reach Executive Producer Agnus Dei Farrant here.