Film and TV
"Bunheads" Recap: Money for Nothing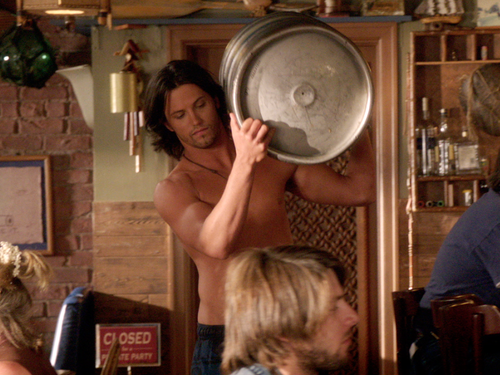 "Growing up and is hard to do" is the theme in this week's episode. Everyone gets a dose of reality this week when they're forced to face "what is" versus what they'd like to let themselves believe.
Last week we ended things realizing that Michelle is haunted by how her last audition played out. Despite her seemingly being okay it's clear that her nightmares tell another story; one of fear and the idea that she may never get the chance to dance to something meaningful.
If Michelle had any doubt that she wasn't in Vegas anymore waking up to a giant rat like animal sure cleared things up for her. Frozen in fear and not knowing what to do she calls Fanny telling her she has something in her bed who automatically just tells her to wake them up and give them cab fare and tell them to leave. Michelle explains it's not a person which puts them in a back and forth witty yet childlike exchange of words on what it is, at least until Michelle suggests she send Fanny a picture of what's in her bed. Fanny calmly tells her it's not a rat it's a possum--basically is a giant rat--which panics an already slightly frantic Michelle. Fanny tells Michelle to hit the possum over the head with a pan and she responds with that classic wit Amy Sherman-Palladino shows have saying, "there's a problem one I don't cook and if I do that who knows maybe his fellow possums will come after me and seek revenge." When the possum opens its mouth and eerily growls and shrieks at Michelle it sends her fleeing out.
Michelle gets into the main house only to find herself confused by the craziness of Fanny's methodology on paying bills, which is sure to send any sane person in for a loop. Michelle learns that the hat boxes filled with receipts and bills was a result of Fanny getting ready for her paying season with Truly, which of course makes no sense to Michelle who can't grasp the idea that Fanny only pays her bills twice a year, and divides her bills into piles of have to pay, might pay, and can wait to pay depending on the person's service or attitude at the time.
When Michelle comes back to the main house she finds a traumatized Truly picking up all the receipts that the wind blew everywhere and Fanny leaving to go teach her dance class. Seeing Truly clearly overwhelmed, Michelle tells Fanny she's going to get a real accountant to help her.
It's no secret that being an accountant isn't the most interesting or easiest job for most people to understand, but despite personal opinions you'd never tell your accountant what your thoughts regarding his job are right? Well not unless you're Fanny and Michelle who are visibly half asleep the whole time and the little time they are present choose to have a blatant conversation in front of their accountant about how boring he is and their cluelessness of what he's been discussing. In order to get them on board their accountant explains the situation to them in the simplest of terms basically telling them they both need to find a source of income to sustain things, because the money Hubble left won't last forever. Michelle, a little baffled by the fact that there is currently no income coming in despite Fanny having a dance school filled with students, begins asking questions. The accountant tells her that out of the 75 students that go to Fanny's dance school only nine of them actually pay.
When Fanny and Michelle get home they have a conversation on getting an income coming in. Fanny explains she's an artist and can't turn away a student just because they can't pay and Michelle quickly responds they aren't dancers they are squatters that need to start paying, and that she'd be willing to be the bad cop and make sure people start paying.
Boo starts a job at the Oyster Bar, which like most teenage jobs, isn't glamorous in the slightest especially since her junior manager insists part of her job is jumping in the dumpster and pushing the trash down so it can close. Another side effect of the job is that Boo has a new distinct scent, which isn't pleasant. The other bunheads Michelle, Ginny, and Sasha come to visit Boo at her job, but not to buy food since they all are broke, but instead to score whatever Boo can get them to eat for free and more importantly to see Godot the town heartthrob who 's back from his trip to Costa Rica.
Godot, played by Nathan Parsons (General Hospital alum), is every girl in town's dream with his great looks and dreamy body. Michelle, Sasha, and Ginny get all dressed up and sit at a table hoping to capture his attention, which of course doesn't happen. Sasha even goes up to the bar thinking he won't be able to resist her and will insist on getting her a drink, but after a many small comments not one getting his attention he finally asks her what she wanted and all she can think of is a cup of cherries. The other girls aren't impressed by Sasha's efforts and seeing that, she plays down her crush.
Michelle comes in at the end of Fanny's dance class and makes a huge speech on how everyone needed to start paying. Her rant was not received well and instead many people decided to stop bringing their kids to classes, which didn't go over well with Fanny especially considering she had a show coming up. Michelle was hard at work fixing her mistake to get the students back, which she is able to do with a lot of groveling on her part.
Meanwhile Boo was becoming friends with Godot, the object of every girl in town's affection. The two met while Boo was doing her regular dumpster jumping job, which he found strange and funny so he asked her why she was doing that and she let him know it was part of her job. He found that odd considering she was a waitress and there were no people in the dumpster, but Boo explained how the junior manager told her she had to do it. While simultaneously helping Boo out of the dumpster and telling her she didn't have to do that anymore because there was no junior manager and he was a douche for making her do that. Seeing how dirty her shirt was he takes his shirt off and gives it to her to change into, which Boo instantly realizes, smells of coconut and island goodness, which surprises her since he'd been working at the Oyster Bar all day. While picking up Boo from work the other bunheads notice the interaction between her and Godot and while Michelle and Ginny are happy for her, Sasha is clearly jealous of Godot giving Boo his shirt and a CD to listen to.
The episode ends with the dance studio's performance at the flower festival and with Fanny explaining to Michelle that considering the idea of teaching doesn't have to mean her dreams of dancing have to be over too.
Reach reporter Phoebe Abraham here or follow her on twitter.