Sports
The Best Of Pac-12 Media Day 2012: North Division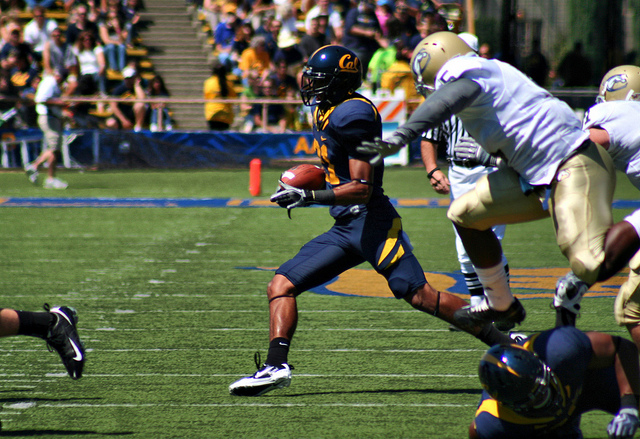 Another Pac-12 Media Day is in the books, and the representatives from the North Division did not disappoint.
First, the predicted order of finish for the Pac-12 North by the conference media contingent:
Oregon
Stanford
Washington
Cal
Washington State
Oregon State
Here is a highlight from each team, in order of appearance:
Cal Bears
Cal coach Jeff Tedford was joined by wideout Keenan Allen and defensive back Josh Hill. Tedford was asked about the Bears' lengthy Rose Bowl drought:
Tedford: "There is no doubt, I think, if you asked our fans whether they want to be in a national championship or the Rose Bowl, it's the Rose Bowl, and it's the measuring stick on where you want to be. Every year we set out to do that, and we've been close a couple of times but haven't knocked that door down. Excited about the opportunity this year as the season starts anew to strive to get there again. I know it's been a long, long time and it wouldn't -- it would feel great if this was the group that was able to do it obviously."
Washington State Cougars
New Washington State coach Mike Leach was joined by quarterback Jeff Tuel and defensive end Travis Long. Leach, who has already talked about his hunting adventures earlier in the session, was asked about which fellow Pac-12 coach would make the best hunting or fishing partner:
Leach: "Good question. Let's think about that carefully because we don't want to get this one wrong. Rich Rodriguez has spent a lot of time in West Virginia so potential rub-off there. I'm not as familiar with -- let's see, I have it down to a playoff. Rich -- and Kyle Whittingham is definitely a good one, Colorado. I'm not so sure what his hunting skills are.
I'm going to give the nod to Kyle. He's sandwiched between a bunch of mountains, surrounded by them, and he's been there for a while and fairly certain -- and he's a tenacious guy. So I think that if you were to go hunting in Utah, Kyle would be the key guy to have around. "
Oregon State Beavers
One of the conference's elder statesmen, Mike Riley, was joined by cornerback Jordan Poyer and wide receiver Markus Wheaton.
Riley was asked to speak on in-state rival Oregon, and the impact the Ducks' recent success has made on life in Corvallis:
Riley: "Obviously, they're doing a great job and like USC did eight, nine years ago. Oregon has raised the bar. They have raised the bar for us in the state and for people in the conference. SC did that.
I watched it and we were part of it. You either -- at that time when SC was going so strong, you either had to get going and get up with it or get left in the dust. I thought everybody got better through that and I think that that's where we are in our state with Oregon right now and frankly, other teams in the conference with Oregon are like that."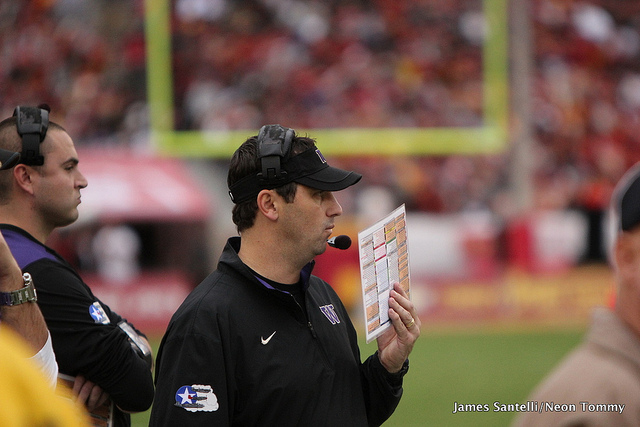 Washington Huskies
Washington coach Steve Sarkisian was joined by quarterback Keith Price and cornerback Desmond Trufant.
When asked about hiring coaches from other schools and then using them in recruiting -- specifically Tosh Lupoi -- Sark delivered the following response:
Sarkisian: "I think it's the business. I think that the decisions we make as a program and as a head coach, I have to do what's in the best interest of the University of Washington, our athletic department and our football program. When we made the decision to make changes on our defensive staff, we wanted to hire some of the best coaches in the country and some of the best recruiters in the country and Justin Wilcox, Tosh Lupoi, Peter Sirmon, Keith Heyward, they fit that criteria. It wasn't about stealing other schools' recruits; it was about bettering the University of Washington and for our long-term success on the football field, and I believe we've done that."
Stanford Cardinal
Stanford coach David Shaw attended his second Media Day with tailback Stepfan Taylor and linebacker Chase Thomas.
As Stanford replaces quarterback Andrew Luck, Shaw explains the role the running backs will play in helping a new QB adjust:
Shaw: "There is no question, and we said that in our first team meeting, that's where the pressure is going to be, on guys that have produced -- and I'm not going to ask Stepfan to do anything he hasn't done on film for two years, which is be a phenomenal football player, and he will continue to do that. All those guys playing at a high level will allow us to allow somebody, whoever the starting quarterback is, to grow in that role to be productive for us. We anticipate [that] on defense we're going to play at a high level as well to keep us in tight games so that quarterback can concentrate on being efficient at doing his job."
Oregon Ducks
Chip Kelly was accompanied by running back Kenjon Barner and linebacker Michael Clay
One topic that was prevalent throughout the day was the Penn State sanctions handed down Monday. Oregon has sanctions of its own looming, and Kelly was asked what he thought about his own situation, when the Penn State sanctions were announced:
Kelly: "When I heard what happened to Penn State, I don't think about the sanctions. I think about the kids that were involved and the heinous crime that was committed, and I think that's where the attention should be, protecting the youth of this country should be first and foremost what goes on."
Reach Scott by email, or follow him on Twitter.