Technology
Apple and Samsung Face Off In Court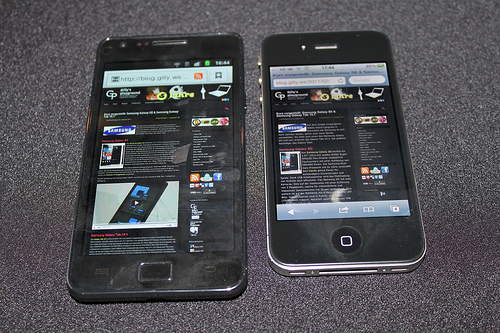 Jury selection began on Monday, in federal court, for a patent-infringement case between the two tech giants Apple and Samsung.
The selection process took place in the U.S. District Judge Lucy H. Koh's courtroom in San Jose. Prospective jurors were questioned on the brand of their cellphones and tablets, whether they had friends working at Apple or Samsung and what books they had read concerning the two tech companies, according to The Los Angeles Times.
One person did not own a cellphone and others had LG phones. The LA Times said many of the potential jurors owned both Apple and Samsung devices.
Several of those questioned said they were friends with Apple employees or had relatives who worked at the company.
The Los Angeles Times reports:
Each was asked the follow-up question by the judge: "I would instruct you to not have any contact with that person during this trial. Can you do that?" She clarified that "contact" included social media as well.

Earlier in the selection process, one prospective juror said: "I have a thousand reasons to favor Apple, but I would try to be fair." Later, another said, "We are an Apple kind of family." A third said, "Honestly, I'm biased."
Koh was also wanted to know if prospective jurors held any Apple and/or Samsung stock or had other business interested with the company.
Lawyers for both companies are allowed 20 minutes each to question the prospective jurors, and the selection is expected to last late into the afternoon.
Opening statements are scheduled to start after jurors are chosen, which is likely to be on Tuesday morning, according to The LA Times.
The companies have sued each other in the U.K., Australia, South Korea and other countries in what Bloomberg Businessweek says is a bid for dominance of a mobile-device market that hit $312 billion last year.
Apple, the Cupertino, California-based company, is seeking damages of $2.5 billion based on claims that Samsung copied the iPhone and iPad. Their request for damages is "based on its compensation claims for unjust enrichment amounting to $2 billion, lost profit of $500 million and royalties of $25 million."
They are also seeking a permanent preliminary ban it won on U.S. sales of a Samsung table computer and extending the ban to Samsung's smartphones.
Samsung, based in Suwon, South Korea, said it plans to show jurors evidence that in 2006, before Apple's January 2007 release of the iPhone, that they were developing the next generation of mobile phones with "a simple, rounded rectangular body dominated by a display screen with a single physical button on the face" said Businessweek.
Samsung is one of Apple's biggest component suppliers and Will Stofega, a technology industry analyst with IDC, said this case is "much more cutthroat and nasty" than most lawsuits between tech companies, who usually settle.
Both companies are pitted against each other, accusing the other of intellectual property ranging from Apple's designs and scrolling technology to Samsung's 3G transmission functionality, according to Wired.
"…for most of us in the industry, it's defying common sense, We're all scratching our heads and saying, 'How is this possible that we're actually having an industry-level debate and trying to stifle competition?' Consumers want rectangles and we're fighting over whether you can deliver a product in the shape of a rectangle," said Kevin Packingham, Samsung's Chief Product Officer, in an interview with Wired.
Samsung owns more than 100,000 patents worldwide. Packingham said tech companies need to find ways to engage in healthy competition without stifling competition over patents "that aren't particularly unique, and really don't represent intellectual property."
The patent case is expected to last four weeks, with proceedings this week scheduled for Monday, Tuesday and Friday, according to The LA Times.
"Samsung is on trial because it made a deliberate decision to copy Apple's iPhone and iPad," the company said in a trial briefing. "Try as it might, Samsung cannot deflect attention from its own copying by the patents it has asserted against Apple."
The Washington Post reports that Samsung and Apple dominate nearly half of the worldwide market for smartphones.
The International Data Corporation (IDC) reported that Samsung leads Apple in smartphone shipments worldwide, partly due to its new Galaxy phones coming out before Apple updated its iPhone.
The Washington Post:
Here are IDC's figures for worldwide smartphone unit shipments and market share in the second quarter of 2012:

— Samsung Electronics Co., 50.2 million units, 32.6 percent share (17 percent a year earlier)

— Apple Inc., 26 million units, 16.9 percent share (18.8 percent a year earlier)

— Nokia Corp., 10.2 million units, 6.6 percent share (15.4 percent a year earlier)

— HTC Corp., 8.8 million units, 5.7 percent share (10.7 percent a year earlier)

— ZTE Corp., 8 million units, 5.2 percent share (1.8 percent a year earlier)

— Other, 50.7 million units, 32.9 percent share (36.2 percent a year earlier)
However, Ramon Llamas, an analyst at IDC, told The Associated Press (AP), Apple's release schedule is partly to blame by releasing a new phone only one per year.
"Apple's schedule leaves the other ten or nine months of the year wide open for everybody else," said Llamas.
Samsung took advantage of Apple's inflexibility with the release of their Galaxy S III, which went on sale in Europe in May and in the U.S. in June. Analysts expect the new iPhone to arrive in September or October.
The AP:
The rest of the competition is in disarray, and hasn't been able to capitalize in the same way on Apple's rigid release schedule and conservative design. Nokia Corp., until recently the world's largest phone maker, is in sharp retreat and is conducting a complete revamp of its smartphones. Research In Motion Ltd. is stuck with outdated software for its BlackBerrys at least until it launches a new operating system next year. HTC Corp. of Taiwan is suffering from marketing missteps in the last few years. LG Electronics, another Korean company, hasn't been able to keep up with Samsung when it comes to high-end phones, or with cheaper manufacturers on the low end.
While Apple and Samsung head to court, Brian Love, a Santa Clara University School of Law scholar, told Wired that even with the evidence presented by both sides in court much of it will be over the head of the jury pool. "Frequently, jury trials boil down to who tells the better story," said Love.
He said many patent issues are too nuanced and the stakes too high.
Richard Posner, one of the country's most respected U.S. federal appeals court judges, also agrees. He said earlier this month that patent trials shouldn't even be heard in federal court and instead should be resolved in the Patent and Trademark Office without a jury.
For more of Neon Tommy's coverage on Tech News, click here.
Reach Executive Producer Subrina Hudson here; follow her on Twitter here.