National
Wisconsin Recall: What's At Stake For The Presidential Candidates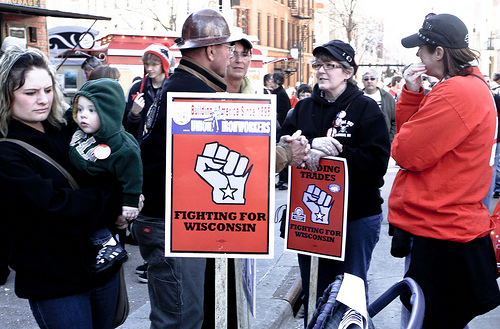 Tuesday's Wisconsin recall election against Gov. Scott Walker could carry consequences into November's battle between President Barack Obama and Mitt Romney, according to Republican National Committee Chairman Reince Priebus.
Walker and his Democratic challenger Tom Barrett's June 5 contest will be the culmination of a two-year fight over collective bargaining rights for public employees in the Badger State. A Marquette Law School survey released Wednesday showed that 52 percent of likely voters would support Walker, while 45 percent would back Barrett, according to CNN.
Priebus claimed that a Walker win would mean "lights out" for Obama's prospects of winning Wisconsin, ABC News reported.
"One thing is really clear here, if Walker wins here next Tuesday, which we are very confident he will, Obama is going to have a much tougher road ahead in Wisconsin this fall," Priebus said. "Clearly putting Wisconsin in the red column for the first time since 1984 is a pretty big deal."
However, the same Marquette Law School poll that had Walker surviving the recall also pegged Obama to carry the state in November with 51 percent of the vote to Romney's 43 percent.
Aside from being a general election measuring stick, Tuesday's recall is also seen as a referendum on organized labor. Walker's bill last year stripping public-sector unions of their collective-bargaining rights could place the future of workers' rights in a precarious position.
According to The Washington Post's Chris Cillizza:
"If Walker survives on the heels of labor coming up short in the 2011 recall effort to take over the Wisconsin state Senate (it came up a seat short) and a failed attempt to unseat then-Sen. Blanche Lincoln (D-Ark.) in a 2010 primary, there will be lots — and lots — of questions asked about whether unions retain the political power they once did."
Despite Wisconsin's status as a November swing state, the Obama campaign has kept its distance from the recall battle. Some observers claim the President could hurt his political momentum by voicing support for a losing candidate who is running against a well-funded incumbent, the Milwaukee Journal Sentinel reported:
"From their perspective, if they were sure Barrett was going to win, it would be worth their while to insert themselves," said one D.C.-based Democratic strategist who is not part of the Obama campaign. "But as long as there is uncertainty, there's not a great deal of benefit in putting the President's prestige on the line. And whatever he does, it's not going to determine the outcome of the race."
Romney campaign senior adviser Ed Gillespie downplayed the possible impact that Tuesday's result could have on the November election, but predicted a Walker victory would be symbolic of a slight political shift in the upper Midwest, according to Talking Points Memo:
Walker's presumed victory, he says, "does reflect what has been a trend in Wisconsin…there's something going on in Wisconsin and all across the Great Lakes where it is moving away from liberal Democratic policies and toward more reform-oriented Republican policies." If Walker wins, the statement to 'big labor' and unions, Gillespie said, is "you can't be too greedy and you need to understand that and a lot of these legacy costs that you imposed are due for some reforms and some restructuring."
The recall election has become the most expensive in Wisconsin history. Candidates and independent groups have spent more than $63.5 million on the recall, with the majority of the money coming from out-of-state sources, MSNBC reported.
---
Reach Executive Producer Danny Lee here or follow him here.