International
Walker Leading Wisconsin Recall Election By Slim Margin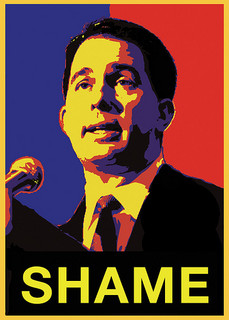 Embattled Wisconsin Governor Scott Walker is leading his Democratic challenger by just 3 points on the eve of the
recall election
.
The new survey showed Walker, who was targeted for recall after rolling back union rights, leading Tom Barrett 50-47. But with a margin of error of 2.8 percent, Walker's lead has become more precarious as voting polls prepare to open for tomorrow's election. According to the Public Policy Polling survey, Walker is leading with men, whites, seniors and subrbanites. Barrett is more popular with women, minorities, youth and urban voters.
While Walker can boast the support of Republican heavyweights like New Jersey Gov. Chris Christy and South Carolina Gov. Nikki Haley, Barrett got a bump this weekend from a visit by former President Bill Clinton. Walker is the third governor in U.S. history to face a recall election.
Read the whole story at ABC News.
More about the Wisconsin recall election here.