International
Violence In Syria At Worst Levels Yet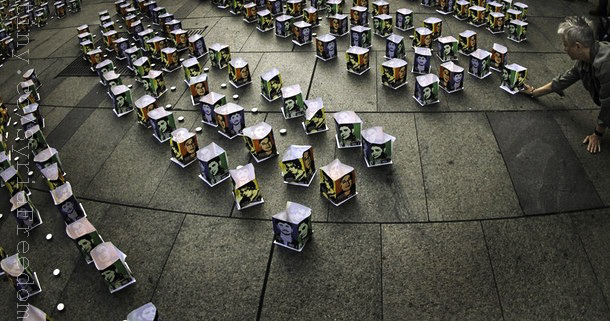 Violence in Syria escalated Friday and Saturday, with 26 civilians killed on Saturday alone. 17 were killed in Daraa and six in Homs, including women and children, and dozens were wounded. This renewed violence comes after 78 people were massacred in the village of Kubeir Wednesday, and after UN monitors traveled to the area to investigate Friday.
According to ABC News, UN monitors were unable to access the village Thursday due to "small arms fire while the perpetrators allegedly burned the bodies of the victims." The government once again denied responsibility for the massacre.
When the UN team did reach the site of the massacre, they found "bullet-pocketed homes and bloodstained walls," and evidence of artillery bombardment and "door-to-door executions," according to the LA Times. Women and children were shot, stabbed, or burned with their homes.
In response to the killings, the United States condemned the regime, saying that Assad "doubled down on his brutality and duplicity." International Envoy Kofi Annan offered a warning that "If things do not change, the future is likely to be one of brutal repression, massacres, sectarian violence, and even all-out civil war. All Syrians will lose."
Then, another 68 people were killed nationwide in Syria Friday, 36 of them civilians.
UN observers toured Damascus Saturday to investigate reports of overnight clashes between pro- and anti-government forces. The Associated Press reports:
"In Damascus, residents spoke about a night of shooting and explosions in the worst violence Syria's capital has seen since the uprising against President Bashar Assad's regime began 15 months ago.

[…]

"Damascus resident and activist Maath al-Shami said clashes between rebels and troops in the city's neighborhoods of Qaboun and Barzeh lasted until about 1:30 a.m. Saturday."
Saturday, the violence continued, with 25 people dead. Government forces targeted the southern city of Daraa, as well as Homs. According to the Associated Press:
"Daraa is the city where the uprising against Assad's regime first erupted in March 2011. A Daraa-based activist, Adel al-Omari, said the shelling of the city's Mahata area began randomly and lasted until after midnight.

"'People were taken by surprise while in their homes,' said al-Omari, adding that regime targeted the neighborhood with mortars."
Russia slightly altered its stance on the situation in Syria Saturday, claiming that it would be "only glad" to support the removal of President Bashar al-Assad if that is what the Syrian people agree to, according to ABC News.
Foreign Minister Sergei Lavrov stated that "If the Syrians agree on this with each other, we will be only glad to support such an outcome," but that Russia will not "impose the conditions of dialogue from outside." Russia will also not approve, let alone support, the use of force against the Syrian government.
Lavrov told a news conference that "an impression is being created that Syria is on the verge of a full-scale civil conflict," and pushed for an international conference to discuss the violence, the Associated Press reports.
The new waves of violence have killed increasing numbers of civilians in the past two weeks. The Assad regime continues to contend that "armed gunmen" and "terrorists" are responsible.
Business Week reports that an estimated 13,000 have been killed in Syria during an ongoing 15 months of violence.
See more of Neon Tommy's ongoing coverage of Syria here.