National
Sandusky Jury Begins Deliberations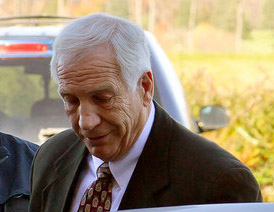 Jury deliberations began in the child molestation trial against former Penn State football coach Jerry Sandusky Thursday. He faces 48 charges after three charges were dropped by the judge shortly before final arguments in the case began.
Sandusky did not testify on his own behalf.
During the defense's closing statements, attorney Joe Amendola pointed to a lack of physical evidence, inconsistencies in fellow coach Mike McQueary's statements and greed being a motivator for accusers in the case. Sandusky's wife, Dottie, cried during Amendola's remarks.
Prosecutor Joseph McGettigan used his closing statement to accuse Sandusky of taking "pieces of 10 souls." He asked the jury to find him "guilty of everything."
The 68-year-old Sandusky faces up to a life-term in prison if convicted of sexually abusing 10 different boys.
Follow Neon Tommy's coverage of the Sandusky case.
Reach Executive Producer Dawn Megli here; follow her on Twitter here.