National
Sandusky Called A "Predator" As Trial Begins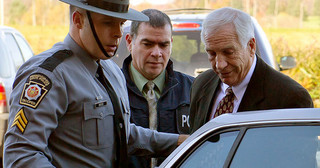 Prosecutors called Jerry Sandusky a
serial predator
in opening statements Monday, saying he preyed on disadvantaged and vulnerable children. Sandusky's attorney accused the alleged victims of being motivated by financial gain. Senior Deputy Attorney General Joseph McGettigan III apologized in advance for what he said would be graphic and disturbing testimony detailing acts of sexual molestation "not over days, not over weeks, not even over months, but in some cases over years." The alleged victims are expected to testify Sandusky used his charity, The Second Mile, to get close to them and plied them with gifts. The 68-year-old is facing 52 criminal counts for abusing 10 boys over 15 years. The scandal rocked Penn State, leading to the resignation of Joe Paterno and the university president. The trial is expected to last several weeks.
Read the full story at AP.
Follow Neontommy's coverage of the Penn State scandal here.
Reach Executive Producer Dawn Megli here; follow her on Twitter here.