Sports
R.I.P. BCS: College Football Finally Adopts A Four-Team Playoff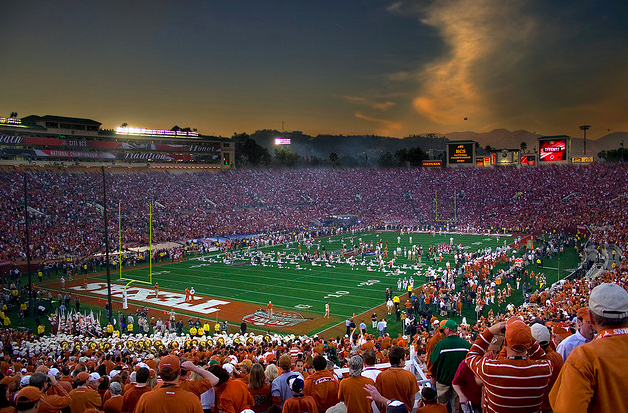 College football will decide its champion with a four-team playoff that begins in 2014, the Bowl Championship Series Presidential Oversight committee announced Tuesday. Thank God.
This has been a long time coming, as fans have decried everything about the BCS from its favoritism towards schools from the "top six" conferences to anger about its formula and lack of transparency.
No longer will good teams go undefeated and worry about whether they will play for the National Championship. If a team's schedule is at least somewhat difficult and they win every game, they will have a chance to be champion. Since 2004, four teams have gone undefeated and finished in the Top Four of the Final BCS Standings (2004 Auburn, 2009 TCU, 2009 Cincinnati and 2010 TCU). Under the new format, such teams would have a ticket to ride.
The semifinal games will rotate among six bowls, with the championship game going up for bids. It is likely that the four current BCS Bowls -- Orange, Sugar, Fiesta and Rose -- will be a part of that six-bowl mix, with Dallas' Cotton Bowl and Atlanta's Chick-fil-A Bowl as additional contenders. The championship could be played at one of those sites, or an "outside" NFL stadium putting up a bid (maybe Los Angeles' future Farmers Field?). The process seems like it will mimic cities bidding for Super Bowls.
But who will be the four teams? That will be on the selection committee, supposedly making their selections based on schedule and whether a team won its conference. We can expect that outrage about their selections will be part and parcel to the process, think Selection Sunday with 100 times more sound and fury. But again, we have seen too many great No. 3 teams be left out for the current model to stick around.
The first college football playoff game will take place Dec. 31, 2014, with the other semifinal the day after. So be sure to plan your New Year's celebrations accordingly.
And why did this finally happen? Well, it was announced in Washington, D.C., so "follow the money." The new playoff is a 12-year deal, and one estimate placed the TV rights at $500 million each year.
We all know college football still has a myriad of problems: paying for players, exploitation of student-athletes' likenesses, shady recruiting, mid-major teams getting underrated, academic fraud, so on and so on. But cross one problem off the list.
The BCS is dead, leaving behind no loved ones.
--------------------------------------------
Reach James by email or follow him on Twitter, @JamesSantelli.
[View the story "College Presidents Announce Four-Team Football Playoff" on Storify]