Nation and World
Obama Denies Leak Allegations, Calls Them 'Offensive'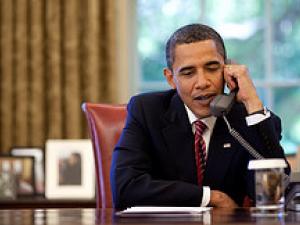 President Obama strongly denied allegations Friday that the White House had intentionally leaked state secrets to the media on alleged terrorist "kill lists" and cyberattacks against Iran's nuclear program, USA Today
reported
.
Obama said during a news conference that the administration has zero tolerance for the leaks and denounced them as "criminal acts."
"The notion that my White House would purposely release classified national security information is offensive. It's wrong, and people I think need to have a better sense of how I approach this office," Obama said.
The operation, code-named Olympic Games, began during the administration of President George W. Bush. The New York Times published a piece on June 1 about the "increasingly sophisticated attacks on the computer systems that run Iran's main nuclear enrichment facilities." The story contained interviews with officials close to the Olympic Games program.
Obama said that not all the details in published stories are true and that the disclosure of classified information could undermine national security, according to USA Today.
"We're dealing with issues that can touch on the safety and security of the American people, our families or our military personnel or our allies, and so we don't play with that," Obama said.
A lawmaker on Capitol Hill said there were signs a high-level individual in the administration was involved in the media leaks, which have included reports on procedures for targeting militants with drones and the existence of a double agent who penetrated a militant group in Syria, according to Reuters.
Republicans and Democrats have both slammed the leaks, which Sen. John McCain, who lost the 2008 presidential election to Obama, claimed was an effort to boost the President's national security credentials during an election year, USA Today reported.
"What the president did not unequivocally say today is that none of the classified or highly sensitive information recently leaked to the media came from the White House," McCain said, according to CNN. "I continue to call on the president to immediately appoint a special counsel to fully investigate and, where necessary, prosecute these gravely serious breaches of our national security."
McCain has called for an independent investigation into the leaks. Democratic lawmakers have not joined Republicans in calling for a special counsel, but have not ruled out that option, according to The New York Times.
Read more of Neon Tommy's coverage on the Iran nuclear conflict here.