MLB
MLB Trade Block 2012 - The 11 Best Eligible Bat-chelors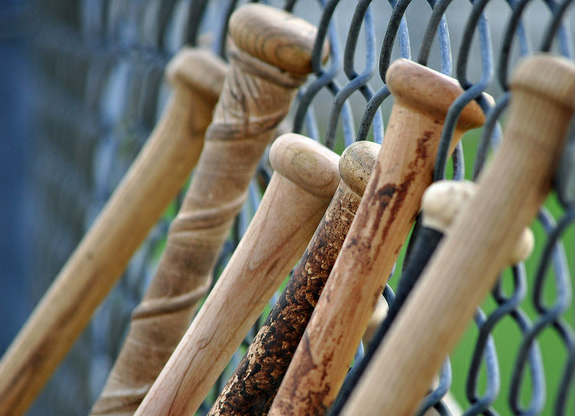 It is now a week after the MLB Draft, meaning general managers have shifted their focus from high-school and college players to their big league club.
And while trades do not occur too often in June, it is time for the trade blocks to start developing and the contenders to separate from pretenders. So I took a look at the 10 best veteran hitters that could be dealt and the teams those players could improve most.
Some guidelines: the player must have at least 400 plate appearances since the start of 2010 (with apologies to Cubs 1B Bryan LaHair, who has plenty of trade value) and have a good possibility of being on the trade block. The team they are on must also be at least 8 games out of a playoff spot, or in Kevin Youkilis' case, have a special circumstance that has his team ready to deal. Those squads may not be out of the postseason picture yet, but they could be when the July 31 trade deadline rolls around.
The 10 players are ordered by their OPS in away games over the last three seasons. This mitigates the factors of playing in a great hitter's ballpark (think Coors Field or Great American Ball Park) or a terrible one (Petco Park or Target Field). The results, as they say, may surprise you...
(If you're not familiar with OPS, it as an all-around offensive stat that adds on-base plus slugging, with .720 as the league-average).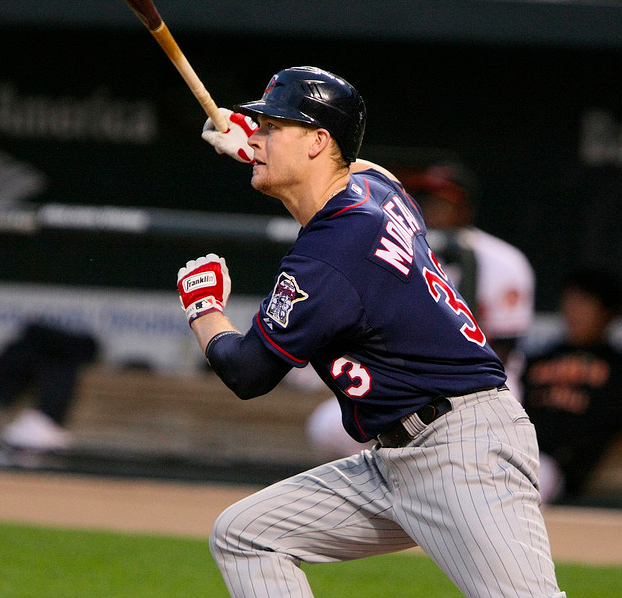 1. Twins 1B/DH Justin Morneau (.910 road OPS)
The former AL MVP is hitting the ball well once again after recovering from concussion symptoms that threatened his career. He owns a .960 road OPS this season, with 8 homers in 86 at-bats.
Pros:
- His .910 road OPS over the last three seasons would be 7th in MLB if he had enough plate appearances (just 418). That places Morneau just below Rangers' slugger Josh Hamilton and the Cardinals' Matt Holliday.
- A change of scenery would help him. Morneau has played at one of the worst hitter's parks for lefties, Target Field, since the start of 2010 and his .776 home OPS reflects it.
- He has smashed righties for a .959 OPS over the last three seasons, good for 9th in MLB with enough plate appearances. That is better than star lefties Paul Konerko and Adrian Gonzalez over that timeframe.
Cons:
- He has played less first base since his concussion, with 24 games at first and 19 at Designated Hitter this season. Will he have to stay in the AL?
- Morneau is inked to a substantial contract: $15 million for 2012 (age 31), $14 million for 2013 (32), $14 million for 2014 (33). It also has a no-trade clause, though we don't know which teams are on it.
- He does not hit left-handed pitchers well, sporting a paltry .647 OPS against southpaws since the start of 2010.
Best Fit: Los Angeles Dodgers, who continue to start mediocre James Loney. They have new, rich ownership that wants to win, and Morneau would hit better at Dodger Stadium.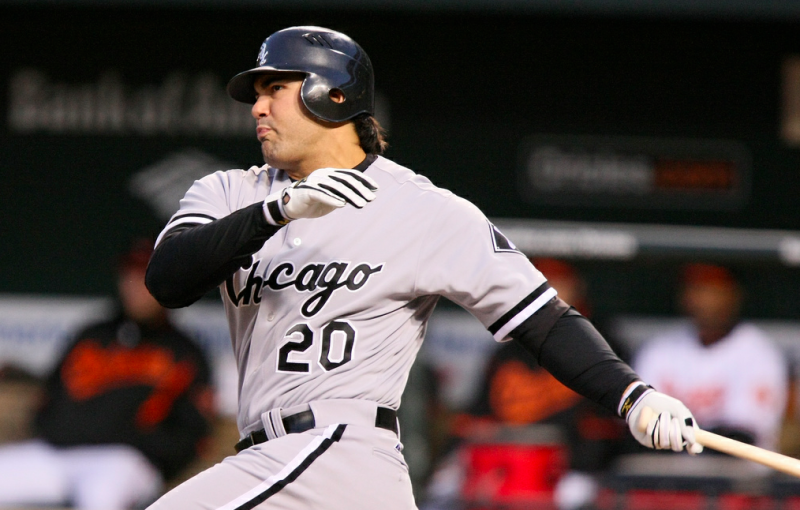 2. Padres LF Carlos Quentin (.869 road OPS)
The former White Sox right fielder has played only 10 games for the Padres since being traded to the team on New Year's Eve. Southern California is home for Quentin, who went to high school in San Diego, so he might want to sign an extension and stick around.
Pros:
- He hits both right-handed pitchers (.847 OPS since start of 2010) and left-handed pitchers (.871 OPS) very well. Can play every day.
- No big financial commitment required. He is eligible for free agency at the end of the year and only due $4.4 million for the rest of the season.
- Quentin is still 29 until August 28, a young guy who was an All-Star for the White Sox last season.
Cons:
- He missed April and most of May due to some tearing to the meniscus in his right knee. Is he fully recovered?
- He is not good defensively as a corner outfielder, averaging -12.7 UZR (Ultimate Zone Rating) in his last three seasons in Chicago.
Best Fit: Baltimore Orioles, who have not gotten much production from either corner, and currently have Nick Markakis and Nolan Reimold on the Disabled List.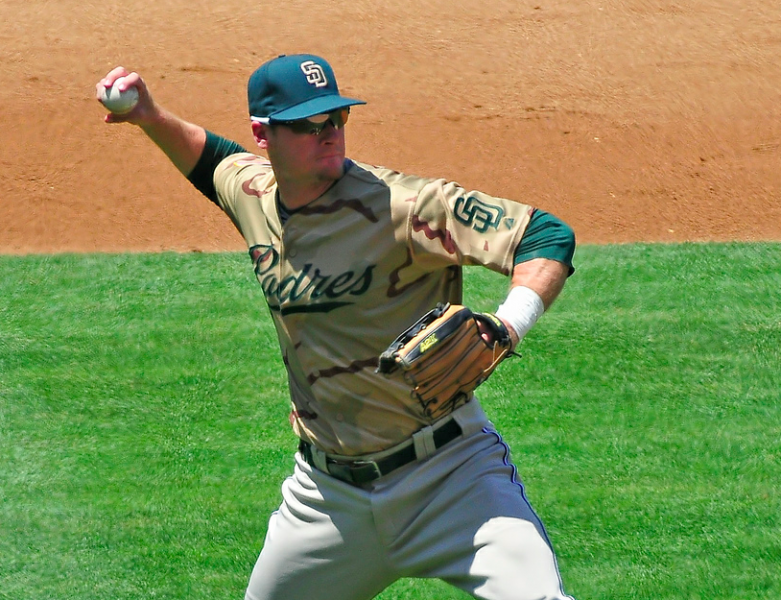 3. Padres 3B Chase Headley (.829 road OPS)
Headley's numbers have been hurt big-time by playing in spacious Petco Park his entire career, making him a possibly undervalued product. At home, he has a .666 OPS and 38 extra-base hits over the last three seasons, compared to a .829 road OPS and 61 extra-base hits.
Pros:
- He is a strong switch-hitter, with similarly good results as both a lefty and a righty. That has helped him be a consistent 3-5 wins above replacement level player.
- Headley is a quality third baseman, with a 8.9 career UZR/150 at the position. He also played left field in 2008 and 2009, albeit not very well.
- His plate discipline is improving. A 14.8-percent walk rate is 10th-best in MLB this season, up from 8.3 percent (2010) and 11.8 percent (2011).
- He just turned 28 last month, and is making just below $3.5 million this year as first-year arbitration-eligible.
Cons:
- Being under Padres control through 2014, they may not want to trade him, or it might take some quality prospects for San Diego to part.
Best Fit: Chicago White Sox. The AL-Central leaders have gotten zero production at third. Orlando Hudson, Eduardo Escobar and the injured Brent Morel have combined for a .181 batting average. Morel is still young at 25, but has flashed little offensive prowess.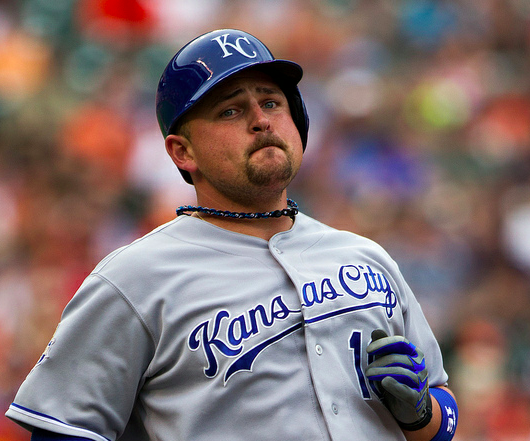 4. Royals DH Billy Butler (.820 road OPS)
Strong-hitting "Country Breakfast" could bring in a huge haul if the Royals choose to deal him.
Pros:
- He is still just 26 years old, entering his prime with a very friendly contract; owed only $21 million total through 2014, with a $12.5 million team option in 2015.
- Butler is consistently healthy, having missed only 10 games since the start of 2009.
- Hits both lefties (.887 OPS since start of 2010) and righties (.828 OPS) very well as a right-handed hitter.
Cons:
- Will almost certainly have to stay in the AL after becoming a DH pretty much full-time last year. He has played just 16 games at first since start of 2011, and had a mediocre career -5.2 UZR when he was there.
- While the power keeps going up, his walk rate has fallen to a pedestrian 7 percent, with strikeout rate rising to 16.8 percent.
Best Fit: Tampa Bay Rays, whose .670 OPS at the DH position this year is the worst in the American League, and are always looking for young talent.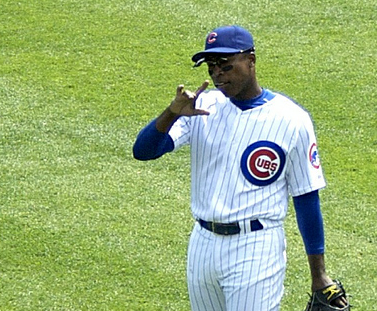 5. Cubs LF Alfonso Soriano (.814 road OPS)
At 36 years old and in his 12th full MLB season, Soriano still has the talent to light a spark in an offense.
Pros:
- Still demonstrating his hitting ability, especially against southpaws (.878 OPS vs. lefties over last three seasons).
- He is actually pretty good in left field, averaging a 4.2 UZR in his last two full seasons.
- Has been better on the road, even though Wrigley is a slightly-above-average hitters' park for righties.
Cons:
- Worrisome: his ground balls are way up, fly balls way down. Now averages one groundball per flyball, after a 0.68 career GB/FB rate. And he doesn't have the speed he used to beat out groundballs for infield singles.
- He continues to be a free-swinger: he has swung at 42-percent of pitches outside the strike zone, 5th-worst in MLB this year.
- CONTRACT ALERT! He has one of the largest salaries in baseball, due $11 million the rest of this season, plus $18 million in 2013 and again in 2014 (at age 38). The Cubs will have to eat a lot of that to deal him.
Best Fit: Detroit Tigers. Andy Dirks is on the DL, and the patchwork crew that has otherwise manned both outfield corners has generated little power.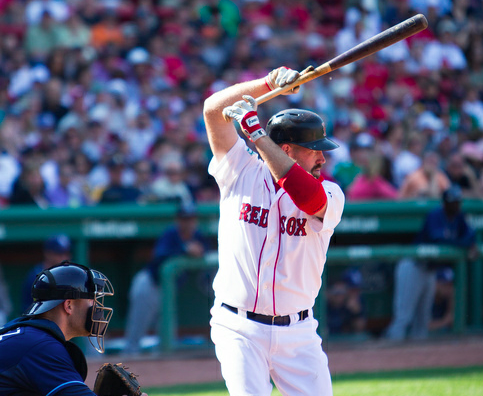 6. Red Sox 1B/3B Kevin Youkilis (.788 road OPS)
The Boston Red Sox are by no means out of it. But with Will Middlebrooks emerging at third base and Adrian Gonzalez needing to get back to first, the 33-year-old Youkilis could be the odd man out.
Pros:
- Eats lefties as part of a well-balanced breakfast. His 1.097 OPS vs. southpaws since the start of 2010 is the best in baseball, and despite a down season in 2012, he has still attacked lefties for a .934 OPS.
- "Youk" is still a capable third baseman, though he is better at first base as a former Gold Glover and record-errorless-streak-holder at the position.
- Is only owed $7.4 million on his contract, with a 2013 team option that is unlikely to be exercised.
Cons:
- Leaving Fenway would hurt him big time. He has hit 46 doubles at home in the last three seasons, with just 17 doubles at home. He can't take the Green Monster with him.
- He has not been the Greek God of Walks, as immortalized in "Moneyball." After a 13.2-percent walk rate put him 12th in baseball last year, he has posted a remarkably mediocre 8.8 walk rate this season. His strikeout rate is alos way up, to a career high 27 percent. The problem seems to be a career-high swing-and-miss rate of 7.7 percent.
Best Fit: Miami Marlins. First baseman Gaby Sanchez is not hitting well (.202 average, .549 OPS), and the Marlins are certainly not averse to bringing in big-name, big-money players to make a playoff push.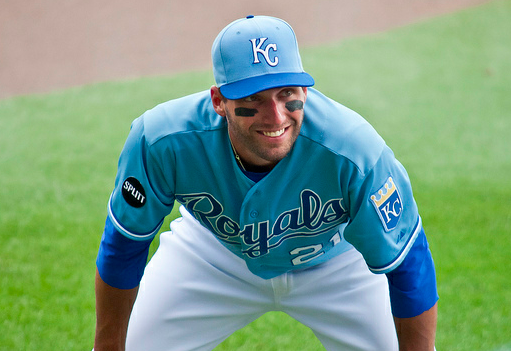 7. Royals RF Jeff Francoeur (.774 road OPS)
Though often lampooned by the sabermetric community for being overrated, Francoeur offers a quality bat with postseason experience.
Pros:
- Good numbers since joining Kansas City in 2011, with a .280 batting average and .783 OPS for the Royals, plus 20 homers last season.
- Attacks left-handed pitching with authority, hitting southpaws for an .856 OPS since the start of 2010 (including .934 last year).
- He is good in right field according to defensive metrics, with a cannon for an arm.
Cons:
- Francoeur is below-average against righties, sporting a .710 OPS the last three seasons.
- Some teams may be put off by his $7.5 million salary next season.
- He has never taken a lot of walks, with a 5-percent career BB rate.
Best Fit: Washington Nationals, who could use more power in the corner outfield. Combine Francoeur's arm with Bryce Harper's, and opposing runners will think twice before taking that extra base.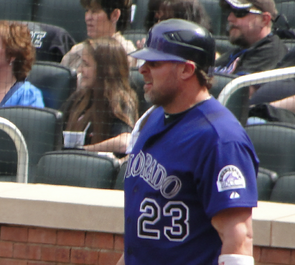 8. Rockies 1B Jason Giambi (.755 road OPS)
Yes, American League folks, the former MVP is 41 years old and still hitting. Hey, Matt Stairs stuck around as a left-handed pinch-hitter until he was 43.
Pros:
- Little financial commitment, as he makes $1 million this year.
- Veteran and playoff experience: Giambi owns a .911 OPS in 45 career postseason games.
- He is still taking walks around his 15-percent rate. I guess when you're in your 18th MLB season, you learn to be patient.
- Giambi is hitting both righties (.843 OPS since start of 2010) and lefties well (.883 OPS), though with the caveat that he doesn't get many plate appearances.
Cons:
- His numbers are obviously a lot better at Coors Field, with a .977 OPS in Denver his last three seasons.
- Giambi mostly comes off the bench to swing the bat, though he has started 11 games at first base and has not been a disaster.
Best Fit: Texas Rangers. The winners of two-straight AL pennants could use a lefty off the bench. They also offer Giambi the best chance to get that elusive World Series ring.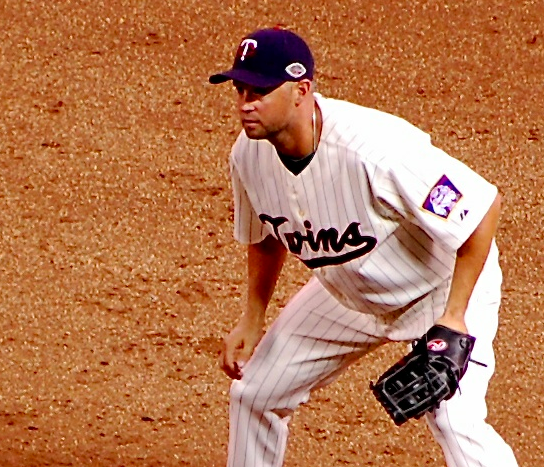 9. Rockies 1B/RF Michael Cuddyer (.755 road OPS)
Michael Cuddyer is under Colorado control through 2014 (making $10.5 million per season) after coming over from Minnesota.
Pros:
- He has smashed lefties to the tune of .913 OPS since start of 2010.
- Cuddyer is pretty healthy, having played at least 139 games per season in his last 3 full seasons.
- Playoff experience: he owns a .338 batting average in 22 career postseason games.
Cons:
- Only hitting righties for an MLB-average .730 OPS in last three seasons.
- He is 33 years old and has a below-average UZR at right field at first base, though he is capable at both positions.
- His home in 2010 and 2011, Target Field, doesn't depress righty power as much as it does lefty power. Getting away from Target Field has not been a massive boost.
Best Fit: New York Yankees. Everyday right fielder Nick Swisher's numbers are down this season, and he is due to be a free agent at the end of the year. Cuddyer would offer long-term help and position flexibility to the Bronx Bombers.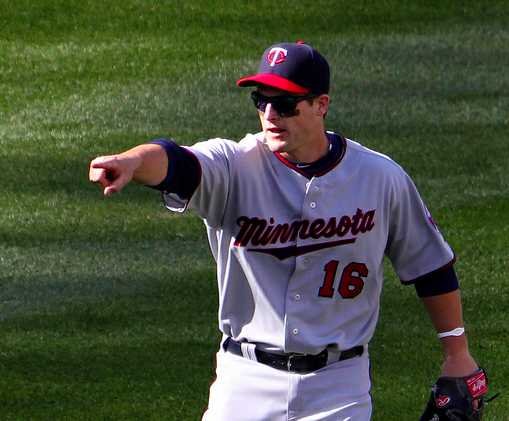 10. Twins LF Josh Willingham (.753 road OPS)
A modern-day barnstormer has been involved in plenty of trade talks the last couple years. Since 2008, the 33-year-old has played for the Marlins, Nationals, Athletics and now the Twins.
Pros:
- His 13.5-percent walk rate this season is 14th-best in MLB. That is up from 10-percent with Athletics last year, though it is an aspect of his entire baseball life, with a 11.5-percent career walk rate. All of this has helped him to a stellar .409 on-base percentage in 2012.
- Willingham can play every day, having hit both lefties (.857 OPS) and righties (.852 OPS) well in the last three seasons.
- His contract is not exorbitant: Willingham makes $7 million per season through 2014.
Cons:
- Worrisome: his .346 BABIP and 19% HR/FB rate are well above career averages, and could be artificially inflating his offensive numbers this year.
- He has no postseason experience.
- Willingham is below-average as a left fielder, averaging a -3.8 UZR in left field over his last three full seasons.
Best Fit: Toronto Blue Jays, who could use someone to help them compete through 2014 and replace Rajai Davis (and his lowly .283 OBP since joining Toronto) in left.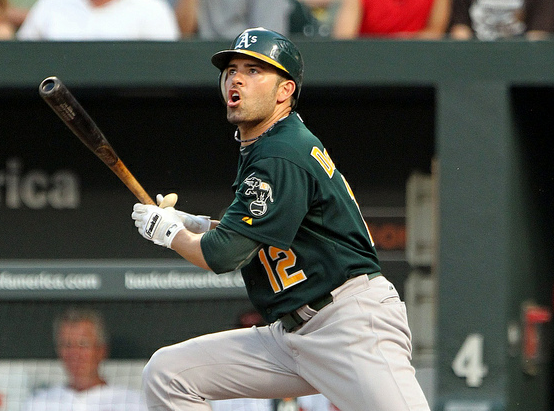 11. Cubs RF David DeJesus (.733 road OPS)
DeJesus has also bounced around recently. After spending his first eight MLB seasons in Kansas City, he went to Oakland in 2011 and signed a two-year deal with the Chicago Cubs this offseason.
Pros:
- The lefty will definitely hit right-handed pitching well, boasting a .826 OPS against righties since the start of 2010.
- He has consistently been a 2-win player every year (according to FanGraphs WAR) since 2005.
- DeJesus has played mostly right field in last two seasons, but has plenty of reps at all three outfield positions. He is about league-average as an outfielder according to defensive metrics, maybe a little better.
- At 32 years old, he is signed to an attractive contract, owed $4.25 million this year and $4.25 million next year. He has a $6.5 million team option in 2014, but with $1.5 million buyout.
Cons:
- Never a power hitter, though his offensive numbers have been limited by hitting in pitcher-friendly Kauffman Stadium and Oakland's Coliseum as a lefty the last two full seasons. Just six homers in home ballparks since start of 2010.
- He has to be subbed out against most lefties, with a terrible .201 batting average and .565 OPS over the last three seasons versus southpaws.
Best Fit: Pittsburgh Pirates, who have a ballpark that is attractive to left-handed hitters, and have gotten some of the worst production at the corners this season with the struggles of young Jose Tabata and Alex Presley.
Bonus: Athletics LF Seth Smith (.728 road OPS)
He is pretty much the same as David DeJesus, but younger (29). He even took one of the corner outfield spots in Oakland vacated by DeJesus. Smith is a league-average outfielder with the 6th-best walk rate in the AL this season. And like DeJesus, Smith smacks righties (.859 OPS since start of 2010, though Coors is part of that), but not lefties (.534 OPS and .199 batting average).
-------------------------------
Reach James by email or follow him on Twitter, @JamesSantelli.