Commentaries
Making The Most Of Maymester: Dispatches From A College Trip To Palau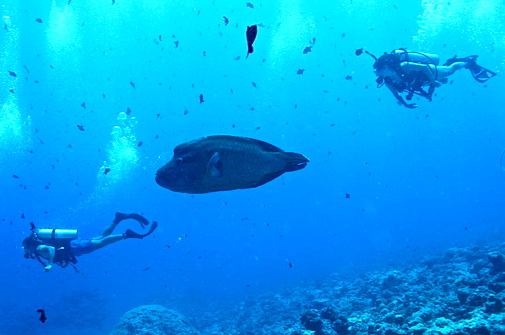 There's summer, and there's Maymester.

The end of the regular academic school season may seem to have the same signals of a year gone by: finals finished, postcards promised and a generous wash of sentiment for your apartment decorations and inhabitants. But for the last decade, more and more college students each year have hopped on a plane not to go home but to another country.

"How can you appreciate and protect the world, if you don't even know what it looks like?" asked Austin Hay, a recent graduate of the Environmental Studies and Engineering departments at the University of Southern California.

Hay's question seems to be the general motivation behind a generation of students who flocked to cafes and concerts around the globe to build bridges, study politics, and maybe taste the fruit bat soup. This delicacy was a customary dish in Palau, where myself and 23 other USC students found ourselves culminating Maymester by becoming scientifically certified scuba divers.

After months of practicing scuba skills in a pool between political science classes, I was collecting coral reef data for the Koror State government, and a university grade, at a place in the Pacific that I was hesitant to pronounce a few months earlier.

Palau, for those who don't know, is a small island in Micronesia whose total reef area (202.7 m2) is greater than its total land area (176.8 m2).

The Republic of Palau is about one-sixth the size of Rhode Island (population: 21,032), with more than 300 coral species and about 1,600 species of fish populate its reefs.

Palau is composed of about 350 islands, some of which include the famous 'Rock Islands,' which are currently on the Tentative List of accepted applicants to World Heritage Sites.

Palau's reefs are considered by many biologists to be an eighth Wonder of the World. Blue Corner, the island's most popular dive site, is ranked as one of the best on the planet. To be 20 years old and literally as far away from home as possible - about 7,000 miles - is a unique experience. To go that distance and then to descend 70 feet under water in a marine protected area, to breathe with sharks bigger than you and fish bigger than sharks, is something else. This is what I decided to commit to on a whim when perusing course registration last semester.

Enst 298 Integrated Systems Management in Micronesia was sold as a six-credit course that traveled to Guam and Palau. Those places were supposed to be warm, I knew. I was also aware that applicants typically received SURF research funds that covered a hefty portion of the trip's expenses. The professors were David Ginsburg, who had studied at the University of Guam, and Jim Haw, the director of USC's Environmental Studies department. They had led the trip twice before.

After months of Friday sessions in our university's pool; tests about the physics of buoyancy, gas laws and anatomy; working at Catalina Island under the supervision of divers with resumes that included diving for the Navy SEALS and the Sheriff's department and monitoring the hyperbaric chamber there, I boarded a plane to Guam thinking the estimated air time was preposterous.

"I remember stepping out of the airport in Guam and there was this beautiful sunset," Hay said. "There were so many colors and big beautiful clouds and stepping onto that planet, seeing that sunset and being so far from home, so far from everything I'm comfortable with, all those feelings characterize that feeling of stepping into the unknown."

Hay, like most students who go abroad, said he believes that academic opportunities in foreign locations give students the opportunity to "travel with meaning."

"The entire program is designed to show you impact," he said of Enst 238.

Originally, this 'impact' came in the form of tests on the genus of about 30 seemingly obscure fish and on residual nitrogen tables that felt foreign. Each student was also asked to blog about a topic that pertained to Guam or Palau and submit our piece to Scientific American for publication. We thought our books were heavy, our dive computers would do the calculations, and nobody really cared too much about our writings on holothuria marmoratas (the giant orange cucumber isn't exactly the picture of grace.)

Halfway across the world, everything changed. We were laying transects to count fish and invertebrates in Palau and the living, pulsing things escaping our fingertips looked uncannily similar to the ones we had studied in 2D.

On the fringes of marine protected areas, parrotfish were swimming up to the steps of our hotel. Clams, who knew, were a sight worthy of tugging at your dive partner' s buoyancy compensator vest so they wouldn't miss it. A jellyfish stung me.

The materializations of our studies barreled at us after our first dive. I knew Palau was a "small island nation," but how do you explain that everybody on the island knows everybody? That more people were on my university's ground for graduation than lived on the whole island. That almost every other shop in Palau is a souvenir store, precisely because the island relies so much on the eco-tourism industry that its beauty promotes. That some people never leave, and others proudly flaunt Oakland Raiders caps and stories about taking Los Angeles by native-storm.

Then there were more umbrella topics. As one of the best preserved ecosystems in the world, a couple of us originally wanted to blog about global warming. There were statistics about coral bleaching and fish disappearance but it wasn't until we had a first-hand presentation from Koror State government officials that it became apparent that to people on the island, there was a 'before' and 'after' to feeling the effects of global warming. It was something recognizable and tangible in a place where the species count breaches the standard 'white pigeon' and 'black pigeon.'

I had even looked into the legends of Palau and the country's involvement in World War II. Both topics were 'History' to me, and I did a little research and wrote about the myth of how Palau was created from a giant clam. Then I went to Palau, and I was staring at a men's hut, where the village chief could frequent, where outside rested a pile of skulls and a clam that was believed to house the spirits of dead men from the war.

Our tour guide told us about witch doctors and lavish funeral preparations and didn't seem to understand that there could be dissenting views about life after death. We found bunkers from the war on otherwise untouched limestone cliffs and Japanese zero planes forming artificial reefs underwater. What I thought was the past had a very clear and obvious presence, in the same way that what I thought was the stuff of stories and text books swam and thrived in front of me.

When I returned home from Palau, I was not unrecognizable. I won't tell you I 'found myself,' and I can't live barefoot in Las Vegas (my hometown) forever. Yet the memories I have, and the reflections that have resulted, will always stay with me, and maybe do something for the people I was lucky enough to meet.

Maybe some people travel to give the environment a high five and their resume a passport stamp. But they remember the hot wild peppers that made their face burn and the taste of an island mango just off the tree. So for all those considering the sacrifices to be made and risks to be weighed in order to take the leap across hemispheres, peninsulas, or borders, I can only say, "Make the most of it."

Reach Staff Reporter Laura Walsh here.