Columnists
Innovating To Uncertainty In The Information Age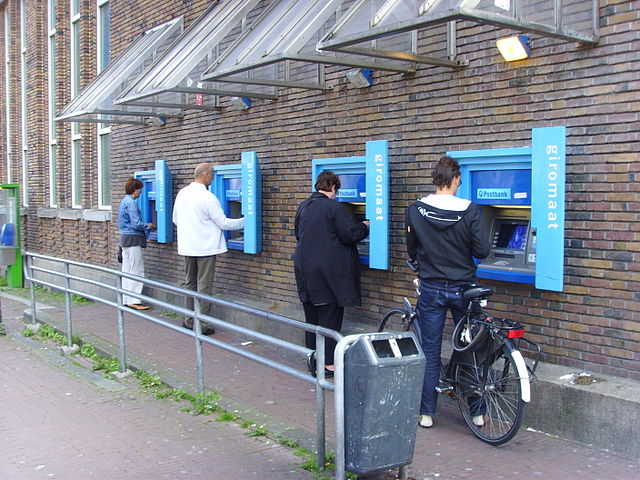 I am partially responsible for high unemployment in America.
To be sure, I bear a microscopic amount of blame in getting people fired—definitely not enough to get Mitt Romney excited—but my behavior does contribute to job loss.
The following are some of my sins:
I always opt for the self-checkout option if available at the supermarket. It means at least one less pair of hands on food products, and as every man who has ever bought feminine products for a lady friend knows, sometimes you need to make a purchase at the market that you really don't want to share with anyone else. (I always get a kick out of the guy who needs to announce that the tampons are for his girlfriend. I would hope they're not for him.) Anyway, by doing this, I'm not using the services of checkers or baggers.
I think I visited a physical bank branch once in 2012 (for a cashier's check). I exclusively use ATMs to deposit checks and get cash, and I pay my bills online. I don't interact with bank tellers or retail bankers at all.
I can't remember the last time I used a travel agency. If I need to go somewhere, anywhere in the world, I'll visit the same handful of websites and book a flight and hotel in minutes, often for a really competitive price, and no middle man.
Speaking of travel, the best airport invention since the jetway has to be the self check-in kiosk. It makes London Heathrow's bustling Terminal 5 a much smoother operation than one might expect given the history of airport logic, and some airlines (I know Alaska and American are among them) have now brought them to LAX. Every time I use this machine, which I do exactly 100 percent of the time it is available, I do not require the services of a gate agent.
I'm hardly alone in that on-demand and streaming services have completely eliminated my retail movie rentals. I apologize to all the former and soon-to-be-former video store clerks, but having to put on clothes and drive somewhere if I want to watch a movie is just so inconvenient.
I much prefer self-service parking payment systems like those available at L.A. Live and Century City. Exiting goes a lot faster without the attendant having to make change for every car. It doesn't help matters that parking companies love to come up with pricing schemes that leave you owing some terrifically inconvenient amount like $7.30. An unmanned payment machine is just much easier.
I could go on, but I think I've confessed enough. My preference for these automated technologies directly reduces the demand for the actual humans providing the same service. I am certain that I'm not alone in my behavior, which helps explain why airlines and banks in this country just aren't hiring.
The unavoidable truth is this: If a simple task or full-time job can conceivably be done by a robot or computer, the robot or computer will eventually take over that task or job. In most cases it's probably happening already, shedding positions starting from the bottom, eventually leaving only skeleton personnel to operate and monitor the machine. The only thing preventing the automation of any job that does not require a distinctive human skill—such as aesthetic design, judgment, leadership or (yes, journalists) original communication—from happening now is the absence of sufficiently advanced technology.
Anyone familiar with TV show "How It's Made" has seen the imposing, impressively complex and blindingly fast industrial machines that displaced so many manufacturing jobs. (The spinning bottle-filler is my favorite.) Mechanical technology outpaced and replaced humans doing automatable mechanical jobs. Now that we've advanced information technology, humans doing automatable information jobs should take note.
I would advise someone in a job that has been at least partially automated—who wants to stay in that job, that is—to do everything possible to become competent at the new technologies relevant to their particular field, even if it seems threatening at first. Machines need human supervisors, and even if gate agents are losing out to kiosks, the airlines will always need people there (senior/supervising gate agents) to make sure the computer-based process is running smoothly and intervene when necessary.
There is also the fact that new technologies create new and obviously unforecasted jobs. The country may not have any more encyclopedia salesmen (While I love the encyclopedia, do we really miss door-to-door salesmen of any kind?), but we have thousands of network administrators and database technicians. Gate agents may dwindle, but kiosk support staff will grow.
Now, this won't be a full-blown shift as new technology catches on in the name of efficiency, requiring less cost and fewer people to produce the same output, but there are always opportunities for people who are both enterprising and lucky when industries are in transition. This is the "creative destruction" people talk about. The ATM may have been bad for a lot of bank tellers, but it's materially improved our general quality of life, especially for those of us who are night people, and it's created thousands of jobs in the countries where these machines are made.
(Note on Europe: It's one thing for Bank of America to replace tellers with a NCR Corporation ATM or Deutsche Bank to replace them with a Wincor-Nixdorf machine. A Greek or Portuguese bank that has to replace fired tellers with American or German ATMs doesn't get that bump on the other side of the transaction. Nobody is buying Greek or Portuguese machines of any kind. That's just one part of the problem.)
We all cheerlead technological innovation, largely because it makes our awesome toys even more awesome, but the way in which we adopt it determines the winners and losers. If a computer is capable of doing your job, it will soon. The way to keep and even improve on your situation is to complement or supplement the computer, and not try to compete with it in mechanical tasks. You will lose that one, even if the computer is running Windows Vista.
I may not have much use for a supermarket checker or a travel agent, but this uncertain jobs market that I'm helping to contribute to does not mean we are on our way to bread lines and/or a robot takeover. I'm not letting a robot give me a medical diagnosis, cut my hair or deliver a presentation anytime soon. Exclusively human traits like leadership, negotiation, creativity and empathy remain valued in the marketplace.
The information technology revolution that is going on is no more the end of real people working jobs than the vibrator was the end of men. Yes, those that do only machine replacement-level work will be replaced by machines, but those who embrace and seek ways to work alongside the new technology often find greater rewards.
Reach Staff Columnist Matt Pressberg here.