Opinion
The Importance Of Art As Activism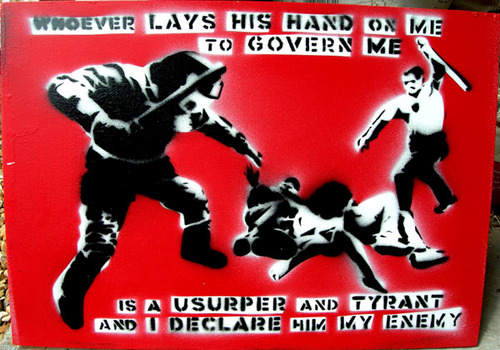 Art is something concrete, with a shape or a form. Sometimes it's a performance, sometimes an action. The goal of art could be to beautify or to explain. But today, more than ever, art is being used to accomplish social or political change. Yes, a performance or a poster could be called art, but it could be called an effective form of activism as well.
Giorgio Agamben, an Italian philosopher, once wrote in his essay "What is the Contemporary?" that a "contemporary" is a person who perceives the darkness of his time and is concerned by it, and never ceases to engage with it. In other words, to be contemporary is to portray the darkness one sees during one's time.
The effectiveness of modern social and political artists in organizing, in advocating and in building solidarity for movements that are often ignored by the mainstream media, is essential to differentiating "art for art's sake" from political art. The latter has an effect on the world, for its adherents are contemporaries who see and portray the darkness of the world.
As our lives are continually inundated with the inordinate benefits of technology, and as our easy accessibility to a vast range of opinions grows with the blogosphere, it is difficult now to not have become familiar with the blooming and aftermath of Arab Spring, and of other popular regional and international revolutions currently taking place. It has now become quite impossible to be apolitical, since political issues, directly or indirectly, whether we want them to or not, become parts of our lives with excessive sharing of information.
Because of their inherent desire for liberty and creative freedom, artists and intellectuals from all around the world have been using their work to push people to realize that they are part of something greater, a worldwide impetus for democracy, if they would only see it and join the fight. The purpose of art has morphed from beautifying the world to fostering a dialogue on human freedom.
Art activism constitutes a kind of vigorous campaigning that brings to light issues of human rights and freedom. The humane and comprehensive manner in which this is done through art counters the dangerous simplification of complex issues now characteristic of the mainstream media. Rather than simply following the news, which casually reports death tolls and briefly discusses the status of ongoing protests, witness-art and artistic activism in the realms of poetry, painting, photography, film and theater give a voice to the silent victims and help make sense of their pain.
Sitting in a peaceful place thousands of miles away from conflict watching devastating news of the unraveling of someone else's world, without any sense of how we can help, can be a source of frustration. Art activism provides a process to shorten the distances between the viewer and the victim, and imparts in the viewer a vision of his or her role in the conflict occurring on the other side of the world. Art, unlike the mainstream media that simply covers human struggle, allows its participants to slowly reflect on that struggle. To allow the mainstream media to render us helpless in the face of what it implies is a struggle we cannot begin to understand, is to oppose the true essence of art activism.
The function of art for the individual has always been to allow for understanding in an ambiguous world. We yearn to know the answers to questions like where we come from, what our purpose is while we're here and where we will go when our time is up. Art for the individual, therefore, provides us with a reflection of our own dilemmas, and helps us to make our surroundings more relatable. Art is comforting for the lonely, for the distressed and for the confused – it is the food for the soul.
But that highly personal experience of art must necessarily be lifted to a more collective, social and political experience. Political and social forces are the ones that largely determine our lives and dictate what our experience on earth will be; they control us like a puppet. If we don't agree with the nature of that control, it is vital that we speak out against it in a way that is both moral and compelling. Just as we use art to make sense of our individual lives within a larger world, we need art to be able to direct us when external social and political forces make things go terribly wrong in our lives and in the world.
If you'd like to explore the world of art activism further, check this out, or this, or this or this.
Reach Contributor Naina Sethi here.