National
Emails Contradict Testimony In Sandusky Trial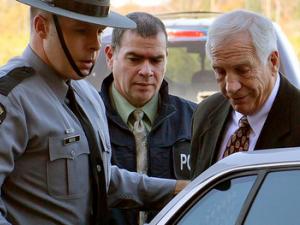 Prosecutors in the trial of Jerry Sandusky said Tuesday a file detailed incidents "pertinent to the investigation" that contradict testimonies by two key players in the scandal.
CNN reported former Penn State Vice President Gary Schultz, who at the time oversaw campus police, has information including emails with the university's former athletic director Tim Curley.
Both men have pleaded not guilty to charges of perjury and failing to report alleged sexual assault.
According to court documents, "The Commonwealth is entirely justified in using those documents as evidence to support the charge of Perjury against Schultz."
Read the full story here, and check out more of Neon Tommy's coverage of the Penn State scandal here.
Reach Executive Producer Catherine Green here; follow her here.