California
California Voter Foundation President: "This Whole Election Is Unprecedented"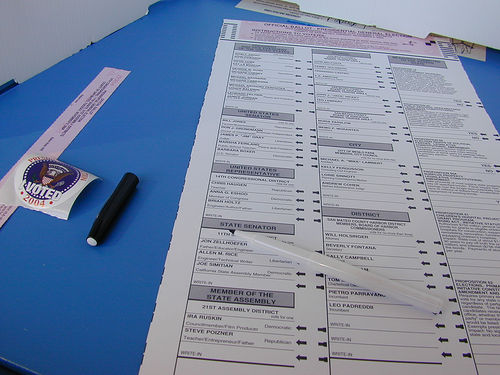 Fifth-generation Californian Kim Alexander is president and founder of the
California Voter Foundation
, a non-partisan, non-profit organization dedicated to improving our local democracy with a focus on technological innovation and donor transparency. The California Voter Foundation has published its
California Online Voter Guide
, which aggregates comprehensive election information from its diaspora across government websites, every two years dating back to 1994.
Neon Tommy spoke with Alexander via telephone Monday afternoon about today's primaries and other California election topics.
Neon Tommy: How can we better inform people as to the real money behind some of these ads?
Kim Alexander: What we would like to see is a list of the top donors for and against every proposition actually included in the ballot pamphlet itself. That's what we think would be most helpful for California voters. Right now you have a ballot pamphlet that's sent to every household from the Secretary of State, and it contains lots of really helpful information—there's the actual text of each measure, the pro-con arguments, the impartial analysis by the state's legislative analyst. But at the end of the day a lot of voters simply want to follow the money. They want to know who's putting up the money to pay for this initiative, to qualify this initiative and to campaign against this initiative. And that's a great shortcut for voters who are busy and maybe don't want to spend a lot of time trying to dive into the nitty-gritty details of a proposition—they can use a shortcut like knowing who the top donors are for and against a proposition and a lot of times that's often just what voters need to make an informed choice.

NT: Are there any initiatives or propositions this year that you're particularly targeting?
KA: Well, you know the June ballot is very light; we only have two statewide measures on the ballot. The November election is a different story, there are as many as 13 propositions will be on that ballot. That's when it gets really tricky for voters trying to sort it all out and especially if there's initiatives dealing with the same subject that can get pretty confusing. Our website calvoter.org is a great one-stop shop to help voters find information online that is reliable, non-partisan.
NT: This year, with Citizens United, the floodgates are open to a greater degree. What kind of unprecedented things do you think we're going to see this fall?
KA: This whole election is unprecedented. We're going to see Democrats competing against Democrats and Republicans competing against Republicans in the fall. We've never had that in California. Traditionally, the only time you see competition among people of the same party is in the primary election. Now, because we have this new top-two primary election, the two top vote-getters in the primary contest will advance to the general even if they're of the same party, and that really throws the whole money chase for a loop, because you're going to have Democrats trying to reach out to a broader base of support in the primary trying to get votes so they can rate in the top two candidate positions and Republican candidates are going to do the same thing. So there is likely for the Congressional contests to be a lot of outside money that comes into play, particularly for the fall, when we're going to see a number of California Congressional seats up and highly competitive and the outcome very unclear.
NT: California famously had all the outside money coming in from Utah for Proposition 8—
KA: I want to just make a distinction. There's outside money that you know about and there's outside money that you don't know about. When you talk about California propositions, we have the best disclosure laws in the country. There's certainly room for improvement. We'd like to see listing of the funders who paid to circulate initiative petitions on the petition itself. We'd like to see top donors listed in the ballot pamphlet. But for the most part, our laws are pretty strong and voters often are generally aware of where the money's coming from or have some idea of where the money's coming from in proposition campaigns, even if it's coming from out of state. At least you know who the donors are. The Citizens United decision in federal contests is going to create—is creating—large amounts of campaign ads that are underway where the source of the funding is not identifiable. So you've got lots of ads that are going on the attack and the voters unable to hold accountable the people who are responsible for that message, and we think that's a crisis.
NT: Do you think California's been doing a good job as far as getting its eligible voters to the polls and do you expect turnout to be high in the fall?
KA: No, we're not doing a good job with voter registration. We have an archaic system; a lot of states have implemented online voter registration, which although we do not support online voting due to a number of serious security problems with that, we do support online voter registration and fortunately that is being implemented in California for the fall election. Hopefully that will get in place. Its going to help a lot of people not just register, but keep their registration up-to-date, because you have to re-register every time you move, and for a voter to try to track down a new voter registration card, fill it out, get it in in time for an election; often people just overlook the fact that they have to do that in order to vote at their current address, and then it's too late.
So, I think moving to online voter registration is going to speed things up, but really, one of the reasons we have so many voter registration problems in California is because we are the very last state in the country to comply with a federal requirement that we have a statewide voter registration database that can be operated at the state and local level and checked against other government databases to make sure our records are up-to-date. That's the Help America Vote Act. We have one, but it's not completely HAVA-compliant, and our new database, [which] began back in 2006, is still at this stage out for bid.
We are way behind other states with modernizing voter registration and that's a big reason why our registration numbers are lagging. A lot of people are simply falling through the cracks, and there's a lot of problems at the DMV, where people don't get on the rolls properly. Because we don't have a HAVA-compliant registration database, we don't have a statewide voter registration status lookup tool. We're one of only nine states in the country that does not have a statewide tool on the Secretary of State's website where a voter can go online and simply find out if they're registered to vote or not at their current address.
Reach Staff Columnist Matt Pressberg here.