National
Bullied Bus Monitor May Retire After Receiving Over $600,000 In Donations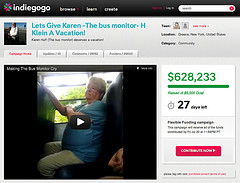 The upstate New York bus monitor who was verbally abused by four teenage boys may retire after receiving over $600,000 in donations.

The money was raised through an online fundraising drive started to reward the 68-year-old grandmother with a dream vacation.

"I don't think she's going to go back, I think she is pretty much done," the bullied bus monitor's daughter, Amanda Romig, told Radar Online.


The 10-minute video titled, "Making The Bus Monitor Cry," shows the four middle-schoolers taunting and bullying monitor Karen Klein about her weight and age.

It has been seen by over 4 million people since it was uploaded onto YouTube, according to New York Daily News and over 28,000 people have responded by setting up a donation fund on Indiegogo.com to reward the bus monitor.

U.S. Marines, Anderson Cooper, Disney and Southwest Airlines have also reached out to offer her tickets to Disneyworld, a free cruise and plane fare, the Los Angeles Times reported.

Klein told reporters she doesn't want the middle-schoolers to be charged with a crime. However, she does think they should be punished with school suspension and community service.

"I want them to make sure that they never do this again, to anybody," she said as reported by the New York Daily News.

Read the full story at the New York Daily News here and at ABC News here and Radar Online here.

Read more coverage by Neon Tommy on bullying here.

Reach Executive Producer Jackie Mansky here.