California
Bagging The Ban Or Banning The Bag?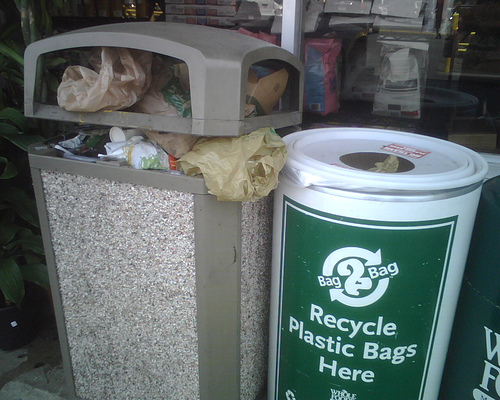 Less than three weeks after Los Angeles became the largest city in the nation to ban plastic bags, the battle continues to rage on both sides. Opponents are clamoring to change people's mind while advocates fight to maintain support while environmental reports are carried out over the next few months. The main opposition to the ban comes from the
APBA
(American Progressive Bag Alliance). They warn that the ban would cause job loss, higher food prices, and pose health and even environmental risks.
"Last week L.A. took the first step in a series of steps and processes to go ahead and ban bags and tax paper bags," Donna Dempsey of the APBA explained and cited San Francisco as an example, "a couple of years ago before they put their ban of plastic bags into effect; according to their own litter audit, plastic bag litter was .6%; they did the same litter audit one year after the ban, and the litter amount was .64%."
One source seems to support Dempsey's position, according to the latest California Statewide Waste Characterization Study, plastics made up just 9.6% of material found in the waste streams (compared to construction materials which made up 29% and paper, almost 18%). Photos found on the websites of environmental groups like Heal The Bay, however, tell a different tale; one which feature plastics on its main cast.
"The state estimates that over 24 billion plastic bags are in California landfills every year and less than 5 % of plastic bags are recycled. So most of the plastic bags people use, become litter and end up in the oceans as plastic pollution," Dana Murray from Heal The Bay said.
The APBA concurs with Heal the Bay on at least one issue: that plastic bags are not being recycled enough. However, the APBA sees education and a greater outreach as a better solution than an outright ban. The APBA and its member companies have launched multiple websites and initiative nationwide. One of which, www.abagslife.com, allows people to input their zip code and locate recycling centers. This website has also been launched as a program in seven states and has even partnered up with "Keep Pennsylvania Beautiful" and other environmental state department initiatives in order to extend their reach. Murray, however, was not impressed with these initiatives; citing that recycling programs have been around for many years with mostly unsuccessful results.
"Our perspective is that we have lived without plastic bags for decades before people started using them, and many people use reusable bags now."
Opponents of the ban, however, see these reusable bags as being unhealthy and detrimental to the environment.

"These reusable bags are made from oil because they are a different type of plastic, and they are not recyclable," Dempsey said, "because of this, these bags would end up in landfills at the end of their lifespan."
To strengthen their point, opponents also cite a recent case of an Oregon soccer team that contracted the Norovirus from eating food kept in an infected reusable bag.
"When I use my reusable bags, I wash them," Murray countered, "just like a backpack, when they get dirty, we wash them."
Plastic bag manufacturers also say that the ban could lead to job losses or cuts in employee income since most plastic bags are American-made while reusable bags, the APBA states, "would mostly be imported from Asia."
Heal the Bay's, Murray, however, said that the bag companies were exaggerating the effects:
"These plastic manufacturing companies manufacture more than plastic bags."
She also said that there are many reusable bag manufacturing companies based in Los Angeles, and that the new demand for these would actually create jobs.
"There are lots of jobs created, and we are talking about local jobs."
Above all, Dempsey says, it's a matter of freedom of choice; people should be given information to make educated decisions.
"That's why we are against that legislation, because it takes away consumer choice."
Reach Executive Producer Francesca Martens here; follow her here and don't forget to check out Jimmy Kimmel's take on the ban: