Nation and World
American Ambassador To Kenya Resigns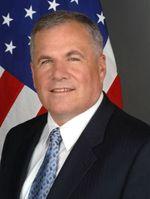 After seeing a draft of his internal audit, which will be released next month, the American Ambassador to Kenya, Scott Gration, resigned,
the Associated Press reported.
The audit will be highly critical of Gration's leadership and management of the embassy, the Associated Press reported, after speaking to State Department officials who spoke on condition of anonymity because the audit is confidential and still being prepared.
When the news broke, The Star, a Kenyan-based newspaper, reported that Gration, a retired Major General of the United States Air Force, took a "lacklustre diplomatic approach" to his position as Ambassador to Kenya.
The New York Times also reported that those who worked with Gration said he could have been more responsive as ambassador.
"In Kenya, many of his underlings at the American Embassy said he was remote and imperial. He also did not seem to be engaged in Kenyan politics as the country heads into one of the most anticipated presidential elections in its history, the first since 2007, when the country exploded in ethnic violence. But some State Department and embassy staff members said they were reluctant to press their criticisms of him because of his close ties to the president."
Gration, who is the son of missionaries and spent much of his childhood in Kenya cited "differences with Washington" as his reason for leaving, All Africa reported.
There is no word yet on who will be replacing Gration as ambassador to Kenya.
Read the full story at The Star here, The New York Times here and All Africa here. Read more Neon Tommy Coverage on Africa here.
Reach Executive Producer Jackie Mansky here.