Sports
2012 NBA Finals Preview: Heat, Thunder Meet In Star-Studded Series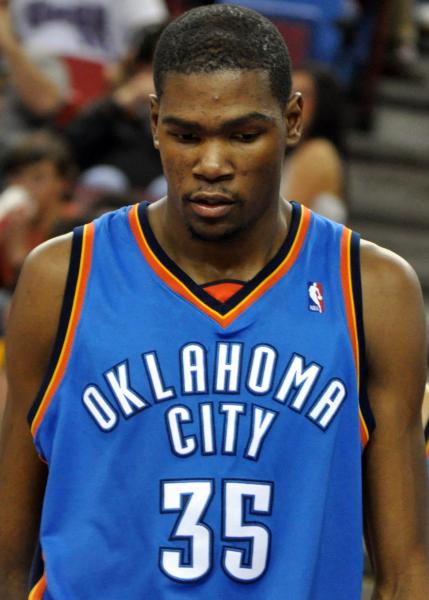 With LeBron James' Miami Heat and Kevin Durant's Oklahoma City Thunder scheduled to tip off Game 1 of the NBA Finals Tuesday at 6 p.m. PDT, it feels like a new era has dawned upon the league.
For the first time since Michael Jordan's Chicago Bulls won the NBA title in 1998, the likes of Kobe Bryant, Tim Duncan and Dirk Nowitzki will be absent from the NBA's ultimate series. After the Heat ousted a valiant Boston Celtics team in seven games to win the Eastern Conference title, it brought an end to the Celtics' run with their Hall-of-Fame core.
But it may have also signaled the final days for the league's old guard. Chances are, neither starting lineup in this year's Finals will field a player who came into the league during the 1990s.
Miami might appear poised to be the top dog of the new generation, but Oklahoma City, whose four leading scorers all fall within the 23-and-under demographic, makes the Heat's Big Three look like grizzled, old vets in comparison. Here's how the first NBA Finals featuring two squads representing the thick-rimmed glasses and skinny jeans era shapes up.
How they got here
Miami's path to the Finals was not as easy as expected, even after a season-ending injury to Chicago Bulls All-Star guard Derrick Rose rattled the East playoff bracket.
The Heat finished off the New York Knicks in five games, but then had an injury setback of their own when forward Chris Bosh suffered an abdominal injury that sidelined him for most of the series with the Indiana Pacers and Boston Celtics. Head coach Eric Spoelstra's team fell behind in both series before rallying to advance.
The Thunder brushed aside the Dallas Mavericks, Los Angeles Lakers and San Antonio Spurs to set up their showdown with Miami. Oklahoma City's run marks the first time since 1998 that a team other than the Lakers, Spurs or Mavs will represent the Western Conference in the Finals.
Matchups to look forward to
LeBron James vs. Kevin Durant
The main event bout pits the three-time league MVP James against the three-time scoring champion Durant. Neither will guard the other for extended stretches to save energy for the offensive end, but the instances when they do square off should provide some magic.
James turned back criticism that he couldn't perform in big games when he exploded for 45 points, 15 rebounds and five assists on 19-for-26 shooting in a must-win Game 6 for the Heat on Boston's famed parquet floor. On the other side, Durant has been playing like a seasoned veteran as a 23-year-old, averaging 29.5 points, 7.5 rebounds and 5.3 assists per game on 53-percent shooting against a red-hot San Antonio team that was the favorite to win it all.
Defenses have struggled to corral the 6-foot-9 Durant during OKC's Western Conference run, meaning James' defensive ability will face its strongest test to-date. Meanwhile, the Thunder must limit James to taking jump shots and hope for an off-shooting night. Both superstars will likely cancel each other out, so this series is more a battle between the other guys on the court.
Dwyane Wade vs. Russell Westbrook
The second of two anticipated individual duels where the participants won't actually defend one another has the 30-year-old veteran Wade against the 23-year-old young gun Westbrook. The Heat have long been considered Wade's team, but the eight-time NBA All-Star's inconsistent play during these playoffs has relegated him to being LeBron's right-hand man during this run.
With his lightning-fast drives to the basket, but sometimes questionable decisions with the ball, Westbrook will either come up big for Oklahoma City or turn out to be Miami's MVP in this series.
Thabo Sefolosha, the 6-foot-7 guard with a 7-foot-2 wingspan, will likely guard Wade, while Mario Chalmers will be put on Westbrook. But for the Thunder to win this series, their No. 2 must outplay the Heat's No. 2.
X-Factors
James Harden (Thunder guard)
The NBA's Sixth Man Award winner will need to duplicate some of the standout performances he had against the Spurs for Oklahoma City to have success. Harden will also be tasked with guarding one of Miami's superstar wing players when he's on the court.
Chris Bosh (Heat forward)
After missing nine games due to injury, the third member of Miami's Big Three recovered just in time to help the Heat sneak past Boston and into the Finals. Bosh's jump shooting ability could be instrumental in drawing the Thunder's post defenders away from the paint and clear the lane for James and Wade to do their damage.
Oklahoma City's frontcourt
Serge Ibaka and Kendrick Perkins will both play a critical role in the Thunder's defensive game plan to limit James and Wade's easy scoring opportunities. Ibaka, an NBA All-Defensive First Team selection, will likely be put on Bosh. If the 6-foot-10 runner-up for the Defensive Player of the Year award can take Bosh out of the equation, that puts more pressure on LeBron and Wade to churn out lights-out performances.
Miami's non-Big Three players
The Heat can get away with having James bail them out with clutch performances (I know, still feels weird saying that) against an often-stagnant Boston offense. But they will need production from the likes of Chalmers and Shane Battier if this turns into a high-scoring affair. If Miami's role players aren't hitting their three-point shots, the Heat will not score enough points to hang with Oklahoma City's offense.
Loyalty Doesn't Pay
The idea that these two teams are playing for the title must make fans who believe karma is a you-know-what cringe. Especially diehards in tough-luck sports cities like Cleveland and Seattle, whose most recent major sports titles came in 1964 and 1979, respectively.
James' unceremonious exit from Cleveland is well-documented by now, but many fans in Seattle are still sleepless over Thunder owner Clay Bennett moving the team away from the Emerald City in 2008 after Durant's rookie campaign.
Unfortunately for one of these cities, either James or Bennett will be standing on the podium when NBA Commissioner David Stern hands out the Larry O'Brien trophy to the winning team at the end of this series.
Prediction: Thunder in 6
The key for this young Thunder team is protecting their home court advantage so they'll be guaranteed a trip back to Chesapeake Energy Arena — where they are 8-0 in the postseason — if they can't finish the series in Miami.
This series will come down to which team can win the turnover battle because both squads have the quickness in transition to make the opposition pay for making mistakes.
If the Boston series was a turning point in James' ability to perform in the clutch, then look for him to vanquish fourth quarter shortcomings of the past, but it still might not be enough. The Thunder's superior supporting cast and home court advantage will score Durant round one in what could be the first of multiple Finals encounters between the two teams.
NBA Finals Staff Predictions:
Aaron Fischman: Thunder in 6
For Miami, it bodes well that Chris Bosh and Shane Battier are looking good. Of course, LeBron James is beasting and the Heat have last year's finals appearance experience to draw upon. With that said, I have more confidence in the Thunder's supporting cast. Also, home-court advantage will be crucial. Remember, Oklahoma City has not lost at home these entire playoffs.
Salomon Fuentes: Thunder in 5
I have to begrudgingly give a tip of the hat to LeBron James for willing his team into the NBA finals this year. That said, he hasn't gone up against a team with this kind of talent and depth since facing the Mavericks in the finals last year and it's hard to fathom a scenario where the Heat win a game or two in OKC. The Thunder will roll in five.
Max Meyer: Thunder in 7
This is a very even matchup, but I think it all comes down to home-court advantage. The crowd in Oklahoma City will be phenomenal and will swing the series. Also, Dwayne Wade has not been playing like a superstar in these playoffs, more like a fringe starter.
Will Robinson: Thunder in 6
These NBA finals could not have started soon enough. Seeing the league's two best players literally going head-to-head in LeBron James and Kevin Durant is an exciting prospect. In the interest of not dragging this on, I'll take the Thunder in six games. Russell Westbrook will play like the MVP of the series, outgunning Dwyane Wade and Mario Chalmers, though it is highly unlikely that anyone besides Durant will be awarded those honors should Oklahoma City win.
Omar Shamout: Heat in 7
I think both teams are evenly matched and it will be a fantastic series. Bosh will be the deciding factor.
Series Schedule (All games on ABC):
Game 1: Miami at Oklahoma City (June 12, 6 p.m.)
Game 2: Miami at Oklahoma City (June 14, 6 p.m.)
Game 3: Oklahoma City at Miami (June 17, 5 p.m.)
Game 4: Oklahoma City at Miami (June 19, 6 p.m.)
Game 5: Oklahoma City at Miami (June 21, 6 p.m.)*
Game 6: Miami at Oklahoma City (June 24, 5 p.m.)*
Game 7: Miami at Oklahoma City (June 26, 6 p.m.)*
*If necessary