NBA
2012 NBA Finals: Heat Win It All, LeBron James Earns First Ring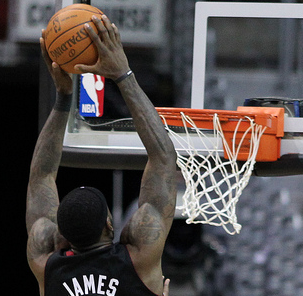 After nine years, three NBA finals appearances, and "The Decision," the King finally has his ring.
LeBron James led the Heat with 26 points, 11 rebounds and 13 assists, as the much-hyped Heat won the first of many promised titles since acquiring James and Chris Bosh two summers ago. Mike Miller came off the bench to score 23 points and shoot 7-8 from three-point range.
Even before the game, Miami had taken on the mindset that the series needed to end tonight. James said that he was preparing, "…for Game 5 as if it were Game 7," and this was abundantly clear as the Heat won every quarter save for the fourth.
On the opposing bench, the Thunder's dominant march through the playoffs came to a screeching, abrupt end. While many thought that Oklahoma City was a more complete team than Miami, losing three in a row showed the team's youth and lack of big-time playoff experience. Nowhere was this fact exploited more than in Game 5, as the Heat contested nearly every Thunder shot and opened up their lead to 24 by the beginning of the fourth quarter.
Kevin Durant rebounded from his poor Game 4, going for 32 points on 13-24 shooting and attacking the glass by pulling down 11 rebounds compared to his two a few nights ago. Unfortunately for the Thunder, his efforts weren't enough to keep the game competitive. Russell Westbrook followed up his astounding Game 4 with a pitiful night, shooting just 4-20 from the field. James Harden played like the Sixth Man of the Year for the first time in this series, but his efforts came too little, too late.
Throughout the finals and especially tonight, the biggest difference between the Heat and Thunder were the performances of each team's respective role players. The Thunder relied heavily on Durant and Westbrook while their bench did little, whereas the Heat received game-changing performances from the likes of Shane Battier, Mario Chalmers and Miller, on top of the big nights they got from James, Bosh, and Dwyane Wade.
With this game and series, LeBron James has likely shed the stigma of not being clutch that has been attached to him for most of his career. Despite posting a triple-double tonight, James was not afraid to take the most important shots throughout this series, particularly in Game 4. James is also only the third NBA regular season MVP to also win a finals MVP award as well.
---