National
Vice President Biden Delivers Speech To Families Of Deceased Veterans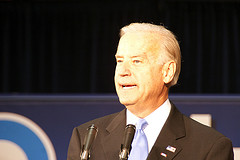 Speaking to the families of dead soldiers on Friday, Vice President Joe Biden delivered an emotional speech retelling his own personal tragedy, when his wife and daughter were killed in a car crash forty years ago.
During the speech, Biden said only after the death of his wife and daughter could he understood why people considered suicide. He said that the ache he felt for his lost family became more bearable however when he met his future wife, Jill Biden.
He told the audience that a day will come when the thought of their son or daughter, or husband or wife, "brings a smile to your lips before it brings a tear to your eye."
Biden delivered the speech at the 18th annual TAPS National Military Survivor Seminar and Good Grief Camp in Arlington, Va.
In his speech, Biden said, "We owe you more than we can ever, ever repay you."
Reach Executive Producer Jackie Mansky here.