International
Suicide Bombers Kill 55 In Syrian Capital, Injure 372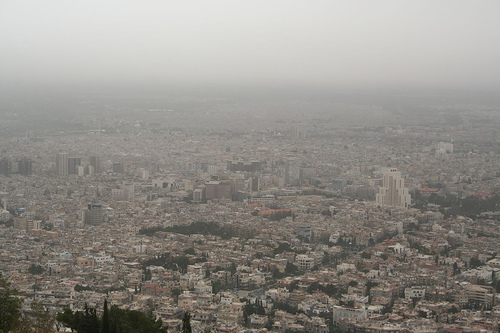 Two car bombs exploded outside an intelligence compound in Damascus on Thursday, killing 55 people and injuring 372.
A source at the military hospital in the Mezzeh neighborhood where most of the casualties were taken told The New York Times that at least 11 of the dead were soldiers.
The explosions happened at 7:50 a.m. in the Syrian capital, the newspaper reported, the peak time for government employees to arrive at work and buses to transport children to school. Witnesses told the Associated Press that the blasts happened in quick succession; a small explosion followed by a larger one aimed at onlookers and rescue teams.
The ministry told the AP that in addition to the 55 dead, there were 15 bags of human remains recovered that will likely raise the death toll.
No one has yet take responsibility for the bombings, but it is believed to be the work of "terrorists" financed by Saudi Arabia and Qatar.
"It is the regime [of President Bashar al-Assad] that wants to create fear in the hearts of the people," said Bassam Jaara, an opposition journalist in London, speaking on al-Jazeera. "They keep saying it is either Bashar or destruction and today we are seeing that destruction."
The two suicide car bombs held more than 2,200 pounds of explosives. According to The New York Times, the intelligence compound housed two major branches of military intelligence: the Palestine Branch which focused on surveillance and arresting religious radicals and the Patrol Branch that was responsible for maintaining and dispatching intelligence vehicles that patrol the Damascus area.
Detainees from many nations had been incarcerated or tortured at the Palestine Branch.
The explosions are the deadliest since the country's uprising began 14 months ago, the Interior Ministry told the AP.
The Norwegian head of the United Nations' cease-fire monitors in the country, Maj. Gen. Robert Mood, toured the location Thursday.
Mood told the AP that the Syrian people do not deserve this "terrible violence."
To those carrying out such attacks he said, "It is not going to solve any problems. It is only going to create more suffering for women and children."
-------
Reach executive producer Agnus Dei Farrant here.