MLB
Still Playing At 40? Manny Ramirez, His Legacy And His Run Back To The Major Leagues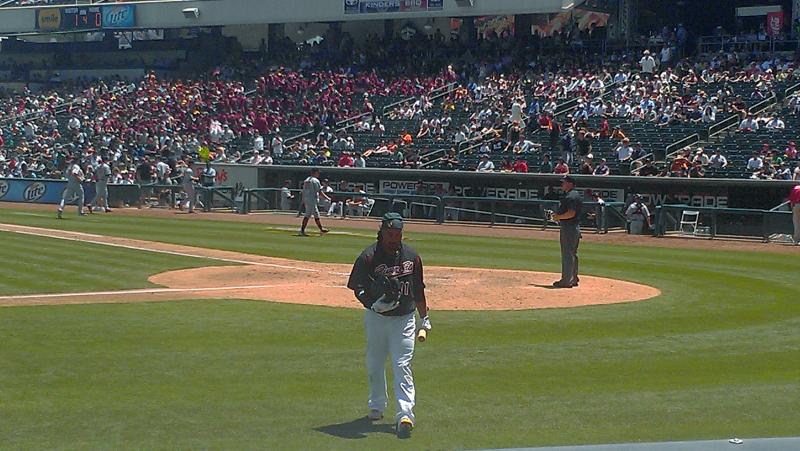 WEST SACRAMENTO, Calif. -- Yesterday was Manny Ramirez's 40th birthday. As he had spent it for most of the past 19 years, he was on a professional baseball diamond. An organ rendition of "Happy Birthday" played over the speakers as Manny calmly walked to the plate for the first time where he eventually struck out looking. After that, he calmly walked back to the River Cats' dugout, his head slightly tilted downward with helmet in hand. It was safe to say that Ramirez has had better birthdays. He was an abysmal 0-for-4, featuring three strikeouts.
Two-thousand four seems like eons away, but the Red Sox's historic campaign that year drew many non-baseball fans to the sport, including me. People sans a franchise adopted the Red Sox and their lovable idiots that fated October, starring Manny Ramirez and his often-humorous antics. "Manny Being Manny" was uttered. A lot.
Ramirez officially began his return to Major League Baseball on May 19 for the Sacramento River Cats, the Oakland A's AAA affiliate. He served a 50-game suspension resulting from a second positive drug test in April 2011, which was originally 100 games. Ramirez first opted for retirement but signed a one-year deal with the Athletics last February. The World Series MVP from Boston's 2004 title-winning squad and one of the most feared hitters of his generation is now struggling to claw his way back to the Bigs.
And after Wednesday's performance, it may be a while. Ramirez batted third, one spot after Cuban rookie sensation Yoenis Cespedes who was in Sacramento for some rehab starts. Cespedes would surely be back playing at the O.Co sooner rather than later. That was a certainty. Manny? Not quite clear.
The Cats widely publicized Ramirez stint in Sacramento, even producing shirts saying "Manny Mania" for what was supposed to be a ten-game formality before Billy Beane gave Ramirez the call to hit I-80 en route to Oakland. The half-filled Raley Field became noticeably more engaged and vocal whenever Ramirez's turn in the order came up. People were there see Manny. I was there to see Manny.
"Come on, Manny! Be a hitter!" and other similar phrases heard at little league games were often directed at Manny. On the plate, aesthetically, Ramirez still resembled the once-feared hitter. He still walked up and swung his bat three times before sizing-up a pitch. He still held the bat high, slightly tilted toward the pitcher. He still quickly picked up his leading left foot before sizing up each pitch. He still patiently waited to see his pitch. But maybe too patient now, as he struck out looking. Twice.
In the steroid era, Ramirez was irrefutably a star. As of today, 555 Major League home runs have been hit courtesy of Manny. That's good for 14th-all-time and third best amongst active players (Alex Rodriguez -- 634; Jim Thome -- 604) and eight behind Reggie Jackson. But just as particular elite players from the era have received image hits due to positive drug tests -- Rodriguez, Roger Clemens, Rafael Palmeiro, Mark McGwire, Sammy Sosa, Barry Bonds -- Manny has not avoided that fate since his first test in 2009. It will never evade him.
The retreat to the dugout was the worst part of the game. It epitomized where Ramirez's career ended up. He looked discouraged, almost frustrated by his performance -- as any big leaguer would and should. "You suck, Manny!" was shouted more than once throughout the day during his long walks back to his teammates following an unsuccessful at-bat. Fortunately, he knows he has work to do. If he couldn't do well in AAA, how would he fare in MLB? At least he probably ate some cake to soothe his poor showing. That's a plus, right?
----------
Reach Will by email or follow him on Twitter.