Film and TV
REVIEW: "A Little Bit of Heaven" Is An Emotionally Satisfying Journey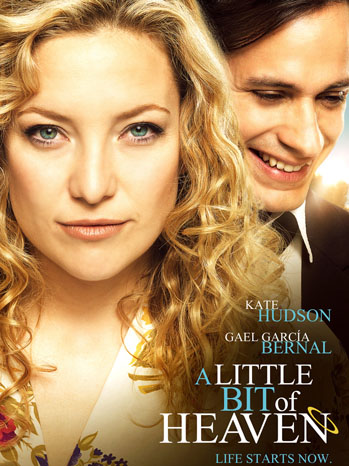 Terminal illness and romance are an unlikely pairing for the premise of a romantic comedy, but surprisingly works in "A Little Bit of Heaven," which opens in theatres today (May 4).
"A Little Bit of Heaven" is the story of Marley Corbett a free-spirited larger than life young woman played by Academy Award Nominee Kate Husdon, whose life changes after a series of symptoms sends her on a trip to the doctor where learns she has colon cancer.
"A Little Bit of Heaven" maintains many of the classic romantic comedy scenarios of boys meets girl, they encounter a problem and in the end overcome it and fall in love. However due to main character Marley finding out she has a terminal illness this classic romantic comedy unravels in manner less typical than in other movies.
Cancer in general is a serious subject that isn't the easiest to portray, and "A Little Bit of Heaven" makes a valiant effort in approaching it. "A Little Bit of Heaven" may have lacked an accurate portrayal of the day to day hardships a cancer patients endures, but it made up for it with the emotional journey it takes you on. The movie is a guaranteed tearjerker and it's impossible not to have your emotional heartstrings pulled no matter how much of a skeptic you are.
"A Little Bit of Heaven" features a star studded cast with lots of talent that in includes Gael García Bernal and Academy Award Winners Kathy Bates and Whoopi Goldberg.
Director Nicole Kassell manages to capture the emotions that people experience while going through an illness that has the ability to take away a loved one as well as the emotions the person dealing with illness undergoes. "A Little Bit of Heaven" is emotional but isn't drawn out too long to the point that it becomes overworked so its 106 minute runtime is fitting.
Kate Hudson is likeable and charismatic as Marley Corbett in "A Little Bit of Heaven" and is able to make the audience grow with her and undergo her emotional ups and down. You can't help but be drawn to Hudson and want to be a bit like her even when she's faced with bad twist of fate.
"A Little Bit of Heaven" may not be a groundbreaking movie or change the way people think of the romantic comedy, but it's definitely worth a watch. It connects you with your emotions and will have you laughing and crying and realize even more that life is messy and unpredictable, but it's through those unpopular characteristics that life is really lived. "A Little Bit of Heaven" inspires you to take on the curve balls of life and just live everyday as if your days were numbered and really enjoy the beauty of life.
Reach reporter Phoebe here.