National
Obama Begins Reelection Campaign In Ohio And Virginia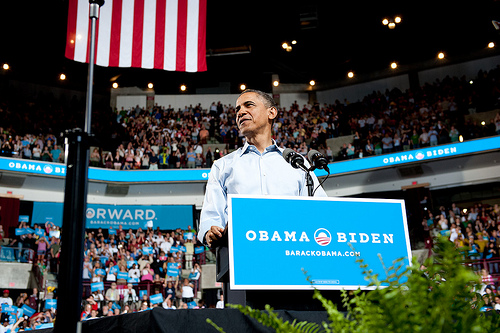 President Obama officially launched his reelection campaign Saturday in Ohio and Virginia, focusing on his accomplishments during his current term and argued that the country can't afford to adopt Republicans' "bad ideas,"
CNN
reported.
The president called opponent Mitt Romney a patriotic American with a wonderful family and experience in the private sector and with running a state, The Washington Post reported. Obama said Romney "has drawn the wrong lessons from those experiences. He sincerely believes that if CEOs and wealthy investors like him make money, the rest of us will automatically prosper as well."
At Ohio State University in Columbus, Obama attempted to link Romney to Congressional Republicans, The New York Times reported, and said Romney was their candidate and could be relied on to "rubber-stamp" their agenda "if he gets the chance."
He told the crowd of 14,000 people, "we cannot give him that chance."
Obama hinted that the former Massachusetts governor is out of touch with the lives of working Americans, according to the newspaper, and in league with the wealthiest in society.
Romney spokeswoman Andrea Saul said in a statement: "No matter how many lofty campaign speeches President Obama gives, the fact remains that American families are struggling on his watch: to pay their bills, find a job and keep their homes. While President Obama all but ignored his record over three and a half years in office, the American people won't. This November, they will hold him accountable for his broken promises and ineffective leadership."
In Columbus, Obama said, "we are making progress and now we face a choice. This is a make or break moment for the middle class, and we can't turn back now."
The campaign kick-off came a day after an employment report showed only modest private-sector job creation, The Washington Post reported. The unemployment rate came down a tenth of a percentage point only because the labor force shrank as Americans gave up looking for work.
According to CNN, the president's speech highlighted a message his campaign will push this year: reminding voters how many millions of jobs were lost before the president took office.
In the final six months of 2008, "nearly three million of our neighbors lost their jobs," he said, and that when he took office, "we didn't quit. We don't quit. Together we are fighting our way back."
Obama later campaigned at Virginia Commonwealth University.
First lady Michelle Obama introduced him.
"It sounds like you all are already fired up and ready to go," she said, using a slogan from the 2008 campaign. "Let me tell you, I'm pretty fired up and ready to go myself…We've come so far. We've got so much more to do."
Obama spoke of the raid that killed Osama bin Laden and ending the war in Iraq. He contrasted himself from Romney on multiple issues: setting a timetable to end the war in Afghanistan, women's issues, tax cuts, health care, education, financial regulation, energy and climate change.
"We don't need another political fight about ending a woman's right to choose, or getting rid of Planned Parenthood or taking away access to affordable birth control," he said. "I want women to control their own health choices."
Obama acknowledged the upcoming election will be closer than the last.
"If people ask what this campaign is about, you tell them it's still about hope, it's still about change…If you're willing to work even harder in this election than in the last election, I guarantee you we will move this country forward. We will finish what we started."
The president's speech in Richmond was similar to his Columbus speech. CNN reported that he suggested Romney and "his friends" were delusional if they "think the same bad ideas will lead to a different result."
Obama ended the speech saying, "stick with me, fight with me and press on with me."
-------
Reach executive producer Agnus Dei Farrant here.