Los Angeles
Diversity Group Breaks 'NewGround' For L.A. Muslims And Jews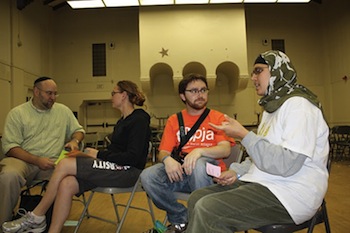 What began as a response to tensions between Muslims and Jews in Los Angeles in 2006 has since become a partnership for change.
NewGround is an independent organization sponsored by community partners, private donors, and religious institutions in Southern California. The group of young professionals offers fellowships to 20 students each year to learn the skills needed to become informed, unbiased and unifying leaders in their communities over a six-month period.
NewGround Executive Director Sarah Bassin said it's a comprehensive approach to tackling anti-Semitism and Islamaphobia. "NewGround was founded very specifically in response to the history of Jewish-Muslim relations in Los Angeles" she explained. "For the last 25 years or plus, there's been this cycle of leadership between the Muslim and Jewish communities. There are really heartfelt attempts to build relationships, but often it's done specifically around Israel and Palestine. When something happens in Israel-Palestine and tensions flare up, what we noticed is that both communities had a tendency to retreat back into themselves and not maintain and continue those relationships."
According to Bassin, the cycle came to a halt after the Second Lebanon War. Things had never truly been repaired after 9/11, causing the Muslim Public Affairs Council and Progressive Jewish Alliance to join forces and create a fellowship for emerging leaders in their communities and establish a new paradigm for relations.
Tasneem Farah Noor is an alum of the program. The Muslim-American says her interactions while in the program with those outside of her faith actually helped to reinforce her beliefs.
"It strengthened my faith because engaging with the Other—I have to explain the basics and articulate thoughts and beliefs that I don't otherwise think about," Noor said.
According to a 2011 U.S. Religious Landscape Study by the Pew Forum on Religion & Public Life, California's Jewish and Muslim populations make up 2 percent and 0.5 percent of the population respectively. Although these numbers may seem small, California is home to the largest Muslim population in the U.S. and the nation's second highest Jewish population.
Varun Soni, dean of religious life at USC, said these numbers create a unique opportunity to explore.
"I think the strength of L.A.'s Jewish and Muslim communities allow for very interesting partnerships," Soni said. "I think L.A. as a city has a lot to offer the global dialogue on interfaith and multifaith relations."
But despite the rich ethnic and religious diversity in L.A., Jews and Muslims have long come up against prejudice. Studies show there may be a correlation.
According to the Gallup World Religion Survey on prejudice in 2010, the single most profound predictor of Islamophobia is Anti-Semitism. A prejudice toward Jews is 32 times more likely to warrant the same negative feelings towards Muslims.
"Data shows that people who are anti-Semitic are also more likely to be Islamophobic, and vice versa," Soni said. "I think Muslims and Jews face very similar challenges in terms of people who denigrate them or are prejudiced against them or denounce them in some way or another. Because of their shared experiences of Islamophobia and anti-Semitism, there are some very natural alliances that can form in terms of solidarity and advocacy educational and community service."
Soni also attributed the bond to shared roots and experiences once in the U.S.
"They are both minority religions in the United States," said Soni. "They are brother Abrahamic traditions. Because Christianity is the main religion in the United States and 70 percent of Americans are Christian, in a way, the approach to interfaith hasn't incorporated them as much as Islam or Judaism in terms of a collaboration with each other. Religious minority groups are often well-organized because they are minorities and want to see certain safeguards in place and necessitate that they have a strong sense of community, whereas majority groups get diluted."
Malka Fenyvesi, co-director of NewGround, agreed with Soni about the similar struggle that the groups face, both in the U.S. and around the world. Fenyvesi said her dream of building better relations within the Jewish and Muslim communities was rooted in a religious duty, an interest in Middle Eastern affairs and her own upbringing.
"My parents were children during the Holocaust. I was raised in an immigrant family in Washington D.C.," she said. "I think that's just as important to my religious background, diversity. I'm responsible to engage with others [as taught] in Judaism."
In that spirit of engagement, NewGround lays the foundation for change among its participants. The entire course of study is designed around theological discourse, communication and the similarities and differences between the groups. But the real change comes once the fellows leave the program and start spreading what they've learned to members of their mosques and synagogues.
Nick Merkin, a lawyer who was among NewGround's first batch of students, brought the other Muslim and Jewish fellows to his synagogue to participate in a panel discussion.
"We talked about our experience," Merkin said. "The program was one the most highly attended programs. It's all about people on both sides uncomfortable with an idea and discussing. I've seen both communities forming close connections and engaging in dialogue."
While Bassin, Merkin, Fenyvesi and Noor can all attest to opposition from the Jewish and Muslim communities, many of the city's religious institutions have stepped out in support of the program and bringing interfaith initiatives into their clergy.
Soha Yassine, youth coordinator at the Islamic Center of Southern California, started the High School Leadership Program to encourage acceptance of other faiths at the center.
"Between Muslims and Jews, it's important to invest in doing interfaith because it is easy for the issue of Palestine to polarize us as faith communities," Yassine said. "We have to work extra hard to bridge that gap. It's important to engage in theological discourse but also talk about Israel and Palestine. We talk more about similarities. I think they [youth in the group] know the differences. We spend a lot of time talking about the universality and ideals that unite us with other groups."
Rabbi Laura Geller of Temple Emanuel in Beverly Hills said that opposition and skepticism are inevitable, but recent events should bring the Jewish and Muslim communities together. The recent shooting at a Jewish school in France and beating of an Iraqi woman in San Diego have resonated with members of the synagogue.
"We are all citizens of Los Angeles—we have a lot of shared concerns as citizens and neighborhood, we know what it means to be singled out and targeted," Geller said. "Jews, like Muslims, have been singled out as a scapegoated minority."
Noor said it was important to take that experience and turn it into something positive—the ultimate goal at NewGround.
"Why not be united or have better understanding of the two communities?"
Contact Staff Reporter Fatima Rizwan here.