MLB
MLB's Believe It Or Not: Player's Edition
The baseball season is only a little more than a quarter of the way done, but it's never too early to analyze several mysterious trends among players. These players are producing at starkly different rates than what the analysts anticipated. I took a closer look at five hitters and five pitchers in an effort to see if their surprising 2012 numbers will continue.
Hitting Surprises
Adrian Gonzalez (First Baseman, Red Sox; Bats: Left): DON'T BELIEVE IT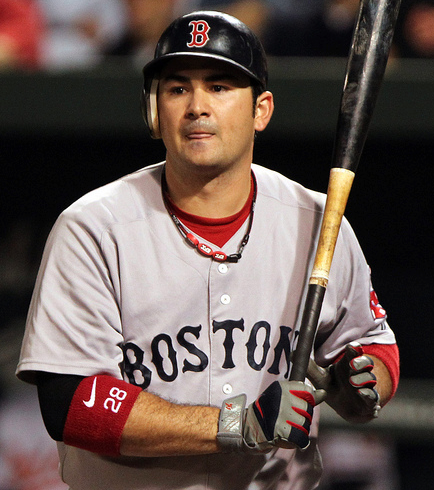 Gonzalez had a great first season with the Red Sox last year, even though he hit "only" 27 home runs. However, it's been a slow start for the veteran, who's hearing the boo birds from Red Sox nation. He's even ripped apart the umpires. Gonzalez's average isn't up to par with his career (he's hitting .271; his career average is .292), but the real mystery has been the lack of power. Red Sox fans are hoping that Gonzalez can even reach 27 home runs, because right now he's on pace for 11. His RBI totals are also way down, as he's on pace for 83 when he is a consistent 100-RBI man. His strikeout rate has increased as well, and it doesn't help that he recently struck out against Chris Davis, an infielder for the Baltimore Orioles. However, I think Gonzalez will turn it around because he plays for one of the best offenses and in one of the best hitter's ballparks in baseball. Even with Jacoby Ellsbury injured, Gonzalez has had runners on base in 39 percent of his at bats, a very high percentage. And with the great hitter Gonzalez is, the RBI's will certainly come around because Red Sox hitters are clearly doing a great job of getting on base for Gonzo. Also, in his career, Gonzalez's worst two hitting months average-wise were April and May, and his best is June, where he's hit .311. For me, the power is the only real question, but if Gonzalez hits .300 with 20-25 home runs and 100 RBI's, I certainly wouldn't consider that a disappointing season.
Albert Pujols (First Baseman, Angels; Bats: Right): BELIEVE IT
Now just to make this clear, I don't think Pujols will be hitting below .220 throughout the year, but I do think that he will have the worst season of his career. While several people think that he has started turning around in the month of May because of his four home runs in the month, he's actually hitting for a worse average in May than April (.207 to .217). But why is Pujols having such a bad season? First, this is the first year of the Pujols switch from the NL to AL, a year where players historically have struggled (see Adam Dunn last year). No one believed that it would affect the game's greatest hitter, but so far it looks like it really has. The telling statistic is that Pujols has walked only six percent of the time (10 walks in 174 at bats), his lowest before that was an 11 percent rate. Pujols has simply been impatient at the plate, probably feeling a lot of pressure after signing that monstrous contract with the Angels over the offseason. Also, Pujols is hitting a minuscule .145 against lefties this season (8-55, a reasonable sample size). In his career, he's destroyed lefties and had a higher average against them than righties (.332 to .323). While Pujols also struggled to start the season last year, the difference is he faces unfamiliar AL pitchers to attempt to get out of his slump. I'm predicting a career worst .270 average, 25 home runs, and 85 RBI's for the slumping superstar.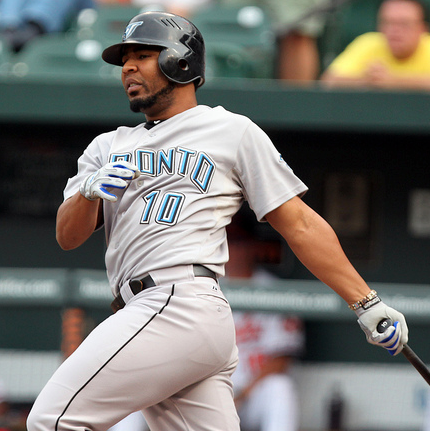 Edwin Encarnacion (Designated Hitter/First Baseman, Blue Jays; Bats: Right): BELIEVE IT
The former Cincinnati Reds' top prospect is having a fantastic start to the year, hitting .263 with 13 home runs, 35 RBI's, and even six steals. Despite several people finding his start shocking, he's already had two seasons with more than 20 home runs in his career, so the power is legit. I also think he has found a home in Toronto, especially after his major improvements after the All-Star break as a hitter. He improved in every category despite having about the same amount of at-bats. The statistic I found most interesting, though, was his walk to strikeout numbers. Pre-All-Star break, he had only nine walks to 39 strikeouts. Post-All-Star break, he had 34 walks to go with only 38 strikeouts. Because of that, his on-base percentage in the second half rose 99 points from his pre-All-Star break level, which is a dramatic improvement. While this season he hasn't had the same excellent numbers as he did in the second half last season (16 walks to 33 strikeouts), I believe that really got his confidence going as a hitter. Two other things that are probably coincidence, but also point to a positive season for Edwin: it's his contract year and he's the same age (29) teammate Jose Bautista was when he had his breakout season. Expect a career high in home runs (between 35 and 40) for the late-blooming former top prospect.
Bryan LaHair (First Baseman, Cubs; Bats: Left): DON'T BELIEVE IT
LaHair, a guy who spent several years in the minors, was just six at bats over the rookie minimum in 2008 (he had 136 with the Seattle Mariners) from being a legitimate rookie this season. He still does feel like a 29-year-old rookie, especially since no one had heard of him before his scorching start this season. LaHair batted an astounding .390 in April, and he had 10 home runs by May 15th. However, his BABIP (batting average on balls in play) was over .600 at the end of April and he had very hefty strikeout numbers, two signs which pointed to LaHair being a fluke. BABIP is a statistic that measures a player's batting average when he makes contact (so it doesn't count strikeouts), and a normal BABIP is around .300. LaHair was getting extremely lucky that when he didn't strikeout, as he was getting a hit two-thirds of the time. His strikeout numbers currently (45 strikeouts in 127 at bats) show that he is striking out 35 percent of the time, which would put him in infamous company. Guys like Mark Reynolds, Adam Dunn, Drew Stubbs and Jack Cust not only struck out an inordinate amount of times, but whenever they struck out more than 30 percent of their at bats, their mean batting average was .237 and the highest batting average was .260. So expect LaHair's batting average to drop dramatically. Actually, it already has. After hitting his 10th home run on May 15th, LaHair has been in the midst of a 1-20 slump, which dropped his average from .361 to .312. Expect super prospect Anthony Rizzo to take over the slumping first baseman's job by no later than the All-Star break. At least it was a good story while it lasted.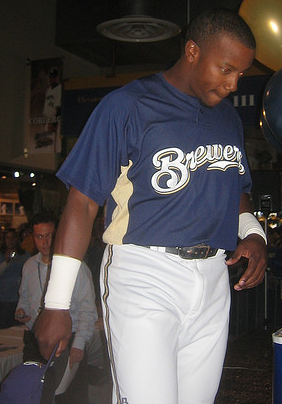 Rickie Weeks (Second Baseman, Brewers; Bats: Right): BELIEVE IT
Prince Fielder's departure was supposed to affect Ryan Braun. But while Braun is having another great season so far, it's been the Brewers' leadoff man who has struggled mightily without Prince. He's batting .159 this season, and he's been striking out a higher percentage of the time (38 percent) than LaHair! He's even made his brother Jemile's start look not as troublesome (.199 batting average). Weeks is on pace for a career-high in strikeouts and he's already had a hand injury this season which has clearly been bugging him. Despite a .209 BABIP that's nearly 100 points lower than his career rate of .305 (this would suggest that Weeks has been unlucky), I did find an interesting stat that may suggest deeper problems for Weeks.
According to ESPN's Tristan Cockcroft, Weeks is hitting a brutal .080 on pitches that were clocked at 93 mph or higher. Weeks hit .314 against those very same pitches last season. That statistic means that whether or not Weeks is hurt, his bat speed has clearly not been the same this season. With Weeks' massive strikeout problems along with his trouble against fast pitching, it's hard to imagine him hitting higher than .230 this season. The Brewers should also fix this by not having Weeks hit at the top of the order any time soon. How about keeping Norichika Aoki and his .296 average up there instead? Also, is it a coincidence that when Weeks sat out this past Sunday, the Brewers scored 16 runs?
Pitching Surprises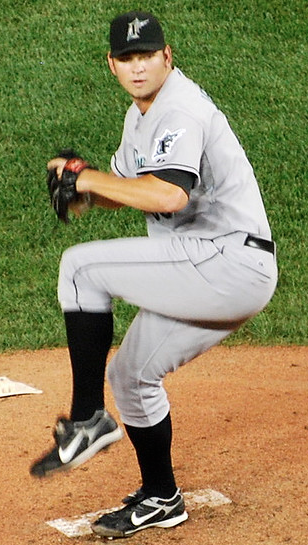 Josh Johnson
(Starting Pitcher, Marlins; Throws: Right):
DON'T
BELIEVE IT
The Marlins ace and MLB analyst Jayson Stark's preseason NL Cy Young pick has had a rough start to his 2012 campaign. After his disastrous May 4th start in which he allowed six runs to the offensively challenged San Diego Padres, Johnson had a 6.61 ERA and still did not have any wins to his credit. However, since that start, Johnson has thrown three straight quality starts. While the opponents weren't exactly murderer's row (Astros, Pirates and Indians), he went a combined 21 innings and allowed only five runs in those starts. Currently, Johnson is sitting at a 4.82 ERA and a 1.51 WHIP, still subpar numbers for the Marlins ace. However, his control is still there, not having walked more than three batters in any of his nine starts. He also has only allowed two home runs this year, so it's not like batters have been hitting it hard against him. Additionally, his peripherals suggest that he's pitching better than his numbers suggest, especially hitter's .366 BABIP against him (much higher than the .307 BABIP hitters have had against Johnson in his career) along with his 2.88 FIP and 3.38 xFIP, which show that Johnson's 4.82 ERA is very fluky. Additionally, Johnson pitches in the National League and in a pitcher's haven in Marlins Park, which will help his stats even more. This is still the same pitcher; Johnson has just started off a bit unlucky.
Lance Lynn (Starting Pitcher, Cardinals; Throws: Right): DON'T BELIEVE IT
A middle-reliever turned starter, Lynn has turned in a fantastic start to his season by being tied for the MLB lead for wins with six. He also boasts a 2.31 ERA and a 1.01 WHIP, along with 49 strikeouts in 50.2 innings. The biggest reason for his success is Lynn's reliance on his fastball. According to ESPN Stats & Info, opponents are hitting .150 against Lynn's fastball, the lowest in the MLB. Additionally, Lynn is third in the majors with the highest swinging miss percentage by batters with fastballs in the strike zone, at 22 percent of the time (only behind Justin Verlander and Matt Moore). However, I have a couple problems with Lynn. One is that his fastball isn't exactly dominant. You would think that if he was throwing his fastball this much and with a lot of early season success it would be in the high 90's. Instead, it's rather average in the 92-94 mph department. Don't get me wrong...that is fast, but it's not a dominant speed (think Aroldis Chapman). Before his great start and his outstanding effort in relief last season (40 strikeouts in 32.1 innings), he was not this same dominant pitcher in the minors either. Lynn has also faced a relatively easy slate so far, facing "offensive juggernauts" such as the Pirates, Cubs and Brewers in his first five starts (which were all wins). Finally, Lynn has never pitched a full major league season. In fact, he's already pitched more than he did all of last season. Expect Lynn to hit a wall soon, just because he's never pitched significant innings in the MLB. He's a good pitcher, but he will not be even close to the MLB wins-leader by the end of the season.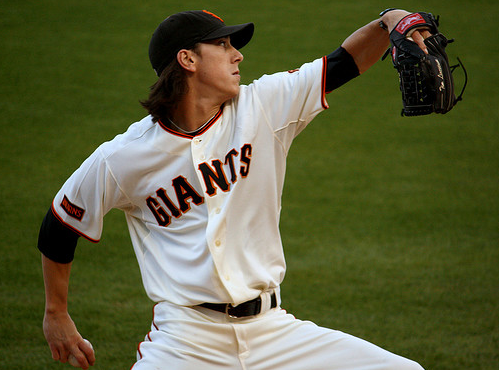 Tim Lincecum
(Starting Pitcher, Giants; Throws: Right):
BELIEVE IT
Lincecum, a two-time NL Cy Young award winner and known as "The Freak", has had very freaky numbers to begin the season. Lincecum is currently 2-4, with a 6.04 ERA and a 1.59 WHIP. He's only had one quality start so far, an eight-inning, one-unearned run start against the Padres. He's also had control issues, walking 25 batters in only 47.2 innings. His K/BB ratio has decreased in each of the past three years, and with the way he's been pitching so far, a fourth consecutive season seems like a lock. Despite striking out more than a batter an inning (53 strikeouts in 47.2 innings), hitters are hitting his fastball with more ease this season than in years prior. Why? Because his fastball has lost some of its juice. In Lincecum's last start against the Oakland Athletics, his fastball clocked in between 89 and 91 mph throughout the whole game. This is the same guy who was throwing mid-90's fastballs during his Cy Young award years. While 2-3 mph lower may not seem like a big deal, it's big enough that a pitcher needs to alter his strategy, something Lincecum has not done yet. Lincecum has had awful stretches like this before, but he's always had great velocity with his fastball to help him get back on track. Especially with his violent throwing delivery, maybe the end of "The Freak" is even sooner than we think. All I know is, Matt Cain and Madison Bumgarner are the best starting pitchers on the Giants, and they will be considered the aces of the team soon, if they are not already.
Wade Miley (Starting Pitcher, Diamondbacks; Throws: Left): DON'T BELIEVE IT
The Arizona Diamondbacks rookie pitcher has quickly made a name for himself. He's started off his rookie year by going 5-1 with a 2.14 ERA. However, I think his start has been a fluke. His WHIP is a decent 1.19, which does not match up with his sparkling ERA. Why is Miley's WHIP so high? Because he is a contact pitcher. In his last four starts, he has allowed 31 hits in 26.1 innings along with seven walks, yet he allowed only eight runs. And there was only one elite offense out of those four (the Cardinals, as he also faced the Mets, the Dodgers without Kemp, and the Royals). I cannot see Miley sustaining that current rate of baserunners while maintaining such a good ERA. Also, as a contact pitcher he will be prone to allowing home runs. With only two home runs given up in 46.1 innings, those numbers suggest that Miley has been lucky and expect more long balls against him in the near future. Miley actually reminds me of the guy he replaced in the rotation, Josh Collmenter. Like Miley, Collmenter is a contact pitcher whose numbers were a lot better than they were supposed to be to start off the 2011 season. However, Collmenter's ERA rose dramatically after the All-Star break because the baserunners that weren't scoring in the beginning of the season started scoring. Collmenter's beginning to the 2012 season was a disaster because of the great contact hitters achieved against him, which resulted in replacing him with Miley in the rotation. Miley, like Collmenter, is not an overpowering pitcher with only 30 strikeouts in 46.1 innings. So don't expect an overpowering win-loss record and ERA throughout the duration of the season.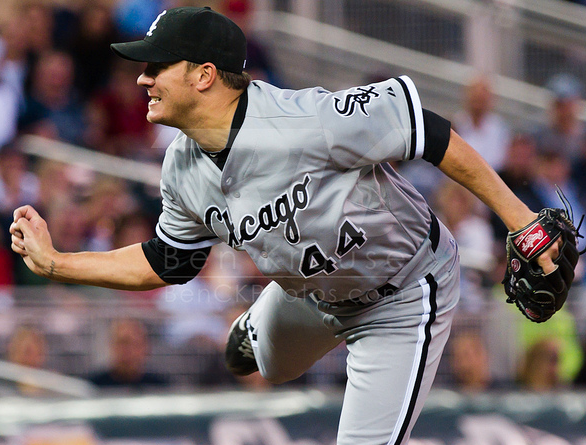 Jake Peavy (Starting Pitcher, White Sox; Throws: Right)
: BELIEVE IT
The former NL Cy Young winner looks like he's in the running for additional awards, AL Comeback Player of the Year (it'll probably come down to the wire versus his teammate Adam Dunn, whose resurgence I did boldly predict) and he's emerging as a candidate for AL Cy Young. The White Sox are a surprise contender in the AL Central this year mostly because of the fantastic outings Peavy gives them every five days. Peavy is 5-1, with a 2.39 ERA and 0.91 WHIP. He also has an unbelievable strikeout to walk ratio (55:11 or 5:1), which is even better than his glory days with the Padres. Because of his diminished velocity (his average fastball is 91 mph), Peavy has had to depend on his control, which has worked tremendously. He's also faced a very difficult schedule so far, pitching against the Rangers, Tigers, Orioles and Red Sox in six of his nine starts, and he's gotten quality starts in five of them. In fact, when he hasn't pitched against a good offense (looking at his three starts against the Indians, Athletics and Cubs), he's allowed a single run in 22.1 innings. He also has the Twins and Royals in his division, two of the weaker offenses in baseball. The only scary thing for Peavy is his health. He has not pitched more than 120 innings since 2008, and he's currently sixth in baseball in innings pitched (64). If Peavy can stay relatively healthy throughout the season, I think he will be a top five pitcher in the American League this season, along with the White Sox potentially making some noise in the playoff race come September.
Reach Max by email, or follow him on Twitter.