National
Men Planning To Attack Obama's HQ Apprehended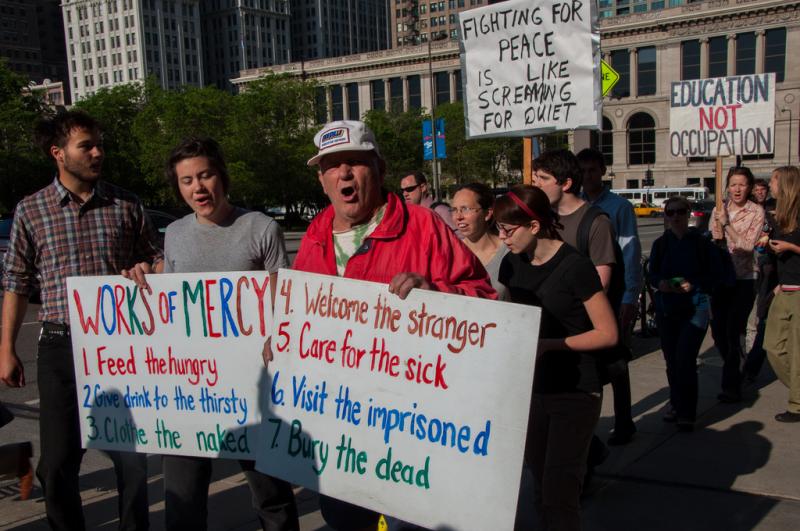 Three men planning to attack President Obama's campaign headquarters in Chicago were apprehended this week. They had prepared Molotov cocktails to use during the NATO summit this weekend.
According to ABC News, the three NATO protestors "were arrested Wednesday in a nighttime raid of an apartment in the city's South Side Bridgeport neighborhood ahead of the two-day meeting." The protestors had gone to Chigaco to participate in May Day protests, and had already been pulled over by police curious about their protest plans last week, the Guardian reports.
The defense attorneys for the men "alleged that the arrests were an effort to scare the thousands of people expected to protest at the meeting of world leaders." ABC News reports that the attorneys "told a judge that undercover police were the ones who brought the Molotov cocktails." Michael Deutsch stated, "This is just propaganda to create a climate of fear...We believe this is all a setup and entrapment to the highest degree."
The three men, however, were charged with providing material support for terrorism, conspiracy to commit terrorism, and possession of explosives. They have each been held on a $1.5 million bond.
Sarah Gelsomino, of the People's Law Office, said:
"We cannot say enough that we believ that these charges are absolutely...trumped up...Clearly in an attempt to continue this intimidation campaign on activists. Charging these people who are here to peacefully protest against NATO for terrorism, when in reality the police have been terrorising activists in Chicago, is absolutely outrageous."
During the summit this weekend, delegations from 60 countries will gather to discuss the war in Afghanistan and European missile defense. Security has increased throughout the city in preparation, the Associated Press reports.
Reach Executive Producer Cara Palmer here or follow her on Twitter.