National
Somber Memorial Day Celebrations In Wake Of Soldier Death Milestone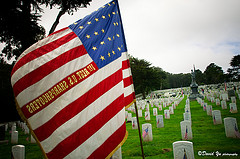 Memorial Day celebrations may be a bit somber this year, as the holiday comes in the wake of the
3,000th coalition soldier death
in the Afghanistan conflict.
Memorial Day has only been a national holiday designated by Congress since 1971. But memorials and celebrations honoring those who have laid down their lives for U.S. national defense have been celebrated since shortly after the end of the Civil War, according to National Geographic.
Union General John A. Logan advocated that May 30th be set aside to decorate the graves of fallen soldiers. Decoration Day, as it was then known, was held at Arlington National Cemetery in 1868. Celebrations to honor the nation's fallen had already taken place in several cities, and now roughly 2 dozen places claim to be the primary source of the holiday, according to the New York Times.
Waterloo, New York was desginated the original birthplace of Memorial Day by presidential decree in 1966. The first memorial held there was in 1866.
The holiday may now conjure more images of backyard cookouts than of national fealty and some organizations, like the American Legion, are seeking a return to the traditional observances, including the tolling of a bell for one minute at 11:00.
Hawaii Senator Daniel Inouye, a World War II veteran and Congressional Medal of Honor recipient, has introduced several items of legislation that would return Memorial Day to its original day of May 30.
Celebrations are scheduled across the Los Angeles Area:
The Canoga Park Memorial Day Parade includes a 5k run/walk, parade, live music, food and entertainment.
Marina Del Rey Memorial Day Yacht Party advertises dancing, karaoke, cabanas and bottle service.
Silverlake Jubilee is a block party open to all and will feature 35 bands, 15 food trucks and 75 crafts booths.
National celebrations will be brodcast on PBS.
The 23rd Annual Memorial Day Concert will be on the West Lawn of the U.S. Capitol. It will be hosted by Gary Sinise and Joe Montegna. Daughtry, Natalie Cole and the National Symphony Orchestra are scheduled to perform.
The Memorial Day Celebration for USAA memorialized some of the most recent victims of war.
[View the story "Follow Memorial Day Sentiments:" on Storify]