International
May Day Protests Break Out Worldwide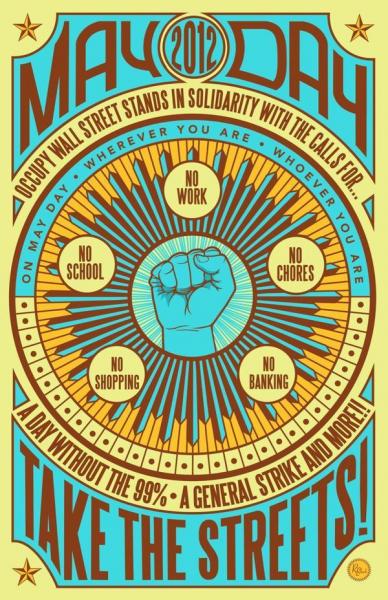 Workers across the world walked out on Tuesday to protest for pay hikes and better labor conditions. The wilting Occupy movement is using the international day of action as an opportunity to revive its influence.
May Day is intended to be a global workers' holiday, but leaders of several Asian nations saw their people rise up in rallies for higher wages in the face of escalating oil prices.
According to the Associated Press, Philippine President Benigno Aquino III has already rejected a proposed $3 daily pay hike, a demand workers have made since 1999.
Meanwhile in Europe, more than 2,000 Greek employees marched through central Athens to speak out agains the country's austerity measures. But Reuters reports the beleaguered country isn't the only one affected by demonstrations today.
From Reuters:
Unions in Greece, Spain, Portugal, Italy and France are using the traditional marches to express anger over a savings drive across the euro zone, aimed at shoring up public finances but criticized for forcing countries deeper into recession.
Italian demonstrators briefly clashed with police in riot gear in Turin and thousands marched in the central city of Rieti to listen to the leaders of the country's three main unions denounce Prime Minister Mario Monti's reforms.
In Madrid, tens of thousands headed in the rain to the main square waving signs opposing government cuts while in Athens around 5,000 workers, pensioners and students marched with banners reading "Revolt now" and "Tax the rich."
In the United States, Occupy Wall Street's various chapters are ready with their own demonstrations.
Los Angeles officials are preparing for an impending traffic nightmare as demonstrators from Occupy L.A., the Youth Justice Coalition and Rise Up L.A. carry out their general strike, starting around 9 a.m. at Florence and Normandie.
The significance of the intersection is not lost on organizers. In "a day without the 99 percent," Occupy is calling for supporters to shirk responsibilities in work, chores and school and avoid shopping or banking transactions.
See livestream video of the Occupy L.A. demonstrations below.
The Coalition for Humane Immigrant Rights of Los Angeles will hold its own march for jobs, education and peace at 1 p.m., heading north on Broadway from Olympic. The group has said it will rally at Broadway and First at 3:30 p.m.
Union workers at LAX will rally at noon. From a press release Monday: "Airport Police officials have said they were working with the labor unions to ensure the protests do not cause any disruptions to passenger traffic. Police, however, advised passengers, visitors and airport employees that traffic congestion and delays are possible during the rally. Airport police said travelers should give themselves an extra 45 minutes to account for possible delays."
The city's Emergency Management Department has said the following intersections will likely shut down during the marches.
-- Broadway between 11th and Temple streets;
-- Olympic Boulevard between Hill and Main streets;
-- Ninth Street between Hill and Broadway;
-- Eighth Street between Spring Street and Broadway;
-- Seventh Street between Hill and Spring;
-- Sixth Street between Hill and Broadway;
-- Fifth Street between Spring and Broadway;
-- Fourth Street between Hill and Broadway;
-- Third Street between Spring and Broadway;
-- Second Street between Hill and Broadway;
-- First Street between Hill and Broadway; and
-- Judge John Aiso between First and Temple streets.
And public transit may not be an easy alternative for inconvenienced Angelenos. Metro said in an advisory Monday that the following bus lines may by delayed or detoured: 2, 4, 10, 14, 16, 316, 18, 20, 28, 30, 33, 40, 42, 45, 51, 52, 53, 55, 60, 66, 70, 71, 76, 78, 79, 81, 83, 84, 68, 90, 91, 92, 94, 96, 439, 442, 460, 487, 489, 720, 728, 730, 733, 740, 745, 760, 794 and 910.
See below for some recent May Day updates via social media.