NFL
Junior Seau, Former USC Linebacker, Found Dead From Suicide In Oceanside Home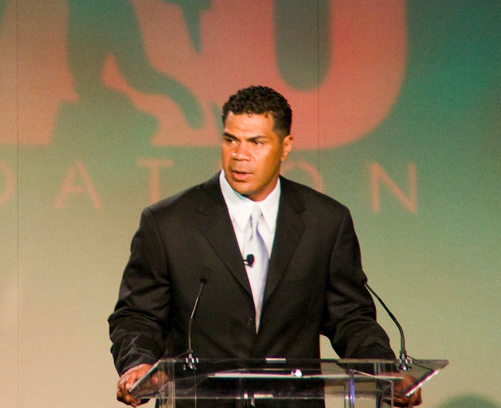 Former USC and All-Pro San Diego Chargers linebacker committed suicide in his Oceanside home Wednesday morning, as first reported by
TMZ
.
The North County Times is reporting that Seau was found dead by his housekeeper, with an apparent self-inflicted gunshot wound to the chest. A dispatcher told the San Diego Union-Tribune that a 911 call was placed from the house at 10 a.m. His death was confirmed by the San Diego Chargers. No other deaths or injuries have been reported.
Tiana Baul "Junior" Seau was 43 years old. Seau was a unanimous first-team All-America for the USC football team in 1989 before playing 20 seasons in the NFL. He made his biggest mark on the game in 13 seasons with the Chargers. Seau played a few seasons with the Miami Dolphins and the New England Patriots before retiring from football in 2009. He was photographed at USC's spring game just three weeks ago, which is also when TMZ reports Seau last saw his kids.
Seau was married to Gina Deboer from 1991 to 2002, and is survived by three children from that marriage, all between the ages of 11 and 19.
In October 2010, Seau drove his SUV off a cliff in Carlsbad, just hours after being charged with domestic violence against his then-girlfriend. Seau told TMZ at the time that he had fallen asleep while driving, and was not trying to kill himself.
Reports of Seau's death have raised questions about the connection between NFL head injuries and chronic traumatic encephalopathy (CTE), a disease that can degenerate brain tissue and cause symptoms like depression and aggression. A 2010 New York Times article found that the autopsies of 12 former NFL players showed signs of CTE.
Seau's apparent suicide came just a few hours after NFL commissioner Roger Goodell suspended New Orleans Saints linebacker Jonathan Vilma for the 2012 season. Vilma was involved in the Saints bounty scandal in which players were paid for knocking opposing players out of games.
"This is a sport in which you inflict pain on your opponents, but it is not in the game to hurt them and have a bounty over a player," Seau recently told the North County Times. "Then you have pushed it too far because you should never place a bounty on another human being."
UPDATE: Members of the USC football family have also released statements on the eve of Seau's death.
USC athletic director and former Trojans quarterback Pat Haden: "We are tremendously saddened to hear this news and our hearts go out to his family and children. Junior Seau was one of the greatest legends in USC football history. He will always be remembered by USC as the original No. 55."
Trojans football team head coach Lane Kiffin: "This is a very sad day. The USC football program and the entire Trojan Family extends our condolences to Junior's family. He was one of the greatest Trojans of all-time. Our team and fans were very fortunate to see him just a couple of weeks ago at our Spring Game at the Coliseum. He will be deeply missed."
Former USC offensive lineman Tony Boselli, via Twitter: "Extremely sad about the passing of Junior Seau. Just three weeks ago I spent the weekend with him at USC. He was a great Trojan and will be missed! I am shocked about Junior, I didn't see anything during my time with him a few weeks ago. Same happy and very engaged Junior."
Former USC safety Troy Polamalu, via Facebook: "My heartfelt condolences and sympathy go out to his family. Junior Seau meant so much to me and many other Samoan youth both as a player and person. Junior epitomized hard work and dedication to football and philanthropy. He was a childhood hero of mine and honored to say, a good friend. Junior Seau will always be someone I look up to and will walk the path he paved for me and many other Trojans, Samoans, and athletes alike."
Michael Castillo, from the site Reign of Troy, has also compiled tweets from USC players about Seau's passing.
-------------------------------
Reach James by email or follow him on Twitter, @JamesSantelli.