Los Angeles and Region
Growth Of Latino Membership Shows Mormonism's Surprising Diversity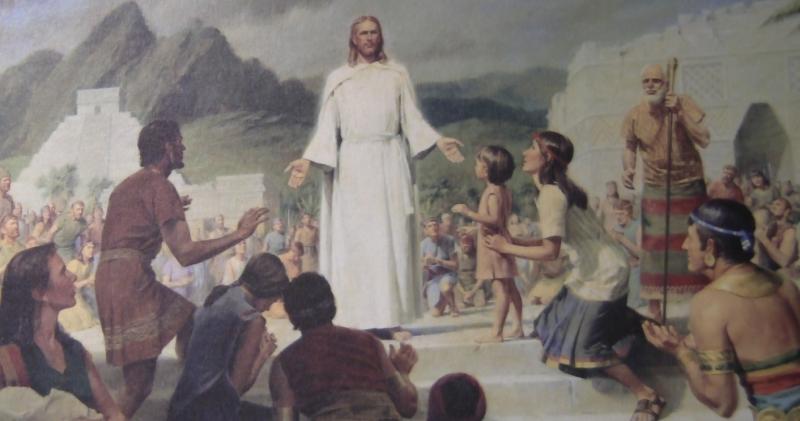 Growing up in Oxnard's rough La Colonia neighborhood, Luiz Antonio Garcia learned at a young age how to throw a gang sign and paint his placa in graffiti. His front tooth is chipped and his face is scarred from an attack with a 40-ounce beer bottle.
That's nothing, he said, compared to the scars from stab wounds on his torso.
"I've had three people die in my arms," Garcia said. "I still have nightmares sometimes."
His life as a member of the Church of Jesus Christ of Latter-day Saints stands in stark contrast to his past as a gang member. He now spends his days raising his six children on the west side of Oxnard with his wife, Lizet. The rest of the time, he's at church.
"I can tell you I'm a completely different person," Garcia said.
His transformation began five years ago when he mistakenly thought he heard a knock on the door of his apartment. He answered it to find two Mormon missionaries standing outside his neighbor's house. Garcia said he was surprised to learn one of the missionaries, Elder Piñeda, was Spanish-speaking.
"We connected right away," Garcia said, adding, "I didn't pay too much attention to the other one."
He was baptized a few months later. His brother and father soon followed suit.
The Garcia family's conversion is part of a trend in the expansion of the Mormon Church, one of the fastest-growing religions in the nation according to a U.S. Religion Census report released May 1. Church membership jumped a staggering 45.5 percent to more than 14 million members worldwide between 2000 and 2010. This is notable when compared to losses tallied in the Catholic and mainline Protestant churches.
And according to the Pew Center, Latinos are one of the fastest-growing groups within the church. The number of Spanish-speaking congregations has doubled to 760 in the last decade.
That growth is apparent in Southern California. Julia Zurcher is a Spanish-speaking Mormon who lives in Camarillo and works as the liaison between the English-speaking Stake Presidency and Spanish-speaking congregations.
"Every time I go, I see a new face," Zurcher said of the Spanish-speaking wards.
More than 48 Spanish-speaking stakes, wards and branches (the equivalents of dioceses, congregations and smaller congregations, respectively) have been created in states across the U.S. since 2011. There are 58 Spanish-speaking congregations in Los Angeles, Orange and Ventura counties. Some missionaries in Southern California are assigned to serve exclusively in Spanish-speaking communities.
Garcia served as ward mission leader until this winter. He still goes door-to-door with the missionaries whenever he can.
"Missionary work has a special place in my heart," Garcia said.
He also said ministering to a community in its own language is essential to opening doors to new converts. "When we speak the language, they're a lot more receptive to what we have to say."
Such was the case for Ricardo Tachin, who converted to Mormonism five months ago. He was baptized after his mother befriended two Spanish-speaking missionaries in Simi Valley.
"She thought it was funny that two gringo missionaries were speaking Spanish," Tachin said. "It brought her walls down."
Devin Christiansen served as a Spanish-speaking missionary in Tennessee. He said the novelty of his speaking Spanish in the South attracted some curiosity.
"Here's this white guy from California speaking their language," Christiansen said. "They wanted to know why."
Tapping into language differences is just one way the church has gone about breaking down cultural barriers. For Garcia, sharing his gang past has helped prospective converts see the Mormon Church as a place where they can belong.
"Having them know a little bit about my background—they can relate and open up a little bit more," he said.
A faith system's ancient roots
Mormonism's ties to Latin America reach back even further than Mexico's first missionary baptisms in 1876.
The Church of Jesus Christ of Latter-day Saints is officially known as the LDS church. Colloquially, however, the church and its adherents are known as Mormon.
The nickname is in reference to the church's sacred text, the Book of Mormon, which tells the story of an ancient Hebrew prophet who fled Jerusalem before the Babylonians destroyed it near the turn of the fifth century B.C.E. They crossed the Atlantic and settled in ancient Mesoamerica, practicing monotheism under priest-kings until Jesus Christ appeared to them shortly after his crucifixion in Jerusalem.
The record of these people, known as the Lamanites, was compiled by the ancient prophet Mormon and later buried in upstate New York. According to Mormon tradition, Joseph Smith Jr. retrieved and translated the plates into the Book of Mormon in 1820.
"When people know the history of the gospel, the more they know it's not just for English-speakers," Garcia said.
Julia Zurcher's husband, Juan, is a Spanish-speaking convert from Mexico. He insisted the Book of Mormon's account of Christ appearing to the ancient inhabitants of the Americas is essential to the Church's spread in Latin communities.
"Hey, this is me, this is my ancestors," he said. "This is my religion."
Garcia said the ancient American lineage of Mormon scripture gives prospective members some ownership in the faith.
"Most people can go back and say, 'That could have been my ancestors,'" Garcia said. "'We weren't forgotten about after all.'"
Until about five years ago, Mormon theology considered Latin Americans to be part of the Lost Tribes of Israel, a unifying message Garcia uses when preaching to marginalized populations in his home ward.
The LDS church has since clarified it believes the Lamanites to be among the many progenitors of modern Latin Americans.
Mormon family, clerical values
Mormonism's family-centered culture was a big draw for Tachin. The single father of a 2-year-old daughter, Lily, Tachin said the Church's emphasis on a peaceful and joyful family life was important.
"It means a lot to me to have a place to go with my daughter," he said.
Garcia and the Zurchers also cited the profound emphasis on family life as a point of attraction for their conversions.
"The attraction to Mormonism is centered on the focus on family life," said Dr. Peter Carlson, a religion professor at California Lutheran University.
Carlson said Mormon theology extends the concept of family to include ancestral heritage, which could be a draw for those looking for an alternative to Roman Catholicism.
Another point of departure from Catholicism: The LDS church relies on lay clergy to run congregations. Members are responsible for teaching Sunday school, leading the choir or speaking in Sunday sacrament meetings.
For Julia Zurcher, who was raised catholic, the jobs she has been called to do have given her a sense of pride in her faith.
"I felt like that was what I was looking for," she said. "This is what I wanted. To feel responsible, like a leader. You have to be a leader to be a Mormon."
Her husband Juan said he sees the value of performing religious service himself.
"With two to three callings in a small ward," he said, "there's a lot of room for growth."
Spanish-speaking wards comprised more than 5 percent of full-size LDS congregations—which average around 500 members per ward—but 22 percent of all LDS branches, smaller congregations of up to 150 people. So members of smaller congregations, many Spanish-speaking, have more jobs to fill than their English-speaking counterparts.
"Getting them baptized is one thing," Juan Zurcher said. "Keeping them active is another."
It is difficult to assess the long-term success of conversion efforts. The LDS church does not keep records on its members' race or ethnicity, only by country and language. It publishes membership statistics based on baptism records, not religious activity.
Pollsters and researchers, on the other hand, collect data based on self-identification. The retention rate for both converted and lifelong members has declined to 60 percent, according to the American Religious Identification Survey. It's a precipitous decline from slightly more than 92 percent a decade ago.
Julia Zurcher knows the problem well.
"They come to the U.S. looking for the American dream," she said of immigrant converts. "If they don't find a job, they move on."
'Every member a missionary'
The church makes a point of getting new converts involved to keep them active. In 1959, the prophet David O. McKay coined the phrase "Every member a missionary" to promote proselytizing by everyday Mormons, not just missionaries. (The Spanish-speaking missionaries for Oxnard, Ventura and Simi Valley politely declined to be interviewed for this story.)
For member missionaries like Julia Zurcher, involvement means creating a community.
"When they know the church can offer them a family-type reunion and get together," she said, "that's how they convert."
The Mormon tradition of addressing fellow members as "brother" and "sister" adds to that sense of family.
And Garcia said informal gatherings lie at the heart of his ward's missionary effort. They have at least one event, like a dance or a barbecue, every month to show prospective members what church membership is like.
"This lets them see the fun side of being a member," Garcia said.
But before they can show potential converts their fun side, members often have to dispel myths about the Mormon faith.
"A lot of people say, 'They're coming to get you, they are from the FBI, they are coming to investigate what you and what your family are doing,'" Julia Zurcher giggled as she rattled off the list.
Less humorous is Zurcher's own struggle with her son, Aldrich, to deal with stereotypes about Latinos. The 16-year-old was raised in an English-speaking ward and said he grew up feeling disconnected from and prejudiced against the Spanish-speaking population.
"I used to be a jerk and think Mexicans only ate rice and beans," Aldrich said. "But now, I am proud of my heritage and want to get to know the Spanish ward better."
Aldrich's father said he found the differences between English- and Spanish-speaking LDS congregations superficial.
"It's a matter of culture," Juan Zurcher said, "but it's the same religion."
For Garcia, witnessing the power of the religion to impact converts' lives, his own among them, has kept his faith strong.
"It's a privilege," he said, "to watch people growing in faith and changing their lives."
Reach Contributor Dawn Megli here.